Did Erdogan threaten the Kurds if Justice was not deferred? Consider that warning letter Traitor Trump sent.
John
"Mnuchin and the Treasury Department were also involved because they had a role in determining the size of a regulatory penalty against Halkbank after Atilla was convicted in January of last year of helping violate the Iran sanctions.
Trump-Erdogan Call Led to Lengthy Quest to Avoid Halkbank Trial
By
,
, and
Barr, working with Mnuchin, sought a deferred prosecution deal

Prosecutors filed charges when Trump sought to punish Erdogan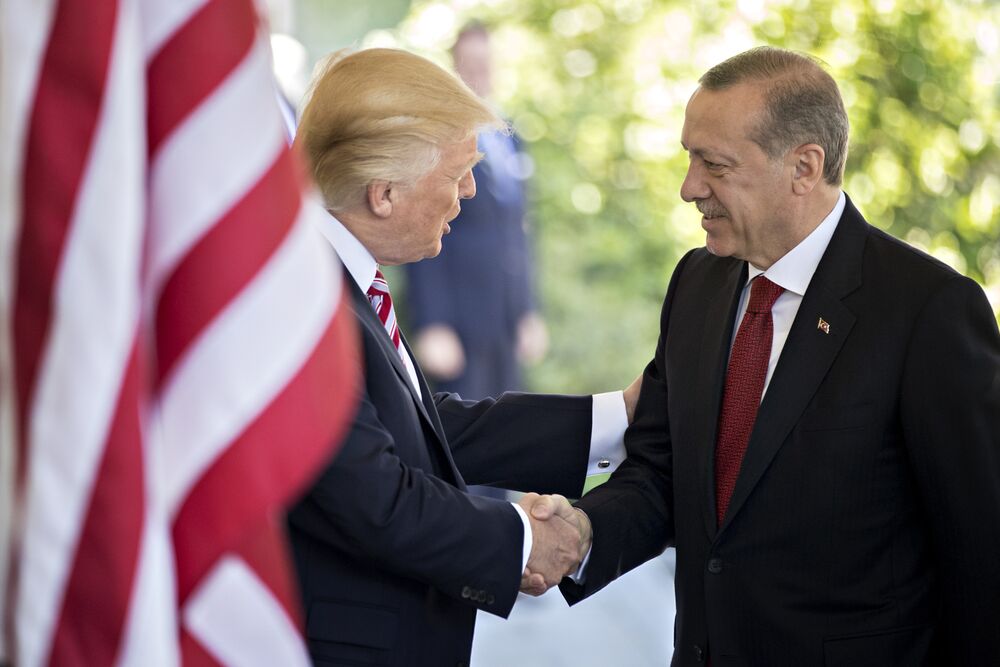 President Donald Trump assigned his attorney general and Treasury secretary to deal with Turkish President Recep Tayyip Erdogan's repeated pleas to avoid charges against one of Turkey's largest banks, according to two people familiar with the matter.
In an April phone call, Trump told Erdogan that William Barr and Steven Mnuchin would handle the issue, the people said. In the months that followed, no action was taken against Halkbank for its alleged involvement in a massive scheme to evade sanctions on Iran. That changed when an undated indictment was unveiled Tuesday — a day after Trump imposed sanctions over Turkey's military operation in northern Syria.
It marked an unusual intervention by a president to get his top cabinet officials involved in an active federal investigation. It's not clear whether Trump instructed Barr and Mnuchin to satisfy Erdogan's pleas or whether the president was simply tired of being asked about it.
But according to a third person who's familiar with Turkey's position, discussions over a deal that would resolve the issue out of court made little headway before Barr took over as attorney general in February and then became involved in the discussions.
Over the summer, the White House sought to stop Erdogan and his aides from pestering Trump on the matter, according to a person who was briefed on a number of phone calls that took place and asked not to be identified discussing private deliberations. In June, the person said, then-National Security Advisor John Bolton told a Turkish official, Ibrahim Kalin, that Trump wouldn't engage on the issue directly after delegating it and that Turkish officials should stop raising it with the president.
In a call at about the same time, Barr told his Turkish counterpart, Abdulhamit Gul, that he needed to reach a deal with the U.S. attorney in Manhattan, where the case was under consideration, or it would go to trial. He said Turkey's best option would be to accept a deferred prosecution agreement under which Halkbank would pay a fine and take steps to avoid further wrongdoing.
After months of negotiations, Turkish officials ultimately refused because they believed doing so would constitute an admission of guilt, according to the person. A second person familiar with the discussions confirmed that Turkey refused to accept the deal but said there had been progress toward a resolution.
President's Priority
Trump's involvement and his decision to assign Barr and Mnuchin to address the sensitive issue, working with Secretary of State Michael Pompeo, reflected the degree to which the Halkbank case became a priority for the president.
In the end, U.S. prosecutors filed criminal charges against Halkbank, accusing it of fraud, money laundering and violating U.S. sanctions against Iran. It's unclear exactly when the Halkbank indictment was filed, raising questions about whether it was set aside until it became politically expedient for the Trump administration to unseal it.
The White House didn't have advance notice there was an indictment against the bank or when it was going to be unsealed, according to an administration official.
Read More: Trump Bets Syria Chaos Is Outweighed by Campaign Vow
Justice Department officials declined to comment when asked about Barr's efforts, and the Treasury Department declined to comment on Mnuchin's role. The White House declined to comment, and the State Department declined to discuss the part Pompeo played. Bolton declined to comment.
The politically explosive indictment came as Turkish-U.S. tensions are soaring over Turkey's military offensive in Syria after Trump's withdrawal of American forces from key border posts last week. On Wednesday, Vice President Mike Pence and Pompeo were due to travel to Ankara for talks with Erdogan over the conflict in Syria.
The charges against Halkbank also come after years of public and private lobbying by Erdogan and other top Turkish officials — starting in the Obama administration — to get the investigations into violations of Iran sanctions dropped.
The matter is the latest instance linked to Turkey in which Trump has pressed for a solution beyond the bounds of the courtroom. In multiple meetings in 2017, Trump urged then-Secretary of State Rex Tillerson to persuade the Justice Department to drop the case against Reza Zarrab, a Turkish-Iranian gold trader at the center of the scheme to violate the sanctions.
Rudy Giuliani, who later became Trump's personal attorney, represented Zarrab and pressed Trump to intervene on his client's behalf.
Zarrab, a Turkish gold trader, ultimately pleaded guilty and became the star witness against a bank executive, Mehmet Hakan Atilla. Zarrab recounted how he'd helped Iran tap funds from overseas oil sales that were frozen in foreign accounts. Atilla was convicted in early 2018.
Read more: Turkey's Halkbank Faces U.S. Charges as Tensions Mount
Together, the episodes demonstrate Trump's receptiveness to Erdogan's desire to avoid criminal proceedings that could shed an unflattering light on his government.
Mnuchin and the Treasury Department were also involved because they had a role in determining the size of a regulatory penalty against Halkbank after Atilla was convicted in January of last year of helping violate the Iran sanctions.
Critics said they grew alarmed that the fine hadn't been issued more than a year after the executive's conviction in January 2018. Some suspected that Erdogan's persistent lobbying about the Halkbank case — he brought it up during the Obama administration, including twice in meetings with Vice President Joe Biden, only to be rebuffed — successfully persuaded Trump administration officials to hold back.
Evidence 'Overwhelming'
"The evidence against Halkbank and, by extension, the Turkish government was overwhelming in this case," said Michael Rubin, a resident scholar at the American Enterprise Institute. "But the Turks went full-force lobbying the Trump administration on this to avoid accountability. Frankly, some in the Trump administration were all too receptive to arguments that the mess was the result of Obama rather than a deliberate scheme on the part of the Turks."
Halkbank did hire powerful lobbyists to advocate on its behalf before the Trump administration, according to Justice Department filings. One such lobbying firm was Ballard Partners, which was paid almost $780,000 from November 2018 through March of this year to work on Halkbank's behalf. It renewed its contract for $40,000 a month in late July.