Here's a gentleman after my own tastes. I have raised my kindred – up – from the dunghill!
My bloodkin have been involved in the largest real-estate deal in America. I mentioned John Wilson and the million acres the Puritans purchased. The Hart-Benton family was in the middle of the two million acre deal that Daniel Boone – blew! I saw a handwritten letter of my kindred, Jessie Benton, to a British agent who was prepared to sell back parts of the Oregon Territory to John Astor, if she could assure them her father, Senator Thomas Hart Benton was not involved in the Slave Trade, and, this trade will not be brought to the Oregon Territory. I told the curator of the Portland Historic Society that he has a document on par with the Magna Carta, and it needs to be put on permanent display. He didn't get it!
Below is a woman of means who married into my ex-fiancés family. I am done casting my pearls before swine!
John Presco
http://www.william-montgomery.com/
https://rosamondpress.com/2013/04/15/thomas-hart-and-daniel-boone-of-kentucky/
From 1982 to 1992 William Montgomery was a Director of Sotheby's fine art auctioneers in London, with responsibility for Ireland, and from 1992 to 2015 he represented Sotheby's in Northern Ireland from his office in Co. Down. He is now a Consultant. Clients may call by appointment for advice on buying and selling works of art, and home visits can also be arranged.
In 1987 he was appointed Chairman of Sotheby's International Realty in Europe, with the specific directive of developing the company outside the USA. From a head office in London, exclusive affiliates were established throughout Europe and in North Africa. (click here for more information) From 1992 to 2005 he focused his interests on Ireland and Scotland, acting as Sotheby's International Realty's exclusive affiliate in these regions, until the SIR brand name was sold.
From 2005 to 2015, as an independent property consultant, he specialised in the acquisition and management of country houses, landed estates and equestrian properties, principally in Ireland and in France. In 2016 he became Chairman of Ireland l Sotheby's International Realty.
Rosemount, Greyabbey
Report by Sandra Millsopp
1 January 2005
---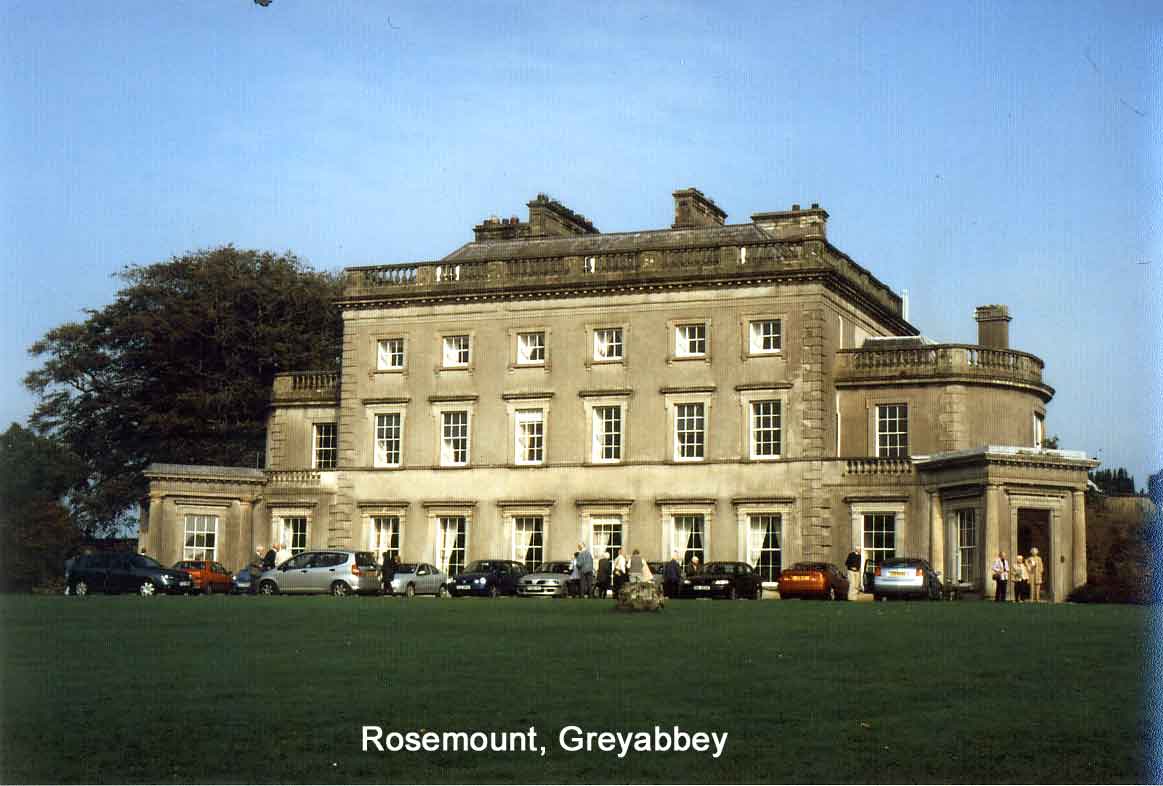 Rosemount near Greyabbey is the home of Mr Bill Montgomery and his wife and family. His ancestor, Sir Roger de Montgomeri, came from Normandy to Britain with his cousin William the Conqueror in 1066.
He was given land in the Welsh Marches. The County and town of Montgomery bear his name. The family later moved to Scotland and many of the Irish Montgomerys are descendants of the Scottish settlers.
Hugh was the son of the Laird of Braidstane. He became a teacher and an agent in Dublin for James VI of Scotland. He planned Con O'Neill's escape from Carrickfergus Gaol and secured Con's pardon. His reward was to be half of Con's land but another Scottish supporter of James – James Hamilton – intervened so the land was divided between the three of them. Montgomery founded Newtownards, restored the Priory and built the Market Cross. He established the sea route between Donaghadee and Portpatrick in Scotland.
Montgomery became a Member of Parliament (MP) and was made Viscount Montgomery of the Great Ardes. His second son, James, settled at Rosemount in 1629 and built the first house there. It was burned by native Irish in 1648.
A new house was started immediately. Some stones from the ruined Abbey were used in its construction. It was burned accidentally in 1758 and the third, and present, house was started soon afterwards. Since then it has been altered in several ways. The entrance hall was changed when the driveway was relocated. In the 1840s a Hugh Montgomery married a Miss Herbert from the Welsh Marches. She had the roof raised to allow the addition of extra bedrooms for her eight children. The dining room was altered in the 1820s by the architect Vitruvius Morrison. A century later the intellectual wife of General William Montgomery added a small block at the back for a bathroom to enable the men to change after hunting.
The rooms at the back have a good view over the ha-ha to the ruins of the Abbey.
Laure de Rougemont married Marc de Beauvau-Craon, and thus it is possible Virginia Hambley and I are kindred. This poor translation appears to say the Rougemonts descend from a "modest line" and descends from Maria Theresa von Habsburg of Austria, paired with the Duchy of Lorraine.
"It is 29 years that Laure de Rougemont, a descendant of a "modest" line, in the words of his brother, married Marc de Beauvau-Craon. This last, twenty years her senior, bears the name of an illustrious family descendant of Maria Theresa of Austria, paired with the Duchy of Lorraine."
The Rosamond name has been traced to Rougemont in the Alsace that was ruled by the Habsburgs. Above are photos of Craon castle.
http://en.wikipedia.org/wiki/Ch%C3%A2teau_d'Harou%C3%A9
Laure de Rougemont Beauvau-Craon President of Sothebys is the brother of the famous artist, Gue de Rougemont who descends from the famous artist, Louis-François, baron Lejeune. We are looking at the most cultured family in France.
What is truly exciting, Virginia may be related to Yolande de Aragon Duchess de Anjou who may have employed Jean of Arc in saving the House of Anjou.
Jon Presco
https://rosamondpress.wordpress.com/2013/09/26/guy-de-rougemont-of-the-academy-of-fine-arts/
https://rosamondpress.wordpress.com/2013/09/18/de-bourmont-and-the-ordre-du-croissant/
http://www.thestylesaloniste.com/2010/07/la-vie-de-chateau-elegance-and.html
Haroué, in northeastern France near Nancy, has been in the Beauvau-Craon family since it was completed in 1732. The current proprietor, Princess Minnie de Beauvau-Craon, is a direct descendant of Prince Marc de Beauvau-Craon who in 1720 commissioned the architect Germain Boffrand to build it in the remote countryside near the Moselle and Meurthe rivers.
https://rosamondpress.wordpress.com/2013/09/19/the-house-of-beauvau/
Guy de Rougemont, born 23 April 1935 in Paris, is a painter and sculptor French, Member of the Académie des beaux-arts. He is the son of general Jean-Louis du Temple de Rougemont.
Louis-François, baron Lejeune On 2 September 1821 he married Louise Clary, sister of general Marius Clary and niece of Désirée Clary, queen of Sweden by her marriage with Jean-Baptiste Bernadotte.
In this struggle, Yolande played a prominent role in surrounding the young Valois king with advisors and servants associated with the House of Anjou. She maneuvered John VI, Duke of Brittany, into breaking an alliance with the English, and was responsible for a soldier from the Breton ducal family, Arthur de Richemont, becoming Constable of France in 1425. Yolande's early and strong support of Joan of Arc, when others had doubts, suggests her possible larger role in orchestrating Joan's appearance on the scene. Yolande unquestionably practiced realistic politics.
The château de Craon, also known as the château d'Haroué or palais d'Haroué is a French château located in a small valley in the centre of the village of Haroué, in the Saintois, in the département of Meurthe-et-Moselle and the région of Lorraine. It was built between 1720 and 1732 by Germain Boffrand during the period when Lorraine was independent of France, for Marc de Beauvau, prince de Craon, viceroy of Tuscany and constable of Lorraine.
Jean-Louis du Temple de Rougemont (10 June 1910, Paris – 1St October 1990, Fontainebleau) was a French general.
Pupil of theÉcole de cavalerie de Saumur, he was captain in 1942, when he participated in the Organization of the resistance in the South-West of the France, or he commanded the Pyrenean area. He became Lieutenant Colonel and first Deputy head of the Corps Franc Pommiès[1].
Head of the intelligence division of the general Secretariat of national defence (SGDN), he was sent by general de Gaulle in Washington to check according to a defected from the KGB about Soviet spies that is would be infiltrated in governing bodies[2].
He was promoted lieutenant-general in 1968 and appointed commander in Chief of the French in Germany Forces in 1969.
He was commander of the Légion d'honneur and palmes académiques, grand officer of thenational order of merit, Grand Cross of theorder of Malta and decorated with the Cross of war 1939-1945, military Valor cross and the Medal of the Resistance.