The Rose Among The Woodwose
by
John Presco
Copyright 2019
At the University of Oregon Library I found an Illustrated Coronation Book of a Habsburg Royal. I made a copy of several pages, which I lost. My favorite was of Ogmios in the center of a podium encircled by royal Habsburg Ladies holding their cote of arms upon which is attached a golden chain that travels to the tongue of Ogmios, the Celtic Hermes. Why would this Celtic God be allowed on a stage with Catholic Dames, whose husbands are Protectors of the Papacy, and are The Kings of the Romans? Most of this book depicts Greek Ideas, that the Great Erasmus 'The Humanist' dispersed after discovering lost manuscripts. Thomas Wilson mentions Erasmus, and may have known him. Did he know Gottschalk Rosemondt, the 'Master of Louvain' who defended Erasmus during the height of the Renaissance?
Thomas Wilson spent a couple of years in Belgium. He was put in charge of the transition of the Royal Rule of Mary Queen of Scots who was considering marrying into the House of Habsburg. She was also considering marrying Robert Dudley, whom Wilson knew intimately. Indeed, Lord Dudley founded the The Earl of Leicester's Men, an acting group that Wilson was a member of. Wilson was a Tutor in this house where John Dee dwelt, thus Wilson and Dee knew each other, and, Wilson knew of the Rosenberg brothers of Bohemia, of which Wilson descends – if his (our) genealogy is correct.
John Dee is credited with planting the Seed of Math in Robert, who had shown great talent as a Student of Literature and Languages. Was he destined to be the Ogmios of England? Did Wilson steer his pupil in this direction, he wanting him to be a Master in the Art of Rhetoric? Did Wilson write plays for the Dudley family to perform, that were meant to be personal lessons? Whose idea was it to go public with these plays?
When the Elizabethan Poor Laws were amended, traveling troupes of actors were – defunded! (Hmm!) Funding was given these Artists of Rhetoric! I suspect this funding put some of the worst actors, ever, ON THE ROAD, they seen as Vagabonds and Gypsies – disguised as Actors! Being a member of the Temple, Wilson was steeped in English Law. Is he the author of this amendment? Did he set up these Art Groups to spread the Protestant Teaching at the instruction of the Protestant Queen? If so, we are looking at Religious and Political Propaganda, that would be put forth by the family members that surrounded Mary Wilson Webb, who were Puritans – who founded Harvard College! Am I suggesting Harvard was founded by Bums and Vagabonds disguised as Puritans – who had been to the Rose Theatre to see a (alleged) Shakespeare play? Did Shakespeare have a role in the founding of our Democracy? Who funded the Puritans? Let me know – if you know!
Harvard is THE ROSE amongst the Woodwose in the American Wilderness. Hands across the water spreading the Protestant hegemony in the New World, where the Habsburgs were, looting Incan gold in order to pay for another Spanish Armada that would lock up Queen Elizabeth, and, chop off her head! Traveling Professors, and Spies on the Mayflower! Sub-rosa!
Robert Wilson joined  the troupe 'Queen Elizabeth's Men' that was a stage for spies. I believe putting an end to the public funding was aimed at cutting down on the growth of acting groups who believed they had a chance at a monetary reward on merit alone. The Queen's Men more than likely were funded under the table.
Consider the rhetoric war between Fox News and CNN – that the Trumpmaster declares "Fake News!". Bill Graham got his start with the political Mime Troupe. Ken Kesey was a Rhetoric Artist. His band of Merry Men, are escaped Loons and Clowns from the Coo-Coo Factory. The Conservative-right has spent a trillion dollars trying to destroy the EFFECTIVE Hippie Théâtre. I began Royal Rosamond Press in order to preserve the history of the Bohemians. I now realize I am steeped in rhetoric, that may have come to me via my genes.  Putin got wise, and is the New Prankster King!
Consider the eloquent, James Bond, who has a way with words – and women. Ian Fleming understood the Art of Rhetoric, and is in my family tree via Elizabeth Rosemond Taylor. Did Winston Churchill study Rhetoric at Eton? Bond and Winston = Ogmios! If the enemy will not listen to reason, shoot them with an arrow, and club them to the ground!
"Do you get my message – now?"
Two of my best friends went to Harvard. But, when Barack Obama, a Harvard graduate, got elected, I noted a change in them. They were threatened. I wondered why. The three of us loved Bill Clinton, a Rhodes Scholar who knew all about rhetoric. But compared to Obama, this Democratic Redneck, pales. My Harvard friends began to lean toward the Christian-right. I was furious. More than once I accused them of racism. However, in the discovery of Robert Wilson's book, I see what truly bothered them. There is a usurpation here, that our White President 'King Bobo' will not let us ignore. Bobo is very interested in seeing Bill and Barak – locked up! Bobo wants to be 'King of the Rhetoric Artists' after destroying all the competition. Pope Bobo!
This morning I read Pope Bobo is ridiculing the Democrats for abandoning Robert Mueller – at the same time his Top Lawyer withholds Mueller's Legal Report! How Papal of him! We the people were enjoying all this rhetoric, and are now CUT-OFF and treated to very bad rhetoric, that had to be REISSUED (as a Papal Bull) because Barr says he was misunderstood, and thus his Lordship is misunderstood! Outrageous! Let us see how, and how much Barr was misunderstood! What color is the smokescreen coming out of the White House chimney?
Pea, Baby-poop, Green!
Robert Wilson roles over in his grave! This is the Rhetoric Sin of Sins! What is worse, if that report is turned over to the public, and it is heavily redacted, it will spell the end of Rhetoric Propaganda – for everyone! It will also spell DOOM for our Democracy, because in Wilson's lessons, you can read the Preamble to our Constitution, the Greatest Rhetoric Work ever written.
Because WE are in real danger of losing The Rose In The Woods' I will publish my theories and findings in Newspaper Form – as they unfold. Blogging is a big part of the Computer Revolution that  Meg and Apple are fighting over, and – not for! If they were honest, they would establish Funding For Poor Writers and Bloggers – and Free Acting Groups – who will present their rhetoric on Guibi and Apple TV. Just because the Grand Illusion Makers of Hollywood can not make a profit on The Merry Actors and Rhetoric Pranksters, does not mean they deserve to be CENSORED, economically! John Wilson understood this. He ran Free Colleges. His audience were young people who were exposed to The Art of Rhetoric. My DNA was right there – in the center of all the action! Robert Wilson, in my opinion, is the eloquent masked Phantom of the Rhetoric Ball. Ogmios!
If our College and Universities can not teach young people the Art of Rhetoric, and, instead, turn them over to Ranting Petty-ass Dictators, then, they should be abolished! The idea of  FREE universities, will eliminate the Dumbing Down Money Scam where degrees are handed to young men who do not know how to dialogue a young woman. They don't even look at women, or hold a woman's hand. They will, however, turn in book reports after watching three minute movies on Apple TV. Oh, and they will notice those Russian quickie cartoons made by Fuzzy Bear depicting the Democrat as the Anti-Christ.
Fast food! Fast fools!
John Presco
President: Royal Rosamond Press
https://en.wikipedia.org/wiki/Queen_Elizabeth%27s_Men
It has been proposed that Elizabeth had a specific political motive behind the formation of the company. Robert Dudley, 1st Earl of Leicester and Edward de Vere, 17th Earl of Oxford were using their companies of players to compete for attention and prestige at each year's Christmas festivities at Court; Elizabeth and her councillors apparently judged the competition, and the noblemen's egos, to be getting out of hand. By culling the best players in their troupes to form her own, she slapped down ambitious aristocrats and asserted her own priority.[4]
https://www.msn.com/en-us/news/politics/how-the-trump-era-is-molding-the-next-generation-of-voters/ar-BBVtQu4?ocid=spartandhp
Mary turned her attention to finding a new husband from the royalty of Europe. But when her uncle, the Cardinal of Lorraine, began negotiations with Archduke Charles of Austria without her consent, she angrily objected and the negotiations foundered.[73] Her own attempt to negotiate a marriage to Don Carlos, the mentally unstable heir apparent of King Philip II of Spain, was rebuffed by Philip.[74] Elizabeth attempted to neutralise Mary by suggesting that she marry English Protestant Robert Dudley, 1st Earl of Leicester (Sir Henry Sidney's brother-in-law and the English queen's own favourite), whom Elizabeth trusted and thought she could control.[75] She sent an ambassador, Thomas Randolph, to tell Mary that if she married an English nobleman, Elizabeth would "proceed to the inquisition of her right and title to be our next cousin and heir".[76] The proposal came to nothing, not least because the intended bridegroom was unwilling.[77
Education and marriage
[
edit
]
Robert Dudley was the fifth son of John Dudley, Duke of Northumberland, and his wife Jane, daughter of Sir Edward Guildford.[4] John and Jane Dudley had 13 children in all and were known for their happy family life.[5] Among the siblings' tutors figured John Dee,[6] Thomas Wilson, and Roger Ascham.[7] Roger Ascham believed that Robert Dudley possessed a rare talent for languages and writing, regretting that his pupil had done himself harm by preferring mathematics.[8] Robert learned the craft of the courtier at the courts of Henry VIII, and especially Edward VI, among whose companions he served.[9]
Robert Dudley was 12 when he lost his eldest brother, Henry, during the siege of Boulogne, in the late summer of 1544. The brother to succeed the 19-year-old Henry as the family heir was John, the third son of his parents, John Dudley and Jane Guildford. John the Younger was then 13 years old; when his father became Earl of Warwick in early 1547 he was styled Viscount Lisle, and later, when John Dudley senior became the Duke of Northumberland, John Dudley junior became the Earl of Warwick.
John's birth in, most probably, late autumn of 15301 had been followed by that of his brothers Ambrose and Robert, and, not far apart in age, the three were educated together, it seems. The Cambridge scholar Thomas Wilson explained to Robert Dudley in 1572 that
I am to deal thus with your honour before others, because I have known you, and that noble race your brethren, even from their young years. And with your honour, and that famous Earl of Warwick deceased, and your noble brother now Earl of Warwick living [i.e. Ambrose Dudley], I have had more familiar conference than with the rest.2
The brothers' tutors included Michelangelo Florio for Italian, and Thomas Wilson and Roger Ascham for "the new learning". As heir to his powerful father, John was the dedicatee of two important works of English Protestant Humanism, Walter Haddon's Cantabrigienses (1552) and Thomas Wilson's Arte of Rhetoricke (1553). Wilson had passed an agreeable summer vacation at Sir Edward Dymock's house, which gave him the leisure to write his Ciceronian work:
I therefore commend to your Lordship's tuition and patronage this treatise of rhetoric to the end that ye may get some furtherance by the same & I also be discharged of my faithful promise this last year made unto you. For whereas it pleased you among other talk of learning earnestly to wish that ye might one day see the precepts of rhetoric set forth by me in English as I had erst[while] done the rules of logic.
The Dudley children, but also their parents, seem to have been fascinated by mathematics and cosmography, a field that originally came to their attention through the elder John Dudley's career as vice-admiral and Lord Admiral in the 1530s and 1540s. The young mathematician and astrologer John Dee resided in the Dudley household as an intellectual companion for a time, where he was commissioned to write two treatises for the Duchess of Northumberland. As late as 1570 he remembered in the dedication of his masterwork, The Mathematicall Preface, how the younger John Dudley used to wear round his neck a little book – "his … counsellor most trusty", with "rules and descriptions arithmetical".
Leicester's Men
Jump to navigation Jump to search
The Earl of Leicester's Men was a playing company or troupe of actors in English Renaissance theatre, active mainly in the 1570s and 1580s in the reign of Elizabeth I. In many respects, it was the major company in Elizabethan drama of its time, and established the pattern for the companies that would follow: it was the first to be awarded a royal patent, and the first to occupy one of the new public theatres on a permanent basis.
Beginnings
[
edit
]
Robert Dudley, 1st Earl of Leicester had kept players as early as 1559; they can be traced through the 1560s and into the 1570s by the records of their performances in various English cities as they toured the country. When the Elizabethan Poor Laws were amended by the Act of 1572, the status of travelling players was affected: those who did not possess sponsorship from a nobleman could be classed as vagabonds and subjected to a range of penalties. Conversely, however, those who enjoyed such sponsorship were legally more secure than they had previously been. A surviving letter to Leicester from his actors, dated 3 January 1572 and written by James Burbage for the company, requests that the actors be appointed not merely the Earl's liveried retainers but also his "household servants"—a distinction that enabled them to come and go in London without restriction. The letter also specifies that the actors would not expect any direct financial support, "any further stipend or benefit," from the Earl; they wanted to enjoy his legal protection while operating as an independent commercial entity, a model that subsequent companies would follow.
The 1572 letter was signed by Burbage, John Perkin, John Laneham, William Johnson, Robert Wilson, and Thomas Clarke. The first five men are also listed on the royal patent of 10 May 1574, the first royal patent granted to any company of players after the Act of 1572. The Queen's warrant authorized the company "to use, exercise, and occupy the art and faculty of playing comedies, tragedies, interludes, stage plays and other such like…as well within our city of London and liberties of the same, as also within the liberties and freedoms of any our cities, towns, boroughs etc. whatsoever…throughout our Realm of England."[1]
The warrant granted to Leicester's Men had one other crucial aspect: it cancelled earlier policies that allowed local officials to censure or disallow plays. Under the new policy, this power was vested only in the royal bureaucracy, through the Lord Chamberlain and his Master of the Revels. Once the players had the Master's approval for their plays, they could act them anywhere in England without local censorship. The warrant in effect gave the company, and those that would follow later, the freedom to create English Renaissance drama.
Success
[
edit
]
Leicester's Men performed at Court over the Christmas holidays in both 1574 and 1575. As Leicester's servants, the company also had a central role in Dudley's entertainments of Queen Elizabeth at his castle at Kenilworth in Warwickshire in 1566, 1572, and 1575. The last of these was especially noteworthy: it lasted from July 9 through July 27; its main device was The Delivery of the Lady of the Lake. Since Kenilworth lies only twelve miles northeast of Stratford-upon-Avon, it is possible that an eleven-year-old William Shakespeare was among the crowds that witnessed the event; he may later have referred to its image of "Arion on the dolphin's back" in Twelfth Night, I,ii,15.[2]
When James Burbage and his brother-in-law John Brayne built The Theatre, the first successful commercial public theatre in England, in 1576, Leicester's was the company that occupied its stage when performances began in the autumn of that year. The period from 1576 to 1583 was the apex of the company's fortunes.
Decline
[
edit
]
In 1583, the foundation of a new company, Queen Elizabeth's Men, stripped Leicester's Men of its three most talented and prominent members, Robert Wilson, John Laneham, and Richard Tarlton. (William Johnson may also have joined the Queen's Men at this time or soon after.) It is thought that Leicester's company was rifled of its best men deliberately, to tamp down the rivalry between Leicester and the Earl of Oxford as they expressed it through their competing companies of actors.[3] Leicester's Men never fully recovered their former prominence and prestige after 1583.
Still, the company persevered: it was on tour in 1584 and '85. In the latter year the Earl of Leicester was appointed commander of the English troops in The Netherlands; his progress through Utrecht, Leyden and The Hague was noted for the lavish pageants that were enacted in his honor. At least one member of Leicester's Men, William Kempe, accompanied the Earl to Holland; others also may have made the journey. The company was touring again through the 1586–88 period, and performed at Court in December 1586.
With the Earl's death in 1588 Leicester's Men passed out of existence. Kempe and some other members went on to work with other companies.
Robert was brought up, so far as was consistent the law, as an early Protestant.
Robert's birthplace is unknown but was probably in London as the Dudleys were attached to the court and Robert became one of the young men and boys who surrounded Prince Edward (born 1537), as was Sir Henry Sidney, later the husband of Robert's sister, Mary. As a member of Edward's household, Robert would have become acquainted with the prince's sister, the Lady Elizabeth, who was of a similar age.
Prince Edward, like his elder sisters, was highly educated, and Robert shared some of his tutors, although, as he was four or five years the elder, not the actual lessons. Roger Ascham, later tutor to Elizabeth, referred to his skill in reading and writing in Latin. Dr Thomas Wilson, Master of the Court of Requests, said of Robert that he had a 'careful mind even in reading not only of the Latin but also of the Italian, good and sound writers to know, and understand the best used government and the chief laws that have been made in all ages.' Wilson further noted that Robert had a mind 'thus godly inclined to know' and to put his knowledge into practice.
Ogmios, Celtic god of Gaul identified with the Roman Hercules. He was portrayed as an old man with swarthy skin and armed with a bow and club. He was also a god of eloquence, and in that aspect he was represented as drawing along a company of men whose ears were chained to his tongue.
Ogmios' Irish equivalent was Ogma, whose Herculean, warlike aspect was also stressed. In Irish tradition he was portrayed as a swarthy man whose battle ardour was so great that he had to be controlled by chains held by other warriors until the right moment. Ogham script, an Irish writing system dating from the 4th century ad, seems to have been named for him, a fitting association for a god of eloquence.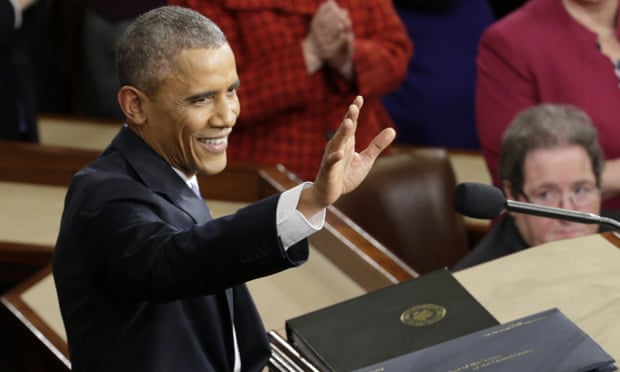 Though his most extreme critics have questioned whether he was really born in the United States, President Obama's rhetoric is squarely in the American tradition. His ability to "speak American" will be on display when he delivers the annual State of the Union address before both houses of Congress, members of the US supreme court and the cabinet (save the one who stays home to maintain the line of presidential succession in the event of an unimaginable calamity) and an international television audience.
Having worked as a community organizer and a constitutional law professor – and with a family history that "could only happen in America" – Obama is a more elevated orator than George W Bush, whose speaking style was described by one of his speechwriters as "blunt" and "staccato". And his style is less free-form than Bill Clinton, who could display his earthiness and expertise in the same speech.
Meanwhile, Obama's rhetoric reflects his study of the nation's founding documents – the US constitution and Declaration of Independence – as well as basic texts of our civic culture, from the Bible to the speeches of Abraham Lincoln, Theodore Roosevelt, Franklin D Roosevelt, John F Kennedy and Martin Luther King Jr.
For instance, he repeatedly presents his proposed programs as steps towards achieving the aspiration enshrined in the preamble to the US constitution: "a more perfect union" (which was also the title of Obama's March 2008 speech about America's racial history).
And while not repeating a single, signature phrase to describe his administration – as FDR did with the "New Deal", JFK did with the "New Frontier" and Lyndon B Johnson did with the "Great Society" – Obama often stresses several concepts.
First among the concepts Obama frequently stresses is national unity – like when he introduced himself to a national audience at the Democratic National Convention in 2004 by declaring "There's not a black America and white America and Latino America and Asian America; there's the United States of America". He also used his debut to decry "the pundits [who] like to slice and dice our country into red states and blue States: red states for Republicans, blue States for Democrats".
Another theme on which Obama often focuses his speeches is change, situated in America's progress towards a more inclusive society. In his second inaugural address in 2013, Obama quoted the Declaration of Independence – "We hold these truths to be self-evident, that all men are created equal" – before asserting: "Today we continue a never-ending journey to bridge the meaning of those words with the realities of our time."
And when concluding his 2014 State of the Union address, Obama preached perseverance:
America has never come easy. Our freedom, our democracy, has never been easy. Sometimes, we stumble, we make mistakes; we get frustrated or discouraged … But if we work together – if we summon what is best in us … with our feet planted firmly in today, but our eyes cast toward tomorrow, I know it is within our reach.
But if Obama's rhetoric draws on the tradition of such professorial political leaders as Adlai Stevenson and Woodrow Wilson, it also strongly reflects his roots as a community organizer in Chicago who worked with African American religious leaders.
Especially in rally speeches (but also in more formal settings), Obama uses memorable slogans – such as "Yes, we can" and "Pass this bill" – that recall the social movements of the 1960s. He also often incorporates biblical references into his various public addresses, such as his description of his own cohort of African American achievers as "the Joshua generation", indebted to the "Moses generation" of the pioneers who preceded them.
Moreover, Obama often organizes his speeches around the same structure as a sermon: beginning by finding common ground with the audience; bringing them down with a challenge; and concluding by lifting them up to higher ground than the opening.
The challenges for Obama's final State of the Union speech are daunting. It will be delivered earlier in the year than any presidential address to a joint session of Congress in almost four decades. The scheduling reflects his intention to shape the debate in an election year, as well as his recognition that his legislative initiatives will be considered by a Congress controlled by the opposition party.
But year after year, White House staffers tell reporters that this year's State of the Union address will be "more than a laundry list" of policy proposals; this time, the predictions that President Obama's speech will be "non-traditional" may actually be true.
And few presidents have been better prepared to deliver the speech that his aides are promising: a thematic overview of America accomplishments over the past seven years and the challenges and choices confronting the country in the years ahead. Those who listen on Tuesday night may well hear a masterful orator-in-chief at the top of his game.