We old folks keep forgetting, that every seven years young people are replaced, and thus do not have a long memory like we do. We got many pearls on our historic neckless. For this reason one can recycle pieces of history, and present it as new – stuff!
'Oswald's Granddaughter' will be presented for sale in order to help the homeless, and myself. It's about a nineteen year old woman who moves from Bozeman Montana, to Eugene Oregon. Sarina Oswald's mother kept it a secret who they were. They were surrounded by right-wing Bible freaks who gave this reclusive mother and daughter a very bad time – as it was! Sarena wants to be herself! She wants to break out and be around people who accept her – when alas she tells them who her grandfather was.
Getting  job at the Cosmic Pizza in Eugene Oregon, she takes a chance and reveals her true identity to her co-worker.
"Jasmine. I have to tell you something!"
"What?"
"Promise not to tell?"
"Whatever! Lay it on me."
"I'm……….Lee Harvey Oswald's Granddaughter!"
"Who?"
"My mother' father shot Jack Kennedy!"
"Who's that?"
"Oh my God!" Sarena exclaims. She is in shock as it dawns on her she could have told her girlfriends in school who she was, and, they would not have known – who he was! Her whole life has been wasted in silent isolation. What kind of scars is she walking around with? All for not! Will she ever be normal? She had to conduct a test, just to be sure.
"Jack was Adolph Hitler's buddy. They were on the same scull team at Harvard."
"Never heard of that dude either! Boy, you sure know a lot. You're making my head hurt. Let's take a break and smoke a dooby out in the alley. You need to mellow out."
"Yeah. I guess so."
"Have you found a Tribal Community, yet?"
"What's that?"
"Boy, you sure ask a lot of questions. You can tryout for The Tater People Tribe. I'll teach you how to get down on your knees and dig in the dirt. Just don't act like a walking encyclopedia."
John Presco
Copyright 2018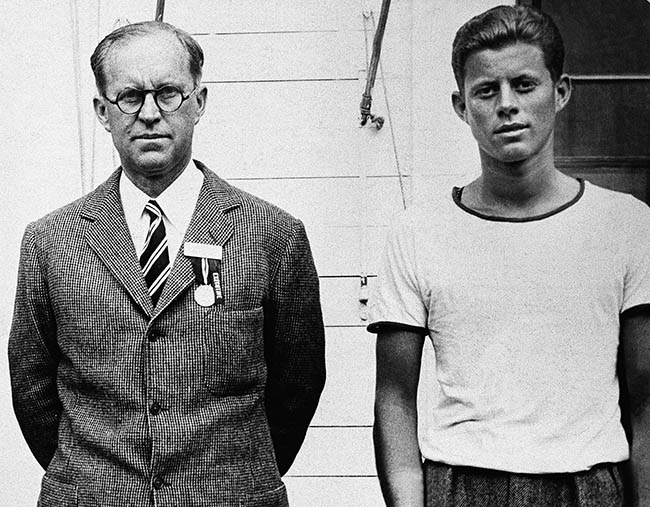 John F. Kennedy is one of the most mythologized figures in contemporary American history. At age 17, though, he was just a kid trying to get into college (a kid with a wealthy, famous father, of course).
The Kennedy Presidential Library and Museum has a digitized version of Kennedy's 1935 Harvard application, which includes his grades and his response to the essay prompt, "Why do you wish to come to Harvard?" Here's how the future president answered:
The reasons that I have for wishing to go to Harvard are several. I feel that Harvard can give me a better background and a better liberal education than any other university. I have always wanted to go there, as I have felt that it is not just another college, but is a university with something definite to offer. Then too, I would like to go to the same college as my father. To be a "Harvard man" is an enviable distinction, and one that I sincerely hope I shall attain.

April 23, 1935
John F. Kennedy

https://www.theatlantic.com/education/archive/2013/11/jfks-very-revealing-harvard-application-essay/281699/