Christine Rosamond and I grew up in Oakland. Our Godfather was a Oakland cop who duked it out with the Hell's Angels at their headquarters. Ken Kesey, and the poet Michael McClure, hung with the Angels. I met both men.  Michael was a good friend of Jim Morrison. All these people, are dead, or will be soon. I have no problem with Lara getting on a hog and throwing the bird to whomever she wants. I think she's BAD. She is my vehicle out of my prison assholes put Christine and I in! These Dark Ones are too chicken shit to write a poem, or, be an actor. Lara's got guts! She's my Winged Muse!
The top pic is of Garth Benton in a movie, and beneath him is Rick Partlow in The Gambler. Both actors were married to Christine. I don't need anyone's stamp of approval. Victoria Bond is not only a champion equestrian, who likes to cop a feel, now an then, she likes to go riding with her biker gang 'Dante's Infernos' when they go to 'The Devil Be Damned Poetry Slam, Down at the Dock of the Bay'.
Fuck you all! If you can't write a poem, you can't hang with Victoria's London gang. I was at the first Human Be-in with Nancy. What the fuck are we waiting for – Trump to shut his god damn mouth!
Let's ride!
Jon Presco
Hung midsea
Like a boat mid-air
The liners boiled their pastures:
The liners of flesh,
The Arctic steamers
Brains the size of a teacup
Mouths the size of a door
The sleek wolves
Mowers and reapers of sea kine.
THE GIANT TADPOLES
(Meat their algae)
Lept
Like sheep or children.
Shot from the sea's bore.
Turned and twisted
(Goya!!)
Flung blood and sperm.
Incense.
Gnashed at their tails and brothers
Cursed Christ of mammals,
Snapped at the sun,
Ran for the Sea's floor.
Goya! Goya!
Oh Lawrence
No angels dance those bridges.
OH GUN! OH BOW!
There are no churches in the waves,
No holiness,
No passages or crossings
From the beasts' wet shore.
https://www.thing.net/~grist/l&d/mcclure/mcclurea.htm
Similarly themed gatherings had occurred earlier in Golden Gate Park and the Panhandle. Bill Graham had operated the Fillmore Auditorium for more than a year by early 1967, hosting ticketed events with many of the Be-In participants, including the Grateful Dead, Quicksilver Messenger Service, the Sons of Champlin and poets Allen Ginsberg and Michael McClure.
But the Be-In had all that for free, drawing the biggest, most eclectic counterculture crowd to date. The Hells Angels were invited by Ginsberg and the organizers to act as "guardian angels," providing security and keeping the music equipment safe.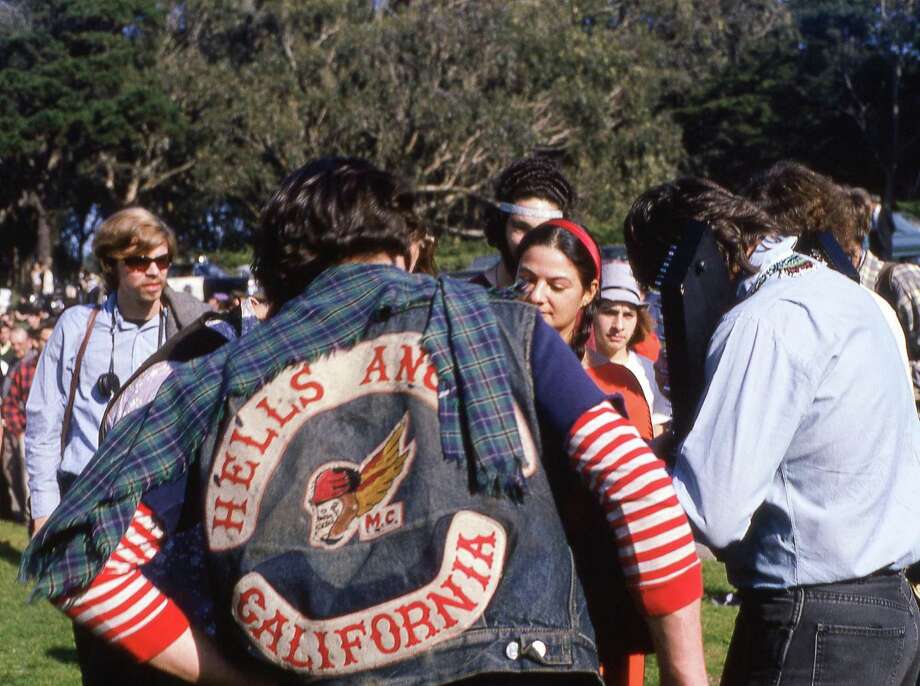 Photo: Rosie McGee / Rosie McGee /
For the first time, the flower children (the term hippie was not yet in wide usage) had created something too big for the square world to ignore.
"Afterwards, I knew that there was an actual day, Jan. 14, 1967, on which I was initiated into this new society, this new religion, as surely as if I had been initiated into the Ghost Dance Religion of the American Indians," wrote Helen Swick Perry in her 1970 nonfiction account, "The Human Be-In." "Retrospectively, I feel quite certain that the Be-In also marked the beginning of nationwide attention."
Spotted! Lara Roozemond from Touche Model Management!
Inspired by people and stories, this week we have a new one to add to the Spotted Style archives! We spotted Lara Roozemond between the pages of the fashion magazines Elle and Glamour. No surprise that she grabbed our attention with her beauty and outstanding look. The Dutch model is 19 years old, born and living in Amsterdam and she is one of the faces of Touche Models. Lara jumped into the fashion world at the age of 16 when she was scouted at her home town and it did not take long until her first fashion trip to Paris followed! Always looking for challenges, go gettter, Lara is not afraid to get out of her comfort zone. Curious to know more about her life? Read what she shared with us and follow her on Spotted Style!
Describe yourself with a few words:
Honest, helpful, go getter, and a bit crazy
What are you hobbies and biggest passions?
Of course Modelling and besides that Singing, Acting and horseback riding.
When and how you started your modelling career? Were you scouted by somebody?
I was scouted in Amsterdam when i just turned 16 and 6 months later i made my first Model trip to Paris.
Did modelling influence or change your life? If yes, how?
It did, it made me very independent.
Are you doing catwalks?
Yes, i love to do shows.
What are the biggest campaigns/brands you have done and worked for?
Magazines like Elle, Glamour and the shopping pages of Vogue Italia.
One thing that you love most about modelling?
All the inspiring persons you work with and the friends you make!
What is fashion for you? How would you describe your own style?
I guess i have a kind of tomboyish style, I wear a lot of black and I love biker boots.
What is your musthave for the season?
Leather pants
Fashion/ beauty icon that you admire?
I love the fashion and beauty Look of Behati Prinsloo.
What makes you laugh and what makes you happy?
My friends and Family, parties and rollercoasters.
Where do you get your inspiration from?
People and things around me.
How do you see Life through your eyes?
Challenging.
The things that are worth fighting for are?
Your passions.
3songs from your playlist
Disclosure -Latch
Ricoshei – Perfect Like You
Ame Remix- Turn Around
5facts that we don't know about you?
-I like to sing and I take acting classes besides modelling.
-Before I started modeling I competed in international dressage Competitions
-Im allergic to Gluten
-Im a bad cook and i eat almost everything with Ketchup.
-I hate cats
How do you imagine the future, what does it hold for you?
Busy! Filled with work, travelling around the world and the eager to live a valuable life.
If you could tell something to the whole world what it would be?
Get out of your comfort zone and stop spitting gum on the streets.