I've been reading what Sam Mendes has to say for two years. We are on the same path. I have much feedback for him, especially his last movie – that no one went to see!
John
Sam Mendes will direct a new play about Richard Burton and Elizabeth Taylor at the National Theatre
Johnny Flynn, Tuppence Middleton and Mark Gatiss will star in 'The Motive and the Cue'
Written by Andrzej LukowskiTuesday 22 November 2022
Fractious and fabulous, Richard Burton and Elizabeth Taylor remain one of the most iconic couples of the celebrity era. And their fame was at its peak when Burton starred in an experimental 1964 Broadway production of 'Hamlet', directed by the great Sir John Gielgud, who was bemused by the celebrity circus that followed the newlyweds everywhere.
The chaotic, culture clash backstage world of Burton and Gielgud's 'Hamlet' is the setting for 'The Motive and the Cue' (Apr 20-Jul 3) by Jack Thorne ('Harry Potter and the Cursed Child', the BBC's 'His Dark Materials', about a million other things), which will be directed by massive name Sam Mendes, who likes to do a show at the National Theatre every few years in between films (his last NT show 'The Lehman Trilogy' will begin its second West End run in January). 
https://www.theguardian.com/culture/2023/jan/08/sam-mendes-great-era-going-to-movies-dying
https://www.timeout.com/london/news/sam-mendes-will-direct-a-new-play-about-richard-burton-and-elizabeth-taylor-at-the-national-theatre-112222
The great era of going to the movies is dying, says Sam Mendes
Director, whose new film is a love letter to cinema, says many of his past hits would have been for streaming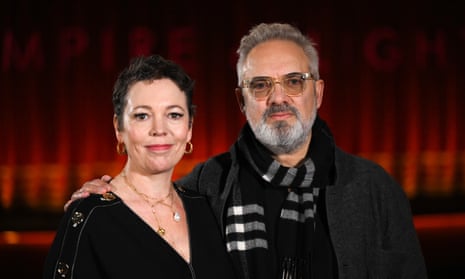 Jessica MurraySun 8 Jan 2023 12.29 EST
The "great era" of going to the cinema is dying, Sir Sam Mendes has said, adding that he thinks his most famous films would go to streaming services if made now.
The British director, known for his James Bond movies and critically acclaimed hits such as American Beauty and 1917, said: "The 20th century, the great era of movies, the great entertainment form – which was going out to the movies – that is dying.
"I look back at my films and I think American Beauty, Revolutionary Road, Away We Go, these would all go to streaming now and that makes me sad."
Speaking on the BBC's Sunday With Laura Kuenssberg programme, Mendes said "middle-budget movies" are no longer made for cinemas, and most often go straight to streaming services, such as Netflix or Amazon Prime, instead.
https://97d82564edb8c196f8df81c30b8e602c.safeframe.googlesyndication.com/safeframe/1-0-40/html/container.html
"You look at the multiplexes and people go 'there's six screens' and then you go to those six screens and it says 'screen one Avatar, screen two Avatar, screen three Avatar' – that's not a six-screen cinema; that's just six screens showing the same movie," he said.
"That is a different understanding of why those buildings were created in the first place."
He said film-makers now have to "accept and embrace the ambition of a big screen" or "accept that they're going to be seen by millions of people on streaming, which is no bad thing".
His latest film, Empire of Light, is a romantic drama set around an old cinema in the English seaside town of Margate in 1981.
Mendes previously told the Guardian the film was a love letter to cinema: "If you are broken, movies can help put you back together again. I'm a romantic. I do believe that. Yet that could easily be tilted into being: it's about the magic of movies," he said.
It is the director's first film directed from his own screenplay, and was inspired by his childhood growing up around someone who suffered from mental illness.
The film stars the Oscar-winning actor Olivia Colman as a cinema manager with bipolar disorder, a character heavily based on Mendes's mother, Valerie.
"The stigma that is still attached to mental illness, there's still a cloak of darkness that's thrown over it," he said.
https://97d82564edb8c196f8df81c30b8e602c.safeframe.googlesyndication.com/safeframe/1-0-40/html/container.html
"If you come out of hospital and you've just recovered from cancer, I'm immediately saying to you 'how are you?'. If you come out of a mental health facility, I don't talk about it, I probably don't ask you the question."
He said he had to "dramatise" the effect of what it is to live through bipolar and manic depression, "rather than to explain it".
Colman, 48, stars alongside the 25-year-old Jamaican-British actor Micheal Ward, who plays a ticket seller hired at the cinema and who begins an intimate relationship with the lead.
Talking about working with Colman on the film, Mendes said: "She was very embarrassed about performing the sex scenes, as is often the case. You're seeing people at their rawest, at their most emotionally vulnerable.
"It's like anything, you're trying to push a little further into the places that you're not normally allowed to go into, you're going behind the curtain as it were and I wanted to see their physical desire."
The film, which is released in UK cinemas on Monday, has received mixed reviews from critics.