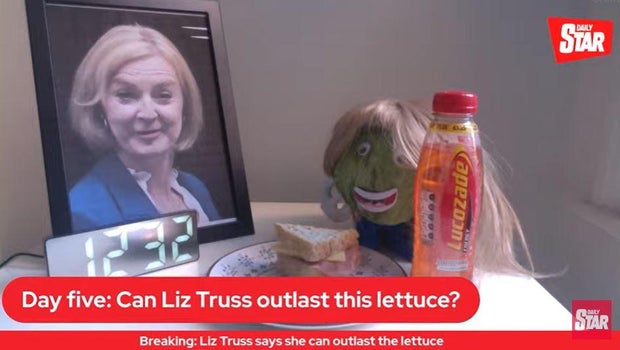 Truss initially tried to stay the course after her government's package of 45 billion pounds ($50 billion) in unfunded tax cuts spooked the markets, pushing up government borrowing costs, raising home mortgage costs and sending the pound plummeting to an all-time low against the dollar. The Bank of England was forced to intervene to protect pension funds, which were squeezed by volatility in the bond market.
Let me begin with this….there is a contest in Britain about who is going last longer, a head of lettuce, or, the new Prime Minister! That's it……THE LAST SIGN! How did thy know. How did they know?
The announcer on MSNBC starts informing the viewer that we and NATO need Britain to be strong right now, now that Putin is threatening to…..NUKE THE WEST! The Eastons come to mind, who are my inspiration for my Bond book 'The Royal Janitor'. High Noon – anyone?
As things stand now, if I were President Biden, I would declare Marshall Law and CANCEL the elections due to every Republican being UNFIT for office – for starters! I would then ask VP Harris to resign – and then appoint Mike Pence Vice President!
"Remember us, The Old School White Hair Boys – who know how it's supposed to go – The Cold War!"
You don't do what Kevin McCarthy did.
Kevin – gave away the farm
Kevin – lost our wordly swag
Kevin – gave every indication most Republicans are on Putin and Mohammed's side, and have been since Trump made that secret deal to invade Europe, and together Trump, Putin, and Mohammed would rule the world of energy.
Kevin – and his buddies conspired with Mohammed to CANCEL the Democratic Party.
Kevin – saw the Top Secret plans that Donald stole – and they showed Putin and Mohammed the CIA plans on how the U.S. would handle Russia and Saudi Arabia.
None of these – NOTIONS – have to be true. I grew up in the Cold War and learned at an early age there is allot of fiction and lying, and, you had to go with the IMPRESSIONS you made in order to STANDOFF the Devil who wants to nuke you.
After stabbing OUR President in the back, Putin and Mohammed signed a pact at OPEC Plus. This makes them – PARTNERS! What I suggest is a great team of worldly lawyers – SUE THE SHIT OUT OF MOHAMMED – for the evil damage Putin has done to Ukraine, using IRANIAN DRONES! Kevin needs to go on world T.V. and assure Zelenzky that Putin and Mohammed – WILL PAY for the electrical infrastructure THE PARTNERS destroyed!
I will personally sue Mohammed for Slavery Reoperations, for his religion sinking many U.S. vessels, and taking tens of thousands of Americans – AS SLAVES – along with a million Europeans. My great grandfather was Sir Issac Hull, Captain of the U.S.S. Constitution – and Enterprise!
Make it happen!
I also want to sue Congressman Kevin McCarthy for destroying the Republican Party when he declared what the Republican Partie's WORLD PLAN IS – if they take the House! IF – is the key word! He was handing out oil discounts – for votes! What about our NATO Allies who took a stand against Putin? Kevin acts like WE don't have a President – RIGHT NOW. Biden said he was going to take steps to retaliate against Mohammed. McCarthy TOLD this Muslim – there would be no punishment, but of President Zelensky – who spoiled The Secret Plan of the Three – by putting up one hell of a fight! God is on his side – FOR SURE!
All our friends and Allies – are reeling from the Evil Message McCarthy gave to the Ukrainian People – just when they needed – REAL HOPE! I don't believe there is one Republican Christian Minister – who can give THE WHOLE WORLD – ANY HOPE! God – FIRES THEM! GET OUT!
Jesus-John 'The Nazarites'
https://www.cbsnews.com/news/uk-prime-minister-liz-truss-economy-tax-cuts-will-she-outlast-a-lettuce/
https://www.forbes.com/sites/daneberhart/2022/10/07/no-surprise-that-opec-plus-sides-with-russia-over-biden-in-oil-market/?sh=7457bdc9efe2
https://www.city-journal.org/html/jefferson-versus-muslim-pirates-13013.html
Embattled British PM Truss loses 2nd minister in a week amid political and economic turmoil
Home Secretary Suella Braverman quit, saying in her resignation letter that she had concerns over the direction of Truss' government.
Posted on April 27, 2021 by Royal Rosamond Press
My grandfather, Royal Rosamond, wrote in one of his books that one of his grandfathers Captained the U.S.S. Constitution. All night long, my Sea Angel bid me to gather around me all the power others have take from me. Yesterday, I edited the wikipedia citation on Christine Rosamond Benton. I challenged the sentence saying – it was not the season for rogue waves! If you have been at sea, or, just stood at the shore, you should know there is no season for rogues waves. They can occur at anytime, and any place. According to a reader at the Berkeley Psychic Institute, I died at the edge of the sea in February of 1967. This morning, when I opened my eyes, a voice bid me to declare myself THE CAPTAIN OF THE USS. ENTERPRISE.
USS Enterprise (1799) – Wikipedia
Here is an article that repeats what I have been saying and seeing in the blog, and in my Bond book 'The Royal Janitor' inspired by the incredible memory of Rena Easton who I rescued by the Venice Pier in 1970.
Spy chiefs look to declassify intel after rare plea from 4-star commanders (msn.com)
""We request this help to better enable the US, and by extension its allies and partners, to win without fighting, to fight now in so-called gray zones, and to supply ammunition in the ongoing war of narratives," the commanders who oversee U.S. military forces in Asia, Europe, Africa, Latin America, as well as special operations troops, wrote to then-acting Director of National Intelligence Joseph Maguire last January.
Oct. 19, 2022, 10:25 AM PDT / Source: Associated Press
By Associated Press
British Prime Minister Liz Truss described herself as "a fighter and not a quitter" Wednesday as she faced down a hostile opposition and fury from her own Conservative Party over her botched economic plan.
Yet the grim faces of her ruling Conservative Party's lawmakers behind her in the House of Commons suggested that Truss faces an uphill struggle to save her job.
And within hours of Truss' appearance in Parliament for a regular session titled Prime Minister's Questions, she lost a senior member of her government.
Home Secretary Suella Braverman quit saying in her resignation letter that she had to go after she breached government rules but also that she had concerns over the direction of Truss' government.
"I have made a mistake, I accept responsibility; I resign," Braverman, a popular figure on the party's right wing and a champion of more restrictive immigration policies, said in letter to Truss posted on Twitter.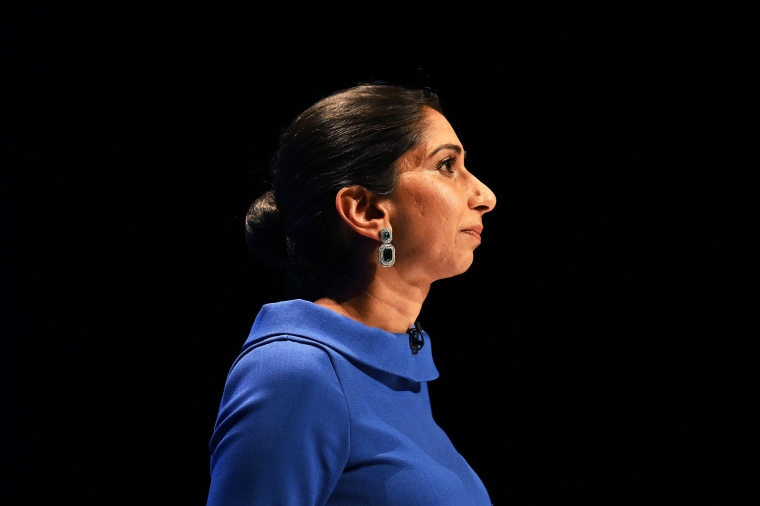 She said she had sent an official document from her personal email to a parliamentary colleague, adding that this marked "a technical infringement of the rules" and that it was therefore "right for me to go."
The second senior minister to leave the government in less than a week, Braverman's departure heaps yet more pressure on Truss as she fights to stay in power just over six weeks after she entered Downing Street.
Truss fired her Treasury chief, Kwasi Kwarteng, on Friday after the economic package the pair drew up spooked financial markets when it was announced on Sept. 23.
The plan's £45 billion ($50 billion) in unfunded tax cuts sparked turmoil on financial markets, hammering the value of the pound and increasing the cost of U.K. government borrowing. The Bank of England was forced to intervene to prevent the crisis from spreading to the wider economy and putting pension funds at risk.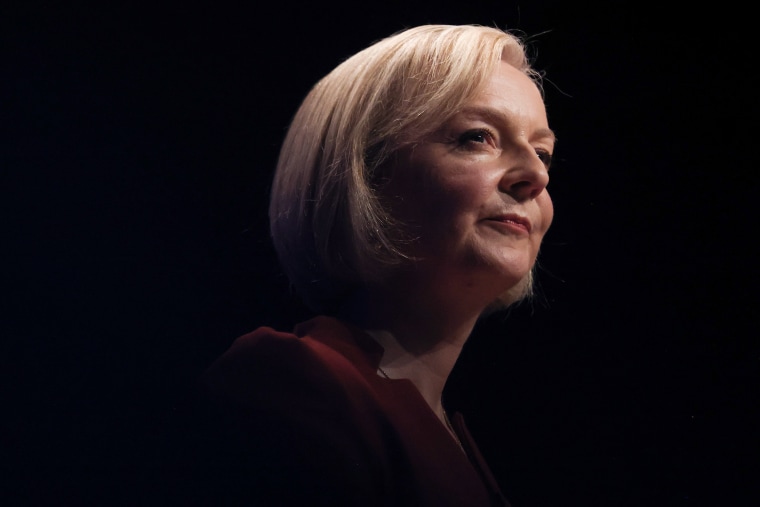 Truss attended her first session of Prime Minister's Questions since Kwarteng's replacement, Treasury chief Jeremy Hunt, ripped up the tax-cutting package unveiled by her new government less than a month ago.
Hunt scrapped almost all of Truss' tax cuts, along with her flagship energy policy and her promise of no public spending cuts. He said the government will need to save billions of pounds and there are "many difficult decisions" to be made before he sets out a medium-term fiscal plan on Oct. 31.
Get the Morning Rundown
Get a head start on the morning's top stories.SIGN UPTHIS SITE IS PROTECTED BY RECAPTCHA PRIVACY POLICY | TERMS OF SERVICE
Truss apologized to Parliament and admitted she had made mistakes during her short tenure as the U.K.'s head of government, but insisted that by changing course she had "taken responsibility and made the right decisions in the interest of the country's economic stability."