"Mr Pence paused and let out a long sigh before answering."
I just tried to send the first of my letters to Congressman Kevin McCarthy informing him I am changing the name of my families Republican Party, to – Mohammed's Party.
Dear Congressman McCarthy
My kin, John Fremont, co-found the Republican Party, and was the first Presidential Cadidate for this Abolitionist Party made up of Radicals and Socialist (many recent immigrants from Europe) who had fought against the Habsburg Kingdom and Emperor – who ruled as Divine Kings. John, and his wife, spied on the Hapsburg Emperor of Mexico during the Civil War.
It occurs to me this day, that you gave my families party to PRINCE Mohammed bin Salman, who is far wealthier than any Habsburg. Why – in one fell swoop – did you give Mohammed a major American Party – and you did not get anything in return? You could have got him to commit to spending a billion dollars to get many homeless people off the street this winter. But…..NOOOOOOOOO! You saw what a bind OUR President was in, he surrounded by our enemies, and the enemies of the world – and you put The Pinzer Move on him – too!? I haven't decided if this is – TREASON – or not. This is the first of the letters I will be sending you, that I will post on my blog 'Royal Rosamond Press'.
It appears to me you don't think much of members of the Republican Party, who will sell their souls to the Devil – if they can save money at the gas pump! I guess you suspect most Republican voters – are not Loyal Christians – like I do? They claim wealthy Donald Trump was the embodiment of King David – and now – it looks like Mohammed bin Salman is……….King Solomon? Did folks back then get to vote on who will rule over them? Nope! God warned them about wanting a king! Who cares – if they can't afford Mohammed's gas?
Hardy- har-har! How – rich!
It's a done deal. I am the Republican Party Historian, and I will call the Traitor Party – what I want to call it. Voter's don't care. You guaranteed them gobs of Saudi Oil – if they vote for Mohammed in proxy! Whenever THE PRINCE OF DARKNESS wants his party people to do his will, or, look the other way, he will just wag his finger at – HIS NAUGHTY CHRISTIANS! If his buddy Putin wants to publicly crucify Ukraine leaders, and he detects a show of concern – he will raise the price of oil per barrel. How clever! Democracy made easy!
Hardy har! Take that!
But, don't fret – too much! Mohammed and his family worship Jesus and Mary, and, may own better history of this family – and events! I see Holy Christian Oil Churches of Islam being built all over America. The more Converts and Baptisms – the lower a gallon of gasoline! There will be a Convert Exchange Market where one can invest in The Prince's Kingdom. You must have a chip with Holy Number. You know the drill!
Hardy-har! Har!
So, check out my blog! Three days before the elections I will reveal what Jesus meant when he said;
"It's done!"
It's done Kevin. Too late to change our party back to what John Fremont wanted it to be called. We are all….sooooooooooooooo powerless!
John Presco
'Member of Mohammed's Party'
President: Royal Rosamond Press
https://www.newsday.com/opinion/columnists/cathy-young/ukraine-putin-russia-kevin-mccarthy-i0un1yec
https://houseofsaud.com/mohammed-bin-salman-works-with-putin-to-inflate-oil-price/
Former Vice President Mike Pence seemed frustrated he had to defend the US investment in the war in Ukraine from leaders of his own party during an interview on Fox News.
On Wednesday, Mr Pence sat down with Fox News' John Roberts to discuss the state of the nation and the upcoming midterm elections. Mr Roberts asked Mr Pence for his thoughts on a statement recently made by House Minority Leader Kevin McCarthy suggesting the party wanted to reel-in US military support of Ukraine as it continues to battle invading Russian forces.
"House Minority Leader Kevin McCarthy … has said if Republicans take the gavel, that America will no longer be a 'blank cheque' for the war in Ukraine. Do you take issue with that?" Mr Roberts asked.
Mr Pence paused and let out a long sigh before answering.
https://news.yahoo.com/mike-pence-caught-sighing-asked-210133468.html
https://s.yimg.com/rq/darla/4-10-1/html/r-sf-flx.html
"You know the United States throughout our history has understood that we need to be the leader of the free world. That includes being the arsenal of democracy," Mr Pence said.
October 5, 2022October 5, 2022
The Saudi Royal Family are working to inflate the price of oil, inline with Vladimir Putin's interests. Mohammed bin Salman is leading the way with his strategy which will be announced today are the Opec+ cartel meeting in Vienna. Dubbed the "Pablo Escobar of Oil" the Crown Prince has increasingly strayed from US direction regarding oil production and supply, and has even been considering a move away from selling the Al Saud's oil reserves in US dollar.
The Saudi Royal family will announce their reduction of oil supply at the cartel meeting today, where they will lay out the exact amount of reduction, estimated to be around 2 million barrels per day.
Putin's energy tsar, Alexander Novak, will be in attendance at the cartel meeting and is expected to announce a coordinated cut in Russia's oil supply.
The cut in oil supply will have a significant impact on prices, Brent crude rose to $91.50 a barrel on Wednesday — up 8 per cent since last week. The price of the announcement is mostly likely already priced in, but a further increase of 1 to 2 percent could be expected following the announcements.
Tensions between de facto leader of the Kingdom Mohammed bin Salman, and the US Government, have deepened President Biden's leadership, with the Crown Prince growing moving closer to partnerships with Russia and China.
https://english.alarabiya.net/views/news/middle-east/2016/04/27/Mohammad-bin-Salman-and-the-end-of-the-oil-era
https://www.washingtontimes.com/news/2022/oct/18/mohammed-bin-salman-has-legitimate-grievances-agai/
As a presidential candidate, Biden made no bones about his stance on the U.S.-Saudi relationship. Shortly after announcing his candidacy, he declared he was going to "cancel the blank check" the Trump administration had given Saudi Arabia during its war in Yemen, in which thousands of people have lost their lives.
He also vowed to treat Saudi Arabia as a "pariah" state in the wake of the brutal killing of Washington Post columnist Jamal Khashoggi, which the CIA has said was likely ordered by the crown prince.
Bin Salman has long denied any knowledge or involvement in the killing of the journalist, one of his most prominent critics, which was carried out inside the Saudi Consulate in Istanbul by agents who worked for him. A U.S. intelligence report that Biden declassified after coming to office said Khashoggi's killing could not have happened without the crown prince's knowledge.
In July, despite the criticism and with the war raging in Ukraine, Biden visited the kingdom, which is a vital American ally and one of the largest oil producers in the world.
Biden, who promised ahead of his visit that he would bring up the kingdom's rights record, famously fist-bumped the crown prince, who is Saudi Arabia's de facto leader, and held meetings with him and other senior figures.
https://www.theguardian.com/world/2022/oct/05/putin-mohammed-bin-salman-russia-saudi-arabia-deepen-ties
Putin and the prince: fears in west as Russia and Saudi Arabia deepen ties
Prince Mohammed's decision to strengthen relations has alarmed allies, but he has long admired Russian leader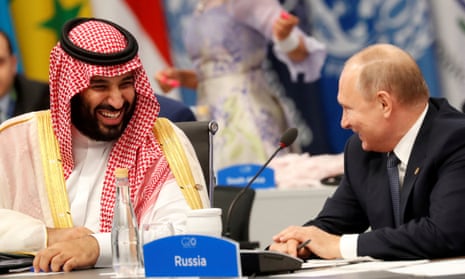 Martin Chulov Middle East correspondentWed 5 Oct 2022 08.32 EDT
They both started wars in neighbouring countries, hold significant sway over energy markets, are known to brook no dissent and to covet spots in history. Russia's embattled president, Vladimir Putin, and Saudi Arabia's de facto ruler, Mohammed bin Salman, seem to have a lot in common.
Nearly eight months into Russia's invasion of Ukraine, relations between Riyadh and Moscow are at a high point. As much of Europe, the US and the UK double down on attempts to combat an ever more menacing Russian leader, Prince Mohammed has instead chosen to deepen ties.
Russia-Ukraine war: Putin changes mobilisation rules as Kremlin defends retreat from occupied regions – as it happenedRead more
An Opec+ meeting in Vienna on Wednesday is the latest landmark in a growing relationship that is increasingly defying the demands of Riyadh's allies and appearing to give Putin comfort at a critical juncture in the war. Both countries are likely to seek to raise oil prices by cutting global supply by 1-2m barrels a day.
Such a move would follow widespread disruption to gas supplies to Europe caused by the war and predictions of a worsening energy security crisis as the northern winter approaches. It would also alienate Washington, an ally that has tried to recruit Riyadh to the cause of decreasing supply pressures by opening valves to its enormous reservoirs.
Instead, Joe Biden finds himself staring down a partner in the Middle East whom he had personally visited during the summer as the extent of the supply crisis became apparent. Biden walked away empty-handed and, as a result, faces the uncomfortable prospect of taking high bowser prices to midterm elections. Perhaps more importantly for the US president, a rise in oil prices could be seen as helping fund Putin's war effort.
"Previous Saudi administrations would have been much more sensitive to the US's feelings and to messaging, even though they would likely do the same thing," said Robin Mills, the chief executive of Qamar Energy. "Saudi has pretty much always done what it wanted in oil regardless of favours to the US but it usually sugar-coated it. Not this time."
https://imasdk.googleapis.com/js/core/bridge3.539.0_en.html#goog_1451844100
https://imasdk.googleapis.com/js/core/bridge3.539.0_en.html#goog_1240792516
https://imasdk.googleapis.com/js/core/bridge3.539.0_en.html#goog_611657436
javascript:false
javascript:false
Another sign of a deepening bond between Moscow and Riyadh emerged last month when, in a rare moment of global diplomacy, Saudi diplomats secured the release of international prisoners, including five Britons, captured during fighting inside Ukraine. The optics were stark, and appeared sanctioned by Putin to give Riyadh a moment on a world stage; here were Saudi diplomats a long way from home brokering a deal that had nothing obvious to do with the Middle East.
"This was a gift from Putin to MBS," said a British official familiar with the political dynamics. "Putin wanted it to happen, and he wanted it to seem as though the Saudis had achieved this through diplomacy."
After four years of global fallout from the assassination of the Saudi dissident and journalist Jamal Khashoggi by Prince Mohammed's security aides in Istanbul, the heir to the Saudi throne is in the midst of a global comeback. His attempts to position the kingdom as a regional power and global mover are among the 37-year-old's core goals. Saudi officials have not condemned Putin's invasion, and nor has Moscow weighed into Saudi Arabia's invasion of Yemen over the past five years – a war that has left its neighbour impoverished and in ongoing need of significant aid.
NGOs warned this week that the non-renewal of a ceasefire in Yemen would exacerbate the suffering of millions. Widespread destruction and humanitarian suffering in Ukraine, meanwhile, have not been a focus of Saudi discourse. Prince Mohammed seems unperturbed by Putin's recommitment to blood and soil nationalism and a bid to reclaim the lost glories of the Soviet Union. There have, in fact, been frequent signs that he would like to emulate the veteran Russian tyrant, with a blood and oil nationalism of his own.
In 2016, when Prince Mohammed was still deputy defence minister, the then 30-year-old summoned British diplomats, among them senior MI6 officers, to Riyadh. The sole purpose of the meeting was to seek the UK's advice on how to deal with Putin.
"He was fascinated by him," one of the Britons told the Observer several years later. "He seemed to admire him. He liked what he did."
In the years since, Prince Mohammed has come to emulate the man he studied. His crackdown on dissent has strong echoes of the Russian leader and so does the nascent emergence of a Saudi police state – built on Arab nationalist foundations and secured by controlling dissenters, co-opting oligarchs and consolidating a power base.
Both men have been further united in recent months by their dislike of Biden, whose administration has led the push to arm the Ukrainian military and forced the Russian army into a series of humiliating retreats. Biden had also led the push to sideline Prince Mohammed, who had taken pleasure in a US leader traveling to Jeddah with cap in hand and leaving empty-handed.
"Putin sees this as new world order stuff, and thinks he can bring MBS along with him," said the British official. "The Saudis sit on a very powerful asset in oil, which still has a strategic role to play. Don't write off carbon as a political tool for decades. MBS knows the optics of being seen to help out Putin, but he doesn't care. Neither are progressive liberals. They see leadership through the same lens."
Where will it all end? The conflict in Ukraine appears further than ever from resolution. Nuclear threats, mass graves, the sense that both sides are "all in".
It's our job at the Guardian to decipher a rapidly changing landscape, and report the facts in sober fashion, without getting carried away. Our correspondents are on the ground in Ukraine and Russia and throughout the globe delivering round-the-clock reporting and analysis during this fluid situation.
We know there is no substitute for being there – and we'll stay on the ground, as we did during the 1917 Russian Revolution, the Ukrainian famine of the 1930s, the collapse of the Soviet Union in 1991 and the first Russo-Ukrainian conflict in 2014. We have an illustrious, 200-year history of reporting throughout Europe in times of upheaval, peace and everything in between. We won't let up now.
Tens of millions have placed their trust in the Guardian's fearless journalism since we started publishing 200 years ago, turning to us in moments of crisis, uncertainty, solidarity and hope. We'd like to invite you to join more than 1.5 million supporters from 180 countries who now power us financially – keeping us open to all, and fiercely independent.
Unlike many others, the Guardian has no shareholders and no billionaire owner. Just the determination and passion to deliver high-impact global reporting, always free from commercial or political influence. Reporting like this is vital to establish the facts: who is lying and who is telling the truth.
And we provide all this for free, for everyone to read. We do this because we believe in information equality. Greater numbers of people can keep track of the events shaping our world, understand their impact on people and communities, and become inspired to take meaningful action. Millions can benefit from open access to quality, truthful news, regardless of their ability to pay for it.
Every contribution, however big or small, powers our journalism and sustains our future. Support the Guardian from as little as $1 – it only takes a minute. If you can, please consider supporting us with a regular amount each month. Thank you.
Contribution frequency
Single
Monthly
Annual
Contribution amount
$7 per month
$20 per month
Other