.
Who saw this coming? President Biden is coming to Oregon in order to keep Drazan from becoming a Republican Governor. Drazan is a Romanneuveau – A New Roman – or Romanite! She knows Putin and Mohammed will be watching her race, closely – as will Trump King David – because she does a fanciful rendition of a subject of Emperor Jesus, who has wanted to rule over ALL of America and turn it into a Kingdom.! I will reveal The Real Jesus who confronts Romanized Jews who owned slaves – and they tried to throw him off a cliff.
Christine Drazan is all for Big Oil – and Big Bucks Jesus – who is coming to Oregon – in Spirit! Will King Trump make a surprise appearance? Fox News might be pushing for that.
I have shown the Scott-Irish fought for the founding of our Democracy – and won! We are – The People!
Victory!
John Presco
FLASH! EXTRA! The Dark Wizard of Carlyle will be coming to Oregon to wave his Wand of Election Denial – and put thousands of Oregonian in a trance! Youngkin of the Dark Glen has dealt with Saudi Arabian Royalty who want Americans to be at the mercy of the Moral Prigs of Eternal Shame so they will lose their will to fight – and vote!
"Shame on your wombs and penises – you heathen swine!"
Down with the MPES!
RICHMOND — Gov. Glenn Youngkin (R) is among several current and former executives of the private equity firm Carlyle Group being accused by a municipal pension fund of taking millions in personal profits in a way that deprived income to shareholders and shielded the executives from paying any taxes on the windfall.
https://english.aawsat.com/home/article/1065396/carlyle-group-chairman-saudi-arabia-will-encourage-more-capital-attraction
https://edition.cnn.com/2022/06/10/europe/russia-putin-empire-restoration-endgame-intl-cmd/index.html
https://en.wikipedia.org/wiki/Michael_of_Russia
President Joe Biden warned Tuesday that Saudi Arabia would face "consequences" after OPEC+ last week announced the biggest cut in oil production since the start of the pandemic.
Senior Democrats on Capitol Hill have condemned the decision by Saudi Arabia, the de facto leader of the oil-producing alliance, to reduce the global supply of petroleum. Higher oil prices are seen as helping Russia, the world's second-largest oil exporter, finance its war in Ukraine.
"There's going to be some consequences for what they've done with Russia," Biden said of Saudi Arabia in an interview with CNN's Jake Tapper. "I'm not going to get into what I'd consider and what I have in mind. But there will be — there will be consequences."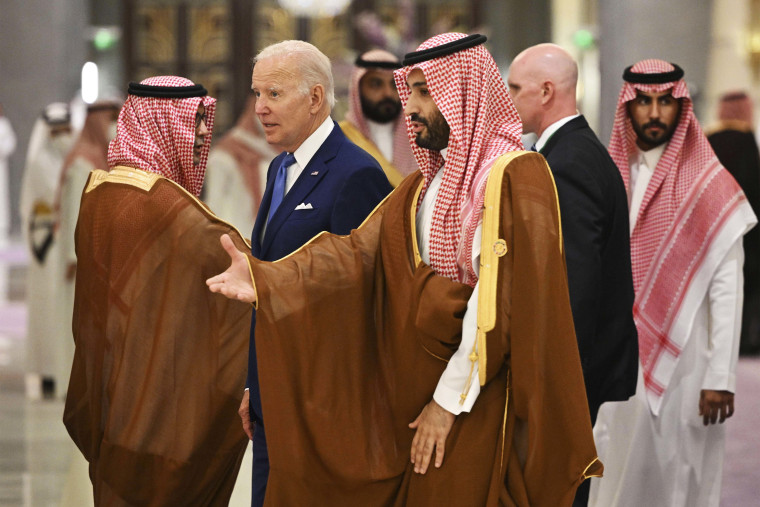 The president indicated Congress will act when it is back in session after the midterm elections.
White House press secretary Karine Jean-Pierre said at a briefing earlier Tuesday that the U.S. would reassess its relationship with Saudi Arabia following OPEC+'s "decision to align their energy policy with Russia's war."
"We need to kind of reassess and have a different relationship with Saudi Arabia," she said, adding that the White House will review its policies in the coming weeks and months.
Asked by Tapper whether it's time for the U.S. to rethink its relationship with Saudi Arabia, Biden said, "Yes."
Sen. Bob Menendez, D-N.J., who chairs the Foreign Relations Committee, called on the Biden administration Monday to "immediately freeze" U.S. cooperation with Saudi Arabia.
In January 2021, Youngkin announced that he would seek the Republican Party of Virginia's nomination for governor of Virginia.[53][10] A first-time candidate, Youngkin's personal wealth gave him the ability to self-fund his candidacy,[54][55] and he spent at least $5.5 million of his own money on his primary campaign.[56] Youngkin was endorsed by Ted Cruz during the primary; Cruz has described Youngkin as a close family friend.[57][58][59] Youngkin had previously donated to Cruz's 2018 re-election campaign.[59]
Youngkin won the nomination at the party's state convention on May 10, 2021, after multiple rounds of ranked-choice voting at thirty-nine locations across the state. He defeated six other candidates.[56] All the Republican candidates, including Youngkin, stressed their support for Donald Trump and Trumpism, although other candidates for the nomination, such as state senator Amanda Chase, were the most vocally pro-Trump.[55][60] After winning the party's nomination, Youngkin was endorsed by Trump.[60] He called the endorsement an "honor"[60] but sought to distance himself from some of Trump's most ardent supporters.[61] The New York Times wrote in October that Youngkin had sought to localize the race.[62] Youngkin openly courted both Trump supporters and never-Trump voters.[63]
Youngkin in September 2021, less than two months before the general election
Youngkin's Democratic opponent in the general election, Terry McAuliffe, had previously served as governor from 2014 through 2018. The Virginia constitution bars governors from serving consecutive terms, and McAuliffe sought to become the first Virginia governor to serve two terms since Mills Godwin.[64][65] On July 12, 2021, Youngkin declined to face McAuliffe in the Virginia Bar Association debate, citing his objection to the moderator, Judy Woodruff, for a donation she made to the Clinton Bush Haiti Fund in 2010. The VBA had held a gubernatorial debate every election year since 1985.[66] McAuliffe and Youngkin went on to debate two times during the campaign.[67][68]
According to PolitiFact, before the Republican convention, Youngkin "toed a delicate line when asked if Biden was legitimately elected. He acknowledged that Biden was president but would not clearly say whether he thought the president was fairly elected. After the convention, Youngkin began acknowledging that Biden's election was legitimate."[69] Amanda Chase, who has advanced conspiracy theories about the 2020 presidential election, acted as a campaign surrogate for Youngkin after losing the Republican primary to him,[70] and the Associated Press noted that, while running for governor, Youngkin "failed to refute a conspiracy theory" about the 2020 election;[71] when asked at one of his rallies, several months after Biden had been inaugurated, if Trump could be restored as president, Youngkin replied, "I don't know the particulars about how that can happen because what's happening in the court system is moving slowly and it's unclear."[71][72][73]
Carlyle Group: Please Do Not Partner with Saudi Arabia's 2021 Future Investment Initiative
Thursday, January 21, 2021
CEO & Chairman Kewsong Lee
The Carlyle Group
Dear The Carlyle Group CEO and Chairman,
We write to you as a coalition of organizations dedicated to advancing human rights and ethical business practices.
We are deeply troubled by the participation of The Carlyle Group in the Saudi Arabian government's Future Investment Initiative on January 27-28, 2021. We urge you to withdraw from the FII and to publicly demand that the Saudi monarchy end its human rights crimes.
Why you should not participate in the Saudi Arabian government's 2021 Future Investment Initiative:
Saudi Arabia's abysmal human rights record has been widely documented. As an absolute monarchy without any form of meaningful democratic representation, the Saudi government has a long record of silencing reformers, imprisoning human rights advocates, and shutting down the very voices that are crucial for building an open society where new ideas and innovation can thrive. Not only that, but the Saudi government has brought misery to populations across the Middle East and North Africa. The Saudi government continues to prosecute its devastating war in Yemen, and it has staged multiple interventions against democracy in Bahrain, Egypt, Sudan, and Libya. Saudi Arabia's brutal record has only intensified since Mohammed bin Salman became crown prince in 2017.
Saudi Arabia's government has used international convenings like the Future Investment Initiative and last year's G20 summit to hide its many human rights crimes behind a wall of global public relations. However, widespread revulsion at the Saudi government's record has led to a dramatic rejection of these tactics in 2020:
The UN General Assembly voted to reject Saudi Arabia's candidacy for the UN Human Rights Council.
The European Parliament formally called on European Union leaders not to attend the Saudi-hosted G20.
Paris Mayor Anne Hidalgo, London Mayor Sadiq Khan, New York City Mayor Bill de Blasio, and Los Angeles Mayor Eric Garcetti all chose to boycott or withdraw from the Saudi G20 "Urban 20" mayors' convening.
45 Members of the U.S. Congress signed a letter urging the U.S. government not to attend the Saudi G20 unless the Saudi government embraced dramatic human rights reforms.
Amnesty International, CIVICUS, Transparency International, Human Rights Watch, and hundreds more organizations worldwide declared that they would not attend the Saudi-hosted G20 "Civic 20" gathering of nongovernmental organizations.
Prominent women's rights advocates dropped out of the Saudi G20 "Women 20" convening.
We urge you to withdraw from Saudi Arabia's 2021 "Future Investment Initiative" and abide by the UN Guiding Principles on Business and Human Rights. These UN principles provide that businesses should "avoid causing or contributing to adverse human rights impacts through their own activities, and address such impacts when they occur" and "seek to prevent or mitigate adverse human rights impacts that are directly linked to their operations, products or services by their business relationships, even if they have not contributed to those impacts." Saudi Arabia's repressive government bans independent civil society and uses international convenings to falsely posture otherwise. Your business should not contribute to the Saudi government's public relations campaigns or the human rights crimes that are whitewashed as a result.
CNN —
Reading Russian President Vladimir Putin's mind is rarely a straightforward task, but on occasion the Kremlin leader makes it easy.
Such was the case on Thursday, when Putin met with a group of young Russian entrepreneurs. Anyone looking for clues as to what Putin's endgame for Ukraine might be should read the transcript, helpfully released here in English.
Putin's words speak for themselves: What he is aiming for in Ukraine is the restoration of Russia as an imperial power.
Many observers quickly picked up on one of Putin's more provocative lines, in which he compared himself to Peter the Great, Russia's modernizing tsar and the founder of St. Petersburg – Putin's own birthplace – who came to power in the late 17th century.
"Peter the Great waged the Great Northern War for 21 years," a relaxed and apparently self-satisfied Putin said. "On the face of it, he was at war with Sweden taking something away from it… He was not taking away anything, he was returning. This is how it was."
It didn't matter that European countries didn't recognize Peter the Great's seizure of territory by force, Putin added.