KGO Radio 810
Transmitter Tower Collapse
1989
This image shows two of the three KGO towers which partially collapsed in the 1989 Loma Prieta earthquake.
KGO Radio Tower Collapse (1989) | Bay Area Radio Museum
I awoke from my Old Man Nap feeling grateful for my young cat who takes naps with me. I lay there thinking about my Walker post, and being forced to attend Billy Graham Crusades at the LA Coliseum. They set up a podium for Billy – on the fifty yard line!
Then I thought about the book 'Catcher In The Rye' being banned – while Trump goes free! And now, Herschal Walker has been given a Free Get Out of Hell card by bitter old white folks with silver hair, who got bitter listening the Rush Limbaugh who warned them about a Smart Black Man becoming the President of the United States. White People feeling sorry for themselves – KILLED KGO!
Then, leaders of Christian Nationalism moved in. They put Trump in the White House using Bible Speak. Week after week, white people got more afraid, more tribal, less opiniated about Secular Matters, and employed Religious Terrorism to shut folks around them – up! After Jan.6, and Trumps THREATS, everyone is afraid to express their opinions. The Catcher in The Rye – is dead! A mass of lemmings are rushing to the cliff – overlooking the sea.
THE CATCHING TOWER IS DOWN!
Goodbye KGO, and your wondrous tower by the bay! You heralded in a Secular Enlightenment that lasted most of my life.
John Presco
'This is shocking': 80-year-old SF Bay Area radio station abruptly says goodbye
Amy Graff, SFGATE
Oct. 6, 2022Updated: Oct. 6, 2022 2:35 p.m.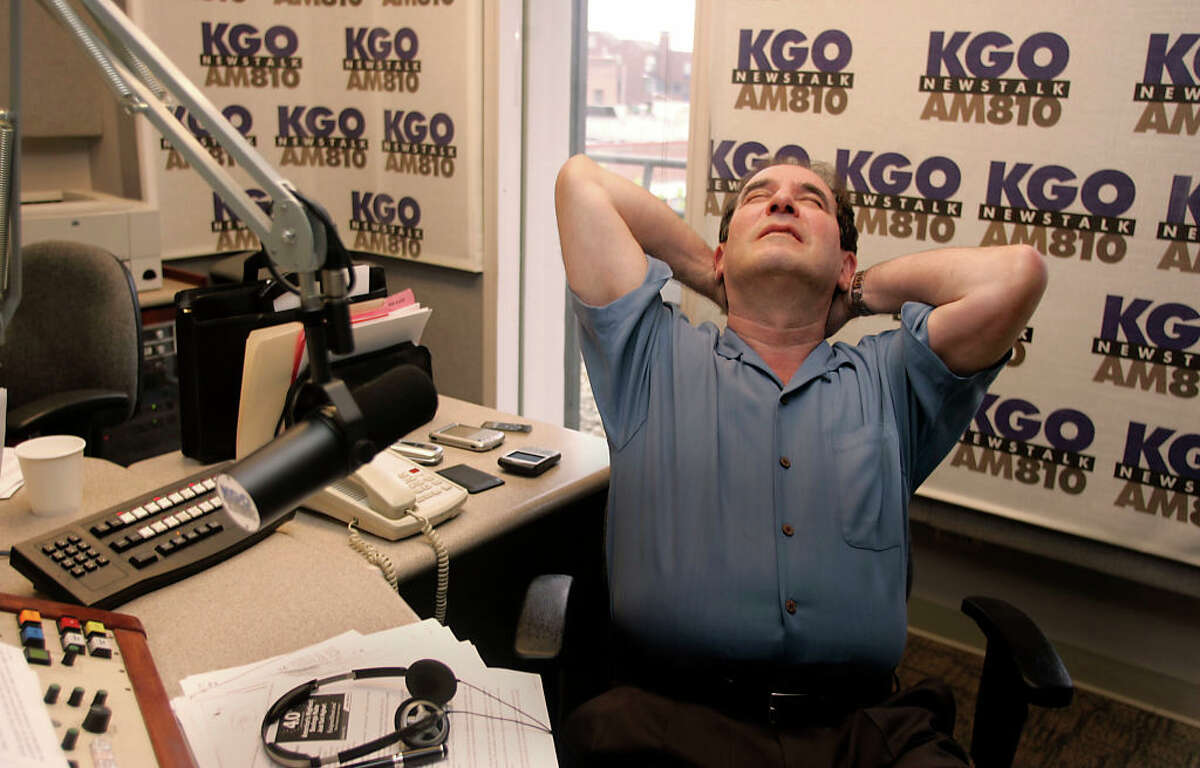 American broadcasting company Cumulus Media said Thursday it's ending the KGO (810 AM) news-talk format as listeners know it, and company officials told SFGATE in an email that it will be revealing a new brand on the channel on Monday.
https://6473e3e86c1c8daf42a30324bebeff45.safeframe.googlesyndication.com/safeframe/1-0-38/html/container.html
A morning talk show was interrupted at about 10 a.m. with an announcement about the format change. "@KGO810 just interrupted their morning talk show to announce a program change. It's all canned music and statements for a new format beginning Monday," one Twitter user said.
The 80-year-old station's format change was also announced on social media: "Today we say goodbye to the legendary KGO. We thank you for your loyalty and for trusting KGO to be your source for information. We also want to sincerely thank all the talented men and women that worked so hard over the years to produce award-winning programming on KGO."
Broadcasting personalities and journalists shared their disappointment over the news. KTLA reporter David Lazarus wrote, "What a damn shame. At its peak, KGO was a bastion of fair-minded talk radio, with some of the best hosts in the business."
"This is shocking, to say the least," KCBS political reporter Doug Sovern said. "A Bay Area Radio institution, which had already been gutted, quite frankly, for years, is dead. One of the great stations in the history of radio. Rest In Programming.
Many listeners also expressed frustration. "This is the worst decision ever. One of the greatest stations in the country. I really want to cry!" wrote one Twitter user.