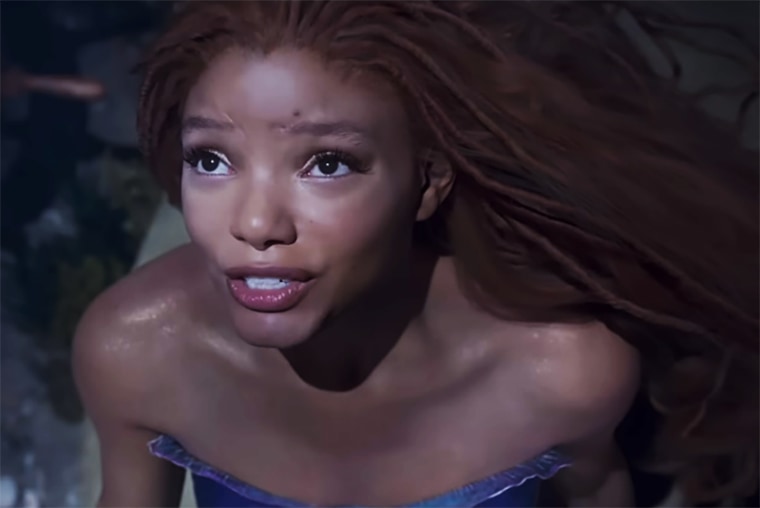 Halle Bailey in "The Little Mermaid." Walt Disney Studios via YouTube
There are no Native American People represented in the NAACP naming of the new Waterfront Roads. The Sexual Abuse of Native American Women is on par with what SOME members of the Supreme Court did to ALL AMERICAN WOMEN in inflicting their Christian Dogma and Cult on them. They don't care to change them – or save their souls. They want to CONTAIN THEM. CONTROL THEM. and, DISARM THEM! In doing this – they are assured of – FEELING POERFULLY POTENT!
Sarah Winnemucca Hopkins held 300 lectures across America. I was just un-friended by Denise Thomas after posting on removing Annie Mims Lane . There was no debate about these names. How many white folks – secretly hated all these choices – but were afraid to speak up lest Black Lives Matter marches to their door! These names – provoke NO DIALOGUE. It is – lazy history aimed at making just a few – happy! How many black folk in Oregon heard of Annie Mim – and give a rat's ass about the names of these streets?
One day, little black girls will squeal with delight that a black woman was chosen to play 'The Paiute Princess'. Not one of them will know a thing about American History. This is not RACISM! This is an astounding laziness, where all the American People believe they can go to The Social Justice Store, and get them some Justice! And, if they find themselves, wanting, they go next to door to The Gun Shop!
John Presco
President: Royal Rosamond Press
"In 1883, the Hopkins's traveled east, where Sarah delivered nearly 300 lectures throughout major cities of the Northeast and Mid-Atlantic, seeking to heighten awareness of injustice against Native Americans. The press reported her talks and often referred to her as the "Paiute Princess."
Life Among the Paiutes – Wikipedia
Peabody was also the first known translator into English of the Buddhist scripture the Lotus Sutra, translating a chapter from its French translation in 1844.
Her sisters were painter Sophia Peabody Hawthorne (wife of writer Nathaniel Hawthorne) and writer Mary Tyler Peabody Mann (wife of educator Horace Mann). Peabody died January 3, 1894, aged 89. She is buried at Sleepy Hollow Cemetery in Concord, Massachusetts.[21]
In addition, the two women helped her to compile and prepare her lecture materials for publication as Life Among the Piutes. Her book was published in 1883, the "first known autobiography written by a Native American woman"[3] and the first U.S. copyright registration secured by a Native American woman.[33]
The Lotus Sūtra (Sanskrit: सद्धर्मपुण्डरीकसूत्रम्, romanized: Saddharma Puṇḍarīka Sūtra, lit. 'Sūtra on the White Lotus of the True Dharma')[1] is one of the most influential and venerated Buddhist Mahāyāna sūtras. It is the main scripture on which the Tiantai, Tendai, Cheontae, and Nichiren schools of Buddhism were established. It is also influential for other East Asian Buddhist schools, such as Zen. According to the British BuddhologistPaul Williams, "For many Buddhists in East Asia since early times, the Lotus Sūtra contains the final teaching of Shakyamuni Buddha—complete and sufficient for salvation."[2] The American Buddhologist Donald S. Lopez Jr. writes that the Lotus Sūtra "is arguably the most famous of all Buddhist texts," presenting "a radical re-vision of both the Buddhist path and of the person of the Buddha."[3]
Sarah Winnemucca
From Wikipedia, the free encyclopedia
Jump to navigationJump to search
Sarah Winnemucca
Born
Thocmentony ("Shell Flower"), also seen as Tocmetone
1844
near Humboldt Lake, Nevada
Died
October 16, 1891 (aged 46–47)
Henry's Lake, Idaho
Nationality
Northern Paiute
Other names
Sarah Winnemuca Hopkins
Occupation
Author, educator
Known for
Activist and spokeswoman for Northern Paiute
Notable work
Life Among the Paiutes: Their Wrongs and Claims (1884)
Spouse(s)
Edward Bartlett (1872)
Lewis H. Hopkins (1881)
Parents
Winnemucca (father)Tuboitonie (mother)
Relatives
Truckee (grandfather)
Sarah Winnemucca Hopkins (born Thocmentony, meaning "Shell Flower; also seen as "Tocmetone" in Northern Paiute;[1] c. 1844 – October 17, 1891) was a Northern Paiute author, activist (lecturer) and educator (school organizer). Her maiden name is Winnemucca.
Sarah Winnemucca was born near Humboldt Lake, Nevada, into an influential Paiute family who led their community in pursuing friendly relations with the arriving groups of Anglo-American settlers. She is the daughter of Chief Winnemucca of the Paiute nation and the granddaughter of Chief Truckee. At 16, Sarah studied at a Catholic school in San Jose, California.[2] When the Paiute War erupted between the Pyramid Lake Paiute and the settlers, including some who were friends of the Winnemucca family, Sarah and some of her family traveled to San Francisco and Virginia City to escape the fighting. They made a living performing onstage as "A Paiute Royal Family." In 1865, while the Winnemucca family was away, their band was attacked by the US cavalry, who killed 29 Paiutes, including Sarah's mother and several members of her extended family.
At 27, Sarah began working in the Bureau of Indian Affairs at Fort McDermitt in 1871 as an interpreter.
Subsequently, Winnemucca became an advocate for the rights of Native Americans, traveling across the US to tell Anglo-Americans about the plight of her people. When the Paiute were interned in a concentration camp at Yakima, Washington after the Bannock War, she traveled to Washington, D.C. to lobby Congress and the executive branch for their release. She also served US forces as a messenger, interpreter, and guide, and as a teacher for imprisoned Native Americans.
Winnemucca published Life Among the Paiutes: Their Wrongs and Claims (1884), a book that is both a memoir and history of her people during their first 40 years of contact with European Americans. It is considered the "first known autobiography written by a Native American woman."[3] Anthropologist Omer Stewart described it as "one of the first and one of the most enduring ethnohistorical books written by an American Indian," frequently cited by scholars.[4] Following the publication of the book, Winnemucca toured the Eastern United States, giving lectures about her people in New England, Pennsylvania, and Washington, D.C. She returned to the West, founding a private school for Native American children in Lovelock, Nevada.
Since the late 20th century, scholars have paid renewed attention to Winnemucca for her accomplishments. In 1993, she was inducted posthumously into the Nevada Writers Hall of Fame.[5] In 2005, the state of Nevada contributed a statue of her by sculptor Benjamin Victor to the National Statuary Hall Collection in the U.S. Capitol.
Winnemucca's legacy has been controversial. Some biographers have wished to remember her primarily for her activism and social work to better the conditions for her people, while others have criticized her for her tendency to exaggerate her social status among the Paiute. Among the Paiute, her assistance to the US military at a time when they were at war with the Paiute has been criticized, as has her advocacy for assimilation of Natives to Anglo-American culture. Still, Paiute have also recognized her social work and activism for indigenous rights.[6]
Contents
Early life and education[edit]
Born "somewhere near 1844" at Humboldt Lake in what is now western Nevada, Sarah Winnemucca was the daughter of Winnemucca (Poito), a Shoshone who had joined the Paiute through marriage,[4] and his wife Tuboitonie. Sarah had an older sister Mary,[7] younger brother Natchez,[4] and sister Elma.[8] (Although Sarah later said that her father was chief of all of the Northern Paiute, the Paiute had no such centralized leadership. Her father, though influential, was the war chief of a small band of about 150 people.[9])[10][11][12][13][14][15][16][17][18][19][20] The town of Winnemucca, Nevada was named after her father. She was first introduced to white people at the age of six when her grandfather invited her to come to California.
Sarah's grandfather, Tru-ki-zo or Truckee (meaning "good" in the Paiute language, or derived from Tro-kay, which means "hello" ), had established positive relations with the European Americans who started exploring in the area. He guided Captain John C. Frémont during his 1843–45 survey and map-making expedition across the Great Basin to California. Later, Truckee fought in the Mexican–American War (1846–1848), earning many white friends and leading the way for his extended family's relationships with European Americans.
At the age of six, Sarah traveled with her family to near Stockton, California, where the adults worked in the cattle industry. In 1857, their grandfather arranged for Sarah (then 13) and her sister Elma to live and work in the household of William Ormsby and his wife; he had a hotel and was a civic leader of Carson City, Nevada. The couple wanted a companion for their daughter, Lizzie. The Winnemucca girls also did domestic work in the house. They had a chance to improve their English and learn more about European-American ways.[21] Sarah particularly began to be at ease in going back and forth between Paiute and European-American culture. She was one of the few Paiute in Nevada who knew how to read and write English, and her family all spoke English.[4]
Pyramid Lake War and stage[edit]
Numaga, or "Young Winnemucca", Sarah Winnemucca's cousin and war leader of the Paiute in the Pyramid Lake War.
With the decreasing pressure of new migrants in the region attracted to the Washoe silver finds, Old Winnemucca arranged in 1859 to have his daughters returned to him again in Nevada. In 1860, open conflict occurred. The Paiute had killed two men who had kidnapped and abused two Paiute girls. Settlers and miners organized a militia, making Major Ormsby lead it by default. He was killed by the Paiute in a disciplined confrontation in the first event of the Pyramid Lake War. Settlers were alarmed at how well the Paiute fought and the ill-prepared miners could not hold their own.[22] The Paiute and whites reached a truce by the end of the summer. Young Winnemucca, Sarah's cousin, led the Paiute as a war chief by then. In October 1860, their grandfather Truckee died of a tarantula bite.
As a mark of development, Nevada was established as a distinct US Territory, and James W. Nye was appointed as its first governor. When he came to the territory, he went to the Pyramid Lake Reservation, where he met Old Winnemucca, Young Winnemucca and the Paiute, who put on a grand display.[23] For the next five years (1860–1865), Sarah and her family frequently traveled away from the reservation, performing on stage, either in Virginia City, Nevada at Maguire's Opera House, or in San Francisco. They were billed as the "Paiute Royal Family."[4] By this time, her father had taken a second, younger wife, with whom he had a young son.
In Nevada, US forces repeatedly acted against Native Americans to "remind them of who was in charge." The Natives were repeatedly accused of raids and cattle stealing.[4] In 1865 Captain Almond B. Wells led a Nevada Volunteer cavalry in indiscriminate raids across the northern part of the state, attacking Paiute bands. While Sarah and her father were in Dayton, Nevada, Wells and his men attacked Old Winnemucca's camp, killing 29 of the 30 persons in the band, who were old men, women and children.[4]
The chief's two wives (including Sarah's mother) and infant son were killed.[4] Although Sarah's sister Mary escaped from camp, she died later that winter due to the severe conditions.[24] Her younger sister Elma was out of the area, as she had been adopted by a French family in Marysville, California. There Elma Winnemucca married John Smith, a white man, and moved with him to a white community in Montana and, later, Idaho.[8]
In 1868 about 490 Paiute survivors moved to a military camp, which became known as Fort McDermitt, on the Nevada–Oregon border. They sought protection from the US Army against the Nevada Volunteers. In 1872 the federal government established the Malheur Reservation in eastern Oregon, designated by President Ulysses S. Grant for the Northern Paiute and Bannock peoples in the area. Three bands of Paiute moved there at the time. In 1875, Sarah, her brother Natchez and his family, and their father Old Winnemucca moved there, too.[25]
Teaching and interpreter[edit]
At 27, Sarah began working in the Bureau of Indian Affairs at Fort McDermitt in 1871 as an interpreter. Winnemucca was invited to work as the interpreter at the Malheur Reservation by Indian Agent Samuel B. Parrish. She found in observing Parrish that he worked well with the Paiute; he encouraged them in learning some new ways and helped them plant crops that could support the people, establishing a well-managed agricultural program. He had a school built at the reservation, and Sarah became an assistant teacher.[26]
Marriage and family[edit]
Sarah married Edward Bartlett, a former First Lieutenant in the Army, on 29 January 1872 at Salt Lake City, Utah.[27] He abandoned her, and she returned to Camp McDermitt. In 1876, after having moved to Malheur Reservation, she got a divorce and filed to take back her name of Winnemucca, which the court granted.[28] In the divorce decree, Sarah stated what she did to support herself when her husband left her with no money, writing, "I did sewing. I made gloves for a living."[29] Her grandfather was a chief of the Piute nation.
Bannock War[edit]
After four years, Parrish was replaced in the summer of 1876 by agent William V. Rinehart. The Paiute were sorry to see Parrish leave.
A proponent of extermination-style warfare, Rinehart emphasized keeping the Paiute under his thumb. He reversed many of the policies that Parrish had initiated, telling the Paiute the reservation land belonged to the government. He failed to pay their workers for agricultural labor in communal fields, and alienated many tribal leaders. Conditions at the Malheur Reservation quickly became intolerable.
In her 1883 book, Winnemucca recounted that Rinehart sold supplies intended for the Paiute people to local whites. Much of the good land on the reservation was illegally expropriated by white settlers. In 1878, virtually all of the Paiute and Bannock people left the reservation because of these abuses and their difficulties in living. The Bannock from southern Idaho had left the Fort Hall Reservation due to similar problems. They moved west, raiding isolated white settlements in southern Oregon and northern Nevada, triggering the Bannock War (1878). The degree to which Northern Paiute people participated with the Bannock is unclear. Winnemucca wrote that she and several other Paiute families were held hostage by the Bannock during the war.
During the Bannock War, Winnemucca worked as a translator for General Oliver O. Howard of the U.S. Army, whom she had met during his visit to the reservation; she also acted as a scout and messenger.[30] According to her account, the Bannock warriors and the Army soldiers liked each other so much that they rarely shot to kill. For whatever reason, casualties were relatively few. Winnemucca was highly regarded by the officers she worked for, and she included letters of recommendation from several of them in her 1883 book. Impressed by many of the officers, Winnemucca began to support the US Army's position to have the military take over administration of the Indian reservations, rather than political appointees. (Note: After the 1870 Marias Massacre by US Army forces in Montana, President Grant had promoted a peace policy, appointing Quaker leaders as Indian agents to reservations and intending to eradicate problems of corruption that way.[31])
Move to Yakama Reservation[edit]
Sarah Winnemucca, performing as "Princess Winnemucca", daughter of Chief Winnemucca
Following the Bannock War, the Northern Paiute bands were ordered from Nevada to the Yakama Indian Reservation (in eastern Washington Territory), where they endured great deprivation. A total of 543 Paiute were interned in what has been described as a "concentration camp."[4]
Winnemucca accompanied them to serve as a translator. Since she had an official job, she was not required to live on a reservation. Outraged by the harsh conditions forced on the Paiute, she began to lecture across California and Nevada on the plight of her people. During the winter of 1879 and 1880, she, her father, and two other Winnemucca visited Washington, DC to lobby for release of the Paiute from the Yakama Reservation.[4] They gained permission from Secretary of the Interior, Carl Schurz, for the Paiute to be allowed to return to Malheur, at their own expense. Instead, the government decided to "discontinue" the Malheur Reservation in 1879, closing it.
"Knowing the temper of the people through whom they must pass, still smarting from the barbarities of the war two years previous, and that the Paiutes, utterly destitute of everything, must subsist themselves on their route by pillage, I refused permission for them to depart . . . and soon after, on being more correctly informed of the state of affairs, the Hon. Secretary revoked his permission though no determination as to their permanent location was arrived at. This was a great disappointment to the Paiutes and the greatest caution and care was necessary in dealing with them."Report of Yakama Agent, James H. WilburAnnual Report of the Commissioner of Indian Affairs for the Year 1881, pp. 174, 175.[32]
Second marriage[edit]
In 1881 General Oliver O. Howard hired Sarah Winnemucca to teach Shoshone prisoners held at Vancouver Barracks. While there, she met and became close to Lieutenant Lewis H. Hopkins, an Indian Department employee. They married that year in San Francisco.[4]
Lectures and writing[edit]
Sarah Winnemucca
In 1883, the Hopkins's traveled east, where Sarah delivered nearly 300 lectures throughout major cities of the Northeast and Mid-Atlantic, seeking to heighten awareness of injustice against Native Americans. The press reported her talks and often referred to her as the "Paiute Princess."
In Boston, she met the sisters Elizabeth Peabody and Mary Peabody Mann, married to the educator Horace Mann; they began to promote her speaking career. In addition, the two women helped her to compile and prepare her lecture materials for publication as Life Among the Piutes. Her book was published in 1883, the "first known autobiography written by a Native American woman"[3] and the first U.S. copyright registration secured by a Native American woman.[33]
Sarah's husband had contributed to his wife's efforts by gathering material for the book at the Library of Congress. But he was suffering from tuberculosis, and Winnemucca learned that he was addicted to gambling, which consumed her earnings.
After returning to Nevada in 1884, Winnemucca spent a year lecturing in San Francisco. When she returned again to Pyramid Lake, she and her brother built a school for Indian children at Lovelock, Nevada, in order to promote the Paiute culture and language. The Peabody Indian School, named for their benefactor Mary Peabody Mann in Boston, operated for a couple of years.[34] Changes in federal policy following what was considered the success of the Carlisle Indian School prompted the federal government to promote education for Native American children at English-language boarding schools. Winnemucca's school was closed in 1887 and the children transferred to a facility in Grand Junction, Colorado.[4] Despite a bequest from Mary Peabody Mann and efforts to turn the school into a technical training center, Winnemucca was struggling financially by the time of her husband's death in 1887.
The Dawes Severalty Act of 1887 required allotment of communal lands on reservations to individual households to force assimilation of tribes.[35]
Winnemucca spent the last four years of her life retired from public activity. She died of tuberculosis at her sister Elma Smith's home at Henry's Lake, Idaho.[4]
Winnemucca (Paiute leader)
From Wikipedia, the free encyclopedia
Jump to navigationJump to search
Winnemucca
Born
c. 1820
Died
1882
Other names
Wobitsawahkah, Mubetawaka, and Poito
Organization(s)
Tribe: Kuyuidika band, Northern Paiute (born a Shoshone)
Known for
Northern Paiute war chief
Spouse(s)
Tuboitonie, Old Winnemucca's daughter
Children
Sarah Winnemucca, Natchez Winnemucca, Frank Winnemucca,Mary Winnemucca ,and more
Relatives
Numaga (son or nephew)
Winnemucca (c. 1820 – 1882) (also called Wobitsawahkah, Bad Face, Winnemucca the Younger, Mubetawaka, and Poito[1]) was a Northern Paiute war chief. He was born a Shoshone around 1820 in what would later become the Oregon Territory.[1]
When he married the daughter of Old Winnemucca, he became a Paiute according to their tribal rules. They were of the Kuyuidika band of the Northern Paiute.[1][2] His father-in-law honored him by naming him "Winnemucca the Younger".[citation needed] The name means "The Giver of Spiritual Gifts."[1] Winnemucca the Younger became a war chief with the Kuyuidika.[1]
Contents
Political life[edit]
Winnemucca the Younger (his alternative name "Bad Face" will be used in the remainder of this article) eventually became war chief of the Kuyuidika. He distrusted white settlers more than did his father-in-law.[1]
Trying to define his role in Northern Paiute politics has been an area of controversy for historians. He is primarily known through the writings of his daughter, Sarah Winnemucca. She downplayed his Shoshone roots and connections to distinguish her father and her people as peaceful and to protect them from the prejudice many settlers held against the more warlike Shoshone, also called "Snake Indians".[2] She exaggerated his influence over the Paiute people, saying that he was the principal chief of all the Paiute tribes. Since she served as an interpreter in the area, her viewpoint was adopted by many contemporary Oregonians.[2] Modern historians and ethnologists view Winnemucca more as a "first among equals", with considerable influence over the bands in the Pyramid Lake region.[citation needed]
He was a leading proponent of the Pyramid Lake War of 1860. At the time of the formation of the Paviotso Confederacy at the Ochoco Council of 1851, the Paiute were more allied with his father-in-law, (Old) Chief One Moccasin's plea to keep the peace. The Paiute did not then join the Shoshone and Northern Ute warriors in the war effort.[3] Later, Bad Face led several Paiute units in warfare, and they were mistakenly identified as Snake warriors.[1]
At 3:00 am on March 17, 1865, while Sarah Winnemucca and her grandfather, Old Winnemucca were in Dayton, Nevada, Captain Almond D. Wells' Nevada Volunteer cavalrymen raided their family camp on the shore of what is now known as Winnemucca Lake.[4] The cavalry killed 29 of the 30 old men, women and children in the camp, including two of Old Winnemucca's wives.[4] Bad Face's wife and a daughter were shot, sustaining mortal wounds.[4] His baby son was killed by being thrown into a fire.[2] In 1868 Bad Face surrendered.[1] After that war, his influence decreased considerably. He had little control over events at the Malheur Reservation leading to the Bannock War of 1878.
Winnemucca the Younger dressed in an army uniform.
During the winter of 1872-1873, Bad Face refused to settle on a farm at the Malheur Reservation, despite his daughter Sarah's asking him to join her. He said he might starve there.[2] He took refuge at the base of Steens Mountain, near the Reuben and Dolly Kiger Ranch in what is now Harney County, Oregon.[2] By 1873, settlers and the government in Oregon worried that the Paiute under Bad Face might join with the Shoshone under Chochoco (Has No Horse). They also worried about potential collaboration of the tribe with former enemies, the Modoc people, being led by John Schonchin and Captain Jack (Modicus), in what became the Modoc War.[2] On April 11, 1873, the Modoc War ended.[2]
By 1874, Winnemucca, Sarah and another daughter, and eight warriors were appearing at Metropolitan Theater in Sacramento, California in a series of skits on Indian life, which they performed for five years.[2][4][5] While the agency was led by the US Indian agent Samuel Parrish, in 1875, Bad Face went to and from the Malheur Reservation with considerable freedom.[2]
Parrish built irrigation canals and a school for the reservation.[2] He had expanded the reservation to secure better farmland for the Shoshone, although he had no permission. He annexed Pony Blanket's cultivated land and the Shoshone's traditional hot springs.[2] This caused conflict with powerful local settlers who wanted that land; they included the ranchers Henry Miller and Pete French. They started what was a successful campaign to have Parrish replaced.[2]
In early April 1875, Bad Face, Sarah Winnemucca, and Pony Blanket attempted to persuade officers at Fort Harney to help reinstate Parrish. William V. Rinehart and other wealthy opponents retaliated by falsely accusing officers at Fort Harney, Fort McDermitt, and Fort Bidwell of supplying food to Shoshone who refused to stay on the Malheur Reservation, and thus helping them stay away.[2] Rinehart was the sworn enemy of both the Shoshoni and Paiute, preferring absolute authority and extermination of indigenous people, where possible.[2] Parrish was replaced by Rinehart on June 28, 1876, just three days after Custer's fall at Little Bighorn.[2] He began defrauding and abusing both reservation and non-reservation native people, often not giving them adequate supplies of rations.[2]
Northeastern Oregon settlers prevailed upon the Congress to overturn President Ulysses S. Grant's pact to let the Nez Perce stay in Wallowa. On June 13, 1877 Chief Joseph went on the warpath.[2] After refusing to move 500 of his people from their high mountain meadow in the Wallowa Valley to the Fort Hall Reservation in Idaho, he killed four white men. (The reservation was to have included Camas Prairie, but due to a clerical error, did not.)[2] The Paiute, who had been leaving the Malheur Reservation to escape Rinehart and starvation, returned en masse, knowing they would be safer at the reservation during wartime.[2]
Bad Face and some of his warriors traveled to Boise City, where they dined as guests of honor with Governor Mason Brayman; they assured him of their peaceful intent.[2] Still, neither would go onto the Malheur Reservation as Rinehart insisted and conditions continued to worsen. Two Shoshone "Dog Soldiers" came to the Malheur Reservation in March 1878 and threatened war as soon as there was grass.[2] Brayman wrote to US Senator W. J. McConnell on their behalf, agreeing that the Shoshoni Banattee Snakes at Fort Hall Reservation had "ample justification" for the methods they pursued, given the ongoing loss of their natural food supply, Camas root, to the settlers' hogs.[2]
On June 16, 1878, the Salt Lake City Tribune reported that Laughing Hawk (Tambiago), imprisoned at the Idaho Territorial Penitentiary, had informed officials that Buffalo Horn (Kotsotiala) was to meet with Bad Face and Has No Horse in the "Juniper Mountains".[2] The officials ignored his warning.[2] On May 27, 1878, after holding a council of war, the Shoshone started an uprising in eastern Oregon with the killing of James Dempsey, a white gun dealer who lived in Harney Valley. with a Shoshoni wife. He had purchased arms in October 1877 from the Mormons at Salt Lake City and sold the weapons to the Bannock/Bannatte Robber Snakes, after having urged them for a year to go to war.[2] He then informed Idaho Governor Brayman that war was eminent.[2] The uprising turned into the second Shoshone War, which the Americans called the Bannock War.[2]
On June 5, Sarah Winnemucca met with Pony Blanket (Egan), Left Hand, Dancer, and Three Coyotes at the Malheur Indian Agency and learned that the Snake Indians were being starved out of the Malheur reservation, that they could not buy clothes, and that Paiute horses were being shot.[2] Three Coyotes reported the rape of an Indian girl and the confiscation of weapons and horses at the Fort Hall Reservation.[2] They gathered money to send Sarah to Washington to tell President Rutherford B. Hayes of these problems.[2] She left on June 9, 1878. That day Captain Reuben F. Bernard caught up with Black Buffalo and Old Bull near the Oregon-Idaho border, after having his men pull down telegraph lines to shut off the war zone communications. He seriously wounded both men.[2] Before the last of the lines were pulled down, General Irvin McDowell got a message through to Bad Face and his son Natchez, asking them to come and help keep the peace with the hostile Snake at the Malheur Reservation. They consented but planned to join the Snakes at war. On June 10, 1878, Congress declared war on the Western Shoshoni Nation.
Bad Face died of poisoning in 1882.[1] The San Francisco Chronicle reported that Winnemucca died in October 1882 at Coppersmith Station, Nevada[citation needed].
Winnemucca Indian Colony of Nevada, Winnemucca Lake, Winnemucca Mountain, and the city of Winnemucca, Nevada[6] are named after Winnemucca. His eldest son Natchez and nephew Numaga were known to whites as Little Winnemucca and Young Winnemucca, respectively.[citation needed]
As of 1970, one source claimed that descendants of Chief Winnemucca could be found among the residents of the Pyramid Lake Reservation.[7]