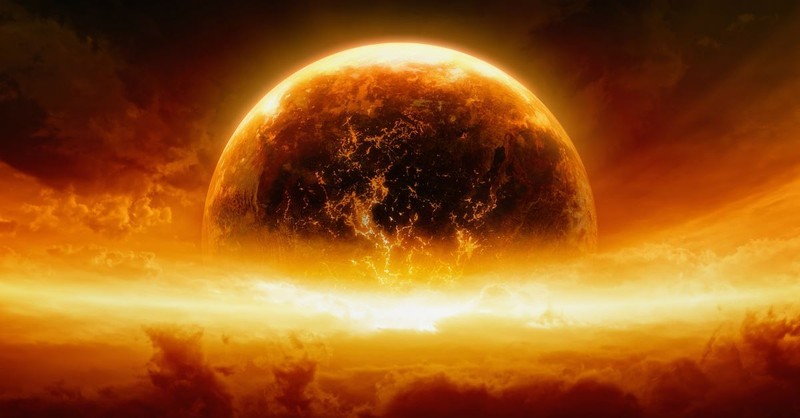 In Luke 21 Jesus preaches a sermon about the End of the World. The end of the world is easier to comprehend when we can compare it to the world around us. That is what Jesus does. He points to things they knew and said amplify that, multiply that-exponentially, then you will understand what is coming. Basically Jesus describes a Global Final Holocaust-not merely of Jews and Christians-but of humans!
The nasty trick of Conservatives is becoming clear. They aren't FOR anything. They exist just to be –
AGAINSTS DEMOCRATS
They should change their name to – The Against Democrats Party.
They claim they are FOR JESUS. But, their Jesus is for The End of Days. Why then do they not want to talk about how The End Time – COULD HAPPEN? They want the world – TO END! They want to see thousands of tall building toppled – full of screaming pregnant women! This is – JUSTICE – for them, and, their End Time Jesus!
Of course the Democratic Party does not want to see two billion people die a horrible death – especially THE CHILDREN! What did they do to deserve God's Vengeance? They must wonder why Donald Trump – escapes Justice. Is he part of the Republican Doomsday plan? Is this why Mitch McConnell refuses to talk about the idea Trump betrayed his Country – and sold our Nuclear Defense Plan to OUR MUTUAL ENEMIES? Do Republican BELIEVE – we have mutual enemies?
How many End Time sermons are delivered to how many millions of Christians – every Sunday? Is Mitch and his gang saying a possible Nuclear Holocaust is none of the business of Democrats because they are all atheists, and – AGAINST JESUS? Perhaps the Evil Disbelievers should flock to Mitch's church to get a clue if Donald Trump is part of God's plan to….DESTROY THE EARTH? Why would any Republican STOP any investigation into Trump owning Nuclear Secrets – unless – they want the World to End? Why would they want this to happen? Why are they FOR this, and against everything else – ESPECIALLY DEMOCRACY?
John Presco
Futurism
In the futurist view of Christian eschatology, the Great Tribulation is a relatively short period of time where everyone will experience worldwide hardships, persecution, disasters, famine, war, pain, and suffering, which will affect all of creation, and precede judgment of all when the Second Coming takes place. Some pretribulationists believe that those who choose to follow God will be raptured before the tribulation, and thus escape it.[citation needed] On the other hand, posttribulationists believe Christians who are alive at the time of the Great Tribulation must endure the Great Tribulation and will receive great blessings
Frank Leslie's Popular Monthly – Wikipedia
Mitch McConnell refuses to comment on the investigation into Trump taking classified documents to Mar-a-Lago
tmitchell@insider.com (Taiyler Simone Mitchell) – Yesterday 4:00 PM
React257 Comments|407
Former President Donald Trump, Senate Minority Leader Mitch McConnell. Drew Angerer/Getty Images, Joe Maiorana/AP Photo© Drew Angerer/Getty Images, Joe Maiorana/AP Photo
Senate Minority Leader Mitch McConnell refused to comment on the investigation into documents at Mar-a-Lago.
He has refused to comment on the matter before — seemingly upsetting some Republican counterparts.
Trump has repeatedly bashed McConnell.
1 of 4 Photos in Gallery©STEFANI REYNOLDS/AFP via Getty Images
Signs of a midterm backlash are mounting for the GOP after Roe was overturned. Here are 3 proposals put forward by Republicans to support families.
Republicans face a potential backlash in November after the Supreme Court overturned Roe v. Wade.
A new WSJ poll shows Democrats gaining ground among independent and women voters.
Here's an overview of three plans Senate Republicans put forward to financially support families.
Republicans spent much of the year pummeling Democrats on inflation and hoping to cruise on a "red wave" in the November midterm elections. But the huge swell they once envisioned may end up being more of a ripple instead.
There are mounting signs of a backlash for Republicans after the Supreme Court tossed out Roe v. Wade in June. A recent Wall Street Journal poll shows Democrats making steady gains among women, independents, and young voters. Part of it may also be tied to recent Democratic victories on their economic and climate agenda, gun safety, and improved healthcare access for veterans.
Some Republican lawmakers have released proposals meant to showcase the party's support for families in more modest ways, reflecting a conservative reluctance to back a sizable expansion of the safety net. The GOP has staunchly opposed President Joe Biden's ambitious proposals for childcare, paid leave, and monthly checks to parents.
Here's an overview of three plans that Senate Republicans put forward to financially support families.
Read the original article on Business Insider
Senate Minority Leader Mitch McConnell is remaining notably silent on the investigation into Former President Donald Trump for keeping White House documents at his home in Mar-a-Lago.
"I don't really have any comments on this whole investigation that's been dominating the news for the last month. I think we're following it like all of you are," the Kentucky Republican responded to a reporter who asked for his thoughts.
Recommended video: McConnell dodges questions about Trump documents
javascript:void(0)
/
Duration 0:55LQCaptionsFullscreenUnmute
0
McConnell dodges questions about Trump documents
During a press conference concerning a Kentucky flood last month, McConnell also dodged a similar question.
We Have the Right Resolution To Make Your Machine Vision Camera
"I'm here today to talk about the flood and the recovery from the flood," McConnell said to reporters at the conference on the day following the raid.
McConnell released a statement later that day: "The country deserves a thorough and immediate explanation of what led to the events of Monday. Attorney General Garland and the Department of Justice should already have provided answers to the American people and must do so immediately."
McConnell's somewhat muted response on the investigation has become a point of contention with other conservatives and observers — especially as other Republicans like House Minority Leader Kevin McCarthy have voiced their concerns.
McConnell, who hasn't spoken to Trump since December 2020, thought that the January 6th insurrection would have resulted in the then-President being "thoroughly discredited."
He's frequently taken the 'no comment' stance on matters relating to Trump while the former president has repeatedly bashed McConnell calling him a "loser" and an "old crow." Trump has also insulted McConnell's wife, Elaine Chao.
And when the inflation reduction act passed, the former president said on Truth Social that McConnell "got played like a fiddle with the vote today by the Senate Democrats."
A spokesperson for McConnell did not immediately respond to Insider's request for comment.