Article II Section 2 of the Constitution—Commander in Chief Clause—states that "[t]he President shall be Commander in Chief of the Army and Navy of the United States, and of the Militia of the several States, when called into the actual Service of the United States."
battle for the nation's soul and directly called out Trump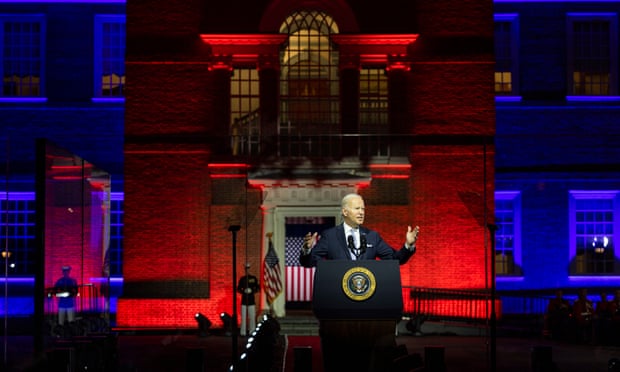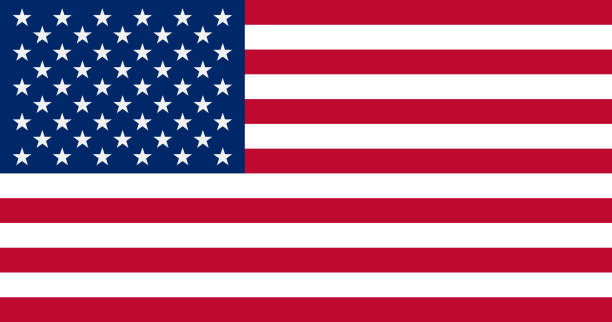 The United States of America Flag, vector illustration
The optics in President Joe Biden's speech, was like the laying down of a poker hand after a fierce round of betting – and bluffing!
President Biden was Vice President Biden for eight years. He has been Commander In Chief of The Armed Forces – for two years! When Donald Trump was President, he heard the threats of the Insurrectionists he sent to attack the Capitol – and stop the counting of the votes that would declare Biden 'The Winner'
"Hang Mike Pence!"
Trump, as Commander In Chief – did nothing! Alas, two years later we hear the acceptance speech Biden should have made. Biden had to respond to Senator Lindsey Graham's THREAT – that was leveled at the President of the United States. Biden was saddened, that Graham turned his back on Pence – and his Country!
Get Along Joe – made a mistake! Being a Senator for thirty-six years, he was an expert at allowing time for differences and wounds to heal – so real legislation could happen. He believed the Republicans would turn their back on Trump, and not become 'Election Deniers'. He began to see Republicans – as Traitors! He concluded Donald Trump – HATES HIS COUNTY!
The hand that President Biden lay down – is five stars on a field of blue! The two soldiers in uniform represent our Armed Forces – that will respond to armed insurrectionists, and, a guard at Leavenworth prison. I suspect Our President has looked at the Top Secret documents Trump had in his desk, and has concluded Trump is a threat to our National Security, and our membership in NATO. Biden took a oath to protect our interests, at home – and abroad!
Never before in history has any President had to deal with a former President who refused to admit – he lost the election – knowing he lost! Trump has done everything he could to disrupt the working of the Government of The United States of America. I doubt there is a law against this. Who ever dreamed there would be a need for one. Does the Commander In Chief have the right – and obligation – to arrest an ex-president – FOR TREASON?
Stay tuned!
John Presco
During his time in office, former President Donald Trump kept a cardboard box near his desk in which he stored documents that he had yet to read, The New York Times reported on Thursday.
The Times spoke to former Trump administration officials and staffers who gave some insight into how he handled documents.
According to the outlet, Trump had mistrusted burn bags, which were the designated means by which the Pentagon and the CIA disposed of top-secret documents.
Per the unnamed former officials that spoke to the Times, Trump didn't believe the material would be destroyed. Instead, he resorted to tearing up documents — including those with his handwriting on them — and tossing them into the toilet.
The Times also reported that Trump would place unread briefing books and other files in a cardboard box near his desk. Per the outlet, this box would get taken away when it was full and was brought with Trump aboard Air Force One when he traveled.
While the officials didn't recall seeing top-secret documents going into the box, they told The Times that there was a fair amount of chaos behind the scenes in the last days of the Trump administration.
John Bolton, Trump's former national security adviser, also told The Times that Trump would occasionally remark about how something was interesting and ask to keep it.
"For Trump, every time you ask for something back, it implies you don't trust him," Bolton told The Times, adding that staffers would not always succeed in trying to get something back from Trump.
A representative at Trump's post-presidential press office did not immediately respond to a request for comment from Insider.
The FBI is investigating whether Trump broke three federal laws, including the Espionage Act, by keeping classified documents at Mar-a-Lago. While executing a search warrant on the property earlier this month, agents seized 11 sets of classified documents. Per The Washington Post, some of the documents were marked top secret and concerned nuclear weapons.
US judge hints she may grant Trump request for Mar-a-Lago 'special master' (msn.com)
The Trump-appointed judge, Aileen Cannon, did not formally rule from the bench on the former president's request, saying at an hours-long hearing in West Palm Beach, Florida, that she would review the matter further before making a final decision.
'Fox & Friends' host Steve Doocy calls out Donald Trump: 'Why did he have all that secret stuff at Mar-a-Lago?' (msn.com)
Judge dismisses Carter Page's FISA abuse lawsuit against James Comey and others (msn.com)
Atlantic article: 'If it were anyone else' possessing classified documents like Trump, 'they'd be prosecuted' (msn.com)
Federal agents raid the homes of Russian oligarch Viktor Vekselberg (msn.com)
The FBI, Homeland Security Investigations and the New York Police Department were seen searching two New York properties linked to the billionaire ally of Russian President Vladimir Putin, NBC New York reported.
The agents and detectives were spotted carrying boxes during the search of properties in Manhattan and Southampton, N.Y., and another search is reportedly also underway in Miami, according to the outlet.
Does Biden risk a backlash after going on offense against MAGA Republicans in Pa. speech? (msn.com)
"MAGA forces are determined to take this country backwards," Biden said.
He later called on all Americans to be more committed to saving democracy. "For a long time, we've reassured ourselves that American democracy is guaranteed, but it is not. We have to defend it, protect it, stand up for it. Each and every one of us." Trump Agrees to Release Financial Documents to House Democrats (msn.com)
Trump didn't trust the Pentagon's method for disposing of classified documents and kept unread files in a cardboard box near his desk: New York Times (msn.com)