I am marrying Clarence Thomas, Pope Francis, to Bob Jones – forever! How about – Bringham Young? I will be posting on the RESTRICTED MARRIAGES ordained by religions who USE JESUS to divide people and pit them against one another. The War of the Religions have resulted in much death.
Samuel Jackson has pointed out the HYPOCRACY of Clarence Thomas in regards to mixed-race marriages.
John Presco
"Mary Miller went full on white supremacist on Saturday—then tried to backtrack. During a rally at The Adams County Fairgrounds in Quincy, Illinois, which was hosted by Donald Trump, Miller urged supporters to secure her re-election in Illinois' 15th congressional district.
However, it didn't take long for her to praise the former president for the role he played in the Supreme Court's official decision—revealed Friday—to reverse a woman's guaranteed right to abortion.
"President Trump, on behalf of all the MAGA patriots in America, I want to thank you for the historic victory for white life in the Supreme Court yesterday," Miller stated. Her words were met with cheers and applause.
Republican Congresswoman Mary Miller Says Roe Ruling Is "Historic Victory For White Life" (msn.com)
https://www.southcarolinapublicradio.org/2022-06-26/some-jewish-groups-blast-the-end-of-roe-as-a-violation-of-their-religious-beliefs
Evangelicals Celebrate Confirmation of Brett Kavanaugh (theintercept.com)
AS THE SENATE prepared to vote to confirm Brett Kavanaugh to the Supreme Court on Saturday afternoon, evangelical Christian leaders were gathered at a secretive retreat in North Carolina to plan the conservative movement's path forward.
The Council for National Policy, which operates covertly and brings together faith-based conservatives to discuss political strategy, was holding a planning meeting in a second-floor ballroom at the Westin hotel in Charlotte when the Senate confirmed President Donald Trump's second Supreme Court pick by a 50-48 vote.
After a tumultuous few weeks in which Kavanaugh was accused of sexual assault, the group had remained cautious until the final moments, several participants told The Intercept. Following the Senate's procedural vote on Kavanaugh's nomination on Friday, the CNP attendees gathered that evening during dinner to pray that victory was near.
Read Our Complete CoverageSupreme Privilege
Their prayers, it seems, were answered. Kavanaugh's confirmation cemented a decadeslong push to cement a conservative majority on the high court, an objective long desired by the CNP.
The agenda for the event featured a veritable who's who of Christian conservatives, including Ginni Thomas, the spouse of Justice Clarence Thomas; U.S. Ambassador to the U.N. Nikki Haley; former Sen. Jim DeMint, the former president of the Heritage Foundation, a conservative think tank; pollster Frank Luntz; and Rep. Jim Jordan, R-Ohio, who is seeking a leadership role in the House after Speaker Paul Ryan, R-Wisc., retires this year.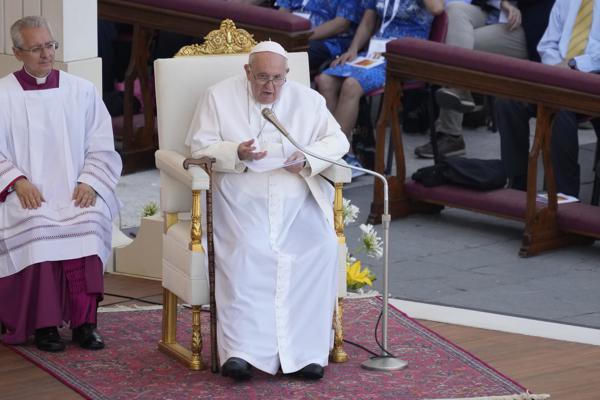 Pope Francis presides over a mass celebrated by U.S. Cardinal Kevin Joseph Farrell in St. Peter's Square at the Vatican for the participants into the World Meeting of Families in Rome, Saturday, June 25, 2022. The World Meeting of Families was created by Pope John Paul II in 1994 and celebrated every three years since then in different cities. (AP Photo/Andrew Medichini)
ROME (AP) — Pope Francis celebrated families Saturday and urged them to shun "selfish" decisions that are indifferent to life as he closed out a big Vatican rally a day after the U.S. Supreme Court ended constitutional protections for abortion.
Pope hails families, blasts 'culture of waste' after Roe | AP News
Bob Jones University Apologizes for Its Racist Past (jbhe.com)
"let's review the racial history of Bob Jones University. The university's founder, Bob Jones, was a fundamentalist evangelist who believed that the theory of evolution was an abomination. He called the pope the anti-Christ and dismissed Catholicism as a "Satanic counterfeit." He once said, "I would rather see a saloon on every corner than a Catholic in the White House." Jones Sr. was of the view that twentieth-century blacks should be grateful to whites for bringing their ancestors to this country as slaves. If this had not happened, Jones wrote in 1960, "they might still be over there in the jungles of Africa, unconverted."
The Real Origins of the Religious Right – POLITICO Magazine
But the abortion myth quickly collapses under historical scrutiny. In fact, it wasn't until 1979—a full six years after Roe—that evangelical leaders, at the behest of conservative activist Paul Weyrich, seized on abortion not for moral reasons, but as a rallying-cry to deny President Jimmy Carter a second term. Why? Because the anti-abortion crusade was more palatable than the religious right's real motive: protecting segregated schools. So much for the new abolitionism.
Brigham Young[edit]
Main article: Blood atonement
On at least three occasions (1847,[48] 1852,[49] and 1865[50]) Smith's successor Brigham Young publicly taught that the punishment for black–white interracial marriages was death, and the killing of a black–white interracial couple and their children as part of a blood atonement would be a blessing to them.[32]: 37, 39 [51] He further stated that interracial children are sterile "like a mule", a teaching later repeated in a church magazine.[48][52] Young taught that the moment the church consents to white members having children with black individuals the church would go to destruction,[32]: 37 [53] and that, "Any man having one drop of the seed of Cane in him cannot hold the priesthood."[54] Young also taught that people who had children with a black person would be cursed to the priesthood.[32]: 37 
Interracial marriage and The Church of Jesus Christ of Latter-day Saints – Wikipedia
Instruction on mixed marriages, 18 March 1966 (vatican.va)
Bob Jones
When only seven years old and walking on a dirt road in Arkansas; the Arch Angel Gabriel appeared to Bob Jones on a white horse and blew a double silver trumpet in his face. He then threw an old bull skin mantle at Bob's feet. Although fearful at the time he ran, however, many years later he returned to pick up that old mantle which is that of a Seer Prophet. Bob Jones is known as a contemporary prophet with a great love for the Lord Jesus and His truth. His prophesies have spanned over four decades as the Lord has enabled him to foretell earthquakes, tidal waves, comets, and weather patterns. Like Daniel who functioned at an incredible level, Bob has often told leaders their dreams and experiences, as well as the interpretation.

After his death experience in 1975 God sent him back to minister to church leadership and reach the multitudes with His love, truth and equipping the saints with understanding of the spiritual gifts. God promised Bob that he would see the beginning of one billion souls coming into the kingdom in one great wave of the end time harvest.

Bob moves with a clear revelatory gifting, accompanied by gifts of healing and miracles.
Samuel L. Jackson Calls Out Clarence Thomas for Leaving Interracial Marriage Off List of Targets
Glenn Garner – Yesterday 2:42 PM
Samuel L. Jackson is weighing in on the fallout around the Supreme Court's latest ruling.
The Academy Award honoree, 73, called out Justice Clarence Thomas' after Thomas suggested the court should reconsider other key decisions, including the 2015 case establishing the right to same-sex marriage, following the SCOTUS decision to overturn 1973's Roe v. Wade and the constitutional right to abortion.
"How's Uncle Clarence feeling about Overturning Loving v Virginia??!!" Jackson wrote Friday on Twitter, referring to the landmark 1967 ruling that found interracial marriage bans unconstitutional. Justice Thomas, 74, a Black man, has been married to wife Virginia Thomas, a white woman, since 1987.
RELATED: In Concurring Opinion, Justice Clarence Thomas Writes Court 'Should Reconsider' Rulings Legalizing Gay Marriage and Birth Control
Thomas, who was nominated by President George H. W. Bush as the second Black person to ever serve on the Supreme Court in 1991, wrote in a concurring opinion that SCOTUS should next "reconsider" the rulings that legalized birth control, sodomy and same-sex marriage.
"In future cases, we should reconsider all of this Court's substantive due process precedents, including Griswold, Lawrence, and Obergefell. Because any substantive due process decision is 'demonstrably erroneous,' … we have a duty to 'correct the error' established in those precedents," he said.
Related video: Clarence Thomas reflects on how 'all heck broke loose' following SCOTUS nomination
Jim Obergefell, one of the plaintiffs in the historic Obergefell v. Hodge case that guaranteed the right to marry to same-sex couples, said in a statement sent to PEOPLE that Thomas is "not the Supreme Deity."
"Clarence Thomas is a Supreme Court justice appointed by humans, he is not the Supreme Deity. The millions of loving couples who have the right to marriage equality to form their own families do not need Clarence Thomas imposing his individual twisted morality upon them. If you want to see an error in judgment, Clarence Thomas, look in the mirror," he said.
RELATED: Alexandria Ocasio-Cortez Opens Up About Being Raped in Her 20s: 'I Felt So Alone'
U.S. Senator Elizabeth Warren also called out Thomas in a tweet on Sunday: "Clarence Thomas made it clear: right-wing extremists aren't stopping at abortion. They're coming after marriage equality, contraception, & anyone who doesn't live & look like their idea of the ideal American. But the Supreme Court won't get the last word—the American people will."
Friday's 6-to-3 ruling reversed nearly 50 years of precedent, giving states the power to pass their own laws around abortion. Since the decision, Arkansas, Kentucky, Louisiana, Missouri and South Dakota have already banned abortion in their states, after putting "trigger bans" in place that governors enacted after the SCOTUS ruling.
RELATED VIDEO: Supreme Court Overturns Roe v. Wade, Eliminating the Constitutional Right to Abortion
RELATED: Megan Thee Stallion Calls Out SCOTUS, Texas' Abortion Laws During Set: 'Really Embarrassing Me'
Protests have since erupted around the country, and President Joe Biden has spoken out against the ruling, which he called the "realization of an extreme ideology and a tragic error by the Supreme Court."
The decision comes after the SCOTUS opinion was leaked to Politico last month. A poll conducted by CNN has since found that 66 percent of Americans did not want Roe v. Wade to be overturned.

Bob Jones University Apologizes for Its Racist PastBob Jones University, the Bible college in Greenville, South Carolina, did not admit black students until the 1970s. Then, for a 30-year period, interracial dating was prohibited. Now the university has announced that its polices were wrong.Lost in the spectacular news accounts of the election of a black man as president of the United States is another event — this time in higher education — that stands as a milestone in racial progress. In an eloquent statement, Stephen Jones, great-grandson of the founder and the fourth president of Bob Jones University, has apologized for the institution's racist past.President Jones stated, "For almost two centuries American Christianity, including BJU in its early stages, was characterized by the segregationist ethos of American culture. Consequently, for far too long, we allowed institutional policies regarding race to be shaped more directly by that ethos than by the principles and precepts of the Scriptures. We conformed to the culture rather than provide a clear Christian counterpoint to it."In so doing, we failed to accurately represent the Lord and to fulfill the commandment to love others as ourselves. For these failures we are profoundly sorry. Though no known antagonism toward minorities or expressions of racism on a personal level have ever been tolerated on our campus, we allowed institutional policies to remain in place that were racially hurtful."By way of background to this remarkable announcement let's review the racial history of Bob Jones University.The university's founder, Bob Jones, was a fundamentalist evangelist who believed that the theory of evolution was an abomination. He called the pope the anti-Christ and dismissed Catholicism as a "Satanic counterfeit." He once said, "I would rather see a saloon on every corner than a Catholic in the White House."Jones Sr. was of the view that twentieth-century blacks should be grateful to whites for bringing their ancestors to this country as slaves. If this had not happened, Jones wrote in 1960, "they might still be over there in the jungles of Africa, unconverted." Integrationists, according to Jones, were wrongfully trying to eradicate natural boundaries that God himself had established.With the help of wealthy supporters, Bob Jones founded a college near Panama City, Florida, in 1926. Bibb Graves, who had just been elected governor of Alabama with the official backing of the Ku Klux Klan, gave the keynote address at the groundbreaking ceremony. When classes began in 1927, admission of students was officially restricted to members of the white race, a policy that persisted until 1971.Experiencing Depression-related financial difficulties in 1933, Bob Jones was forced to sell the Florida land and move his college to Cleveland, Tennessee. In 1936 a young Billy Graham entered the new Bob Jones College in Tennessee. But he quickly became disenchanted with its strict religious doctrine and social policies and transferred to Florida Bible Institute. In 1947 Bob Jones College moved once more, this time to its present site in Greenville, South Carolina. Now financially sound, the college began to offer master's and doctoral degrees and assumed the designation of a university.When Bob Jones Jr., the son of the founder, became the institution's president, he continued the institution's policies of rabid bigotry. During his tenure he bestowed honorary degrees on George Wallace, Strom Thurmond, and Lester Maddox. When Pope Paul VI died in 1978, Bob Jones Jr. called him the "archpriest of Satan, a deceiver, and he has, like Judas, gone to his own place."When Bob Jones III assumed the presidency of the institution in 1971, male students were required to wear jackets and ties to classes. Women were obliged to wear dresses or skirts. Rock music was prohibited on campus. Students were forbidden from attending movies. Students were not permitted to go on off-campus dates without a chaperone. On campus, the university maintained two "dating parlors" where students could meet to talk. Touching was not allowed and kissing was strictly prohibited even if the couple was engaged to be married. Male and female students were not permitted to speak to each other after 7 p.m. The campus was separated from the city of Greenville by an iron and barbed-wire fence.Under federal government pressure, Bob Jones University finally opened its doors to unmarried black students. But strict regulations were established by the university to prevent interracial dating. In 1976, during the administration of Gerald Ford, the policy on interracial dating resulted in the Internal Revenue Service's revoking the tax-exempt status of Bob Jones University retroactive to 1970. The IRS demanded the payment of $490,000 in back taxes. The university appealed the ruling. Eventually, in 1981, the Supreme Court of the United States heard the case. The new Reagan administration initially supported the position of the university but, after a public outcry, switched sides. In 1983 the Supreme Court ruled against Bob Jones University in favor of the IRS by a vote of 8 to 1. The lone dissenter was late Chief Justice of the United States William Rehnquist.* On being advised of the decision of the Court, Bob Jones III ordered that the American flags on campus be flown at half-staff.In 1998 Jonathan Pait, a public relations spokesman for the university, explained the school's prohibition against interracial dating: "God has separated people for his own purposes. He has erected barriers between the nations, not only land and sea barriers, but also ethnic, cultural, and language barriers. God has made people different from one another and intends those differences to remain. Bob Jones University is opposed to intermarriage of the races because it breaks down the barriers God has established."In 2000 the university ended its official prohibition against interracial dating. Now eight years later, the university has admitted that its policies were wrong.This change of heart at Bob Jones University comes on the heels of recent good news about black enrollments at the nation's other Bible colleges. JBHE's database shows that in 1997 there were only nine Bible colleges where blacks made up 10 percent or more of total enrollments. Today there are 29 such schools.*William Rehnquist had a long history of opposition to the advancement of blacks. He opposed the 1954 Supreme Court decision in Brown v. Board of Education and as a young GOP pollwatcher in Arizona, Rehnquist was active in challenging black voters' qualifications.For more on the racism of Rehnquist, see "The Racial Views of the Chief Justice of the United States," JBHE, Number 23, Spring 1999, p. 72.