Meet Oregon's Tina Kotek, who hopes to be America's first lesbian governor
The former Oregon House speaker, who won the state's Democratic primary, will face headwinds in November as Republicans eye the governor's mansion.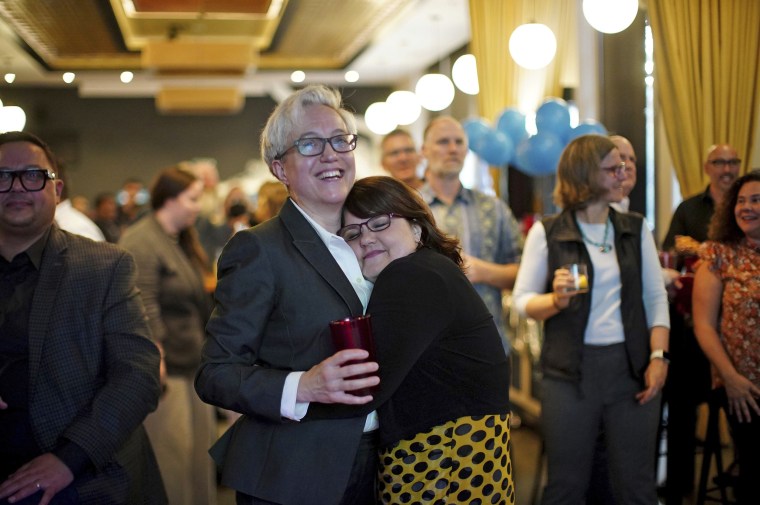 Oregon Democratic gubernatorial candidate Tina Kotek, left, is embraced by her wife, Aimee Kotek Wilson, at a primary election party at Revolution Hall in Portland on May 17.
Man arrested after throwing piece of cake at the Mona Lisa (msnbc.com)
I love Readymade Art. The guards who wiped the cake off the glass covering the Mona Lisa – destroyed art. The glass should have been removed – and framed. A camera would be set up before the readymade and a photo would be taken every ten minutes to record the decay of the cake. Great title!
THE DECAY OF THE CAKE
The readymade artist may have been doing ROSE SELAVY. He was disguised as a old lady in a wheelchair, and threw roses at the guard.
I will be COVERING the campaign of Tina Kotek who will be smeared by The Kingdom Comites, who will come all over her with JESUS SMEAR! I'm going to mix MORE ART in my Royal Rosamond posts. As the Supreme Court prepares to seat The Tenth Judge – LORD JESUS – I will construct and employ my ART TIME MACHINE that will allow me to go to any TIME in history – and alter what I damn please, like Christian Candidates. Forinstance…..
"After surviving the hit Putin put on her life, and after undergoing plastic surgery, Victoria Rosemond Bond, moved to Eugene Oregon, and ran as a Lesbian candidate for Governor. It was the perfect cover. The SMEAR CAMPAIGN was so vicious – her enemies so intent on depicting her as someone she is not – they neglected to discover – WHO SHE REALLY IS! Victoria reinvented herself as an artist, and took a keen interest in the world of Marcel Duchamp. She wept as she sat before her finished masterpiece…..NUDE DESCENDING FROM HER TREEHOUSE. She put on Boris Shtokolov singing his ascending song, and not his lonely road song. She had gotten in touch with the great truth Starfish imparted to her in their Moscow hotel room just before she died.
"I am overqualified in this world, on every level. For this reason – I am doomed! The world must crown their beloved Fool, over and over again. But, then there is you. How do I crown this dear soul I love more than myself. When we get back to Osborne House, I will take you up in my threehouse."
John Presco
15 Scandalous Facts About Duchamp's 'Nude Descending a Staircase, No. 2' | Mental Floss
Meet Oregon's Tina Kotek, who hopes to be America's first lesbian governor (nbcnews.com)
Man arrested after throwing piece of cake at the Mona Lisa (msnbc.com)
Mona Lisa smeared with cake in apparent climate protest
BY ELAINE COBBE
UPDATED ON: MAY 31, 2022 / 7:34 AM / CBS NEWS
The most famous smile in the world was briefly obscured Sunday when a man smeared some cream cake over the Mona Lisa, in what seems to have been a climate protest.
The 16th century masterpiece by Leonardo da Vinci was untouched, however, as it is protected behind bulletproof glass in the Louvre museum in Paris.
Social media quickly lit up with videos posted by tourists who were in the gallery at the time.
Visitors posted that a man disguised himself as an elderly lady in a wheelchair, presumably in order to gain access to the spot right in front of the painting reserved for the handicapped. Then he stood up and smeared the cream cake over the glass case that protects the Renaissance painting.
As security guards pounced on him, the man, who was wearing a wig and makeup, threw red roses at their feet.
The Rise of Christian Nationalism | Council on Foreign Relations (cfr.org)
Meet Oregon's Tina Kotek, who hopes to be America's first lesbian governor (nbcnews.com)
"It's not why I'm running," Kotek, 55, said. "But I also know that it can create inspiration for other young people to be like, 'Look, life can get better. I can do whatever I want, because look at this person or that person.' So, it'd be an honor."
Posted on January 9, 2013 by Royal Rosamond Press
Oops! It LOOKS like the Sinclair-Pinkham alliance did find sub-rosa.
http://www.gnostictemplars.org/lineage.html
It is alleged Dan Brown and his wife spied on our Templar yahoogroups where a race was under way to get out THE NO.1 BOOK. Around ten years ago, I pointed out Mark Pinkham was selling Mystery Tours for big bucks – while the jury was still out – and thus this is a Con Job. This is when Ian Sincalir of Gnosshead went after me with his chariot of gnostic fire, he saying "A wheel has come off Jon's cart."
Click on this Youtube, and read the rest. What a great soundtrack and background sound to my long study….my run for the Roses!
Denis de Rougemont was a good friend of Marcel Duchamp, the surrealist, who created a fictional character, Rose Selavy. Another surrealist, Philippe de Chérisey, forged the Priory de Sion documents – as a prank! Here is an original Merry Prankster!
Jon Presco
By the early 1960s Philippe de Chérisey met Pierre Plantard, and together they developed an interest in Rennes-le-Château. From the mid-1950s local hotelier Noël Corbu circulated a story that the 19th century priest Bérenger Saunière of Rennes-le-Château had discovered the treasure of Blanche of Castile. The author Robert Charroux published Corbu's story in his 1962 book Trésors du Monde.[2] In a letter dated 2 April 1965 to his girlfriend, de Chérisey wrote: "Don't tell anyone, but I'll be setting out again for four days in the Pyrenees with Plantard to see if we can get any closer to Mary Magdalene."[3] A mixture of de Chérisey's humor and surrealism can be identified within his activities relating to the Priory of Sion hoax, Gisors and Rennes-le-Château, contained in his correspondence as well as in his documents that he deposited in the Bibliothèque nationale de France in Paris.
Posted on December 4, 2011 by Royal Rosamond Press
rosamondpress Just another WordPress.com site Skip to contentHomeAbout← Sara Moon = Rosamon
Rose Selavy + Sara Moon
Posted on December 4, 2011 by Royal Rosamond Press
The really famous world artist, Marcel Duchamp, dressed in drag and called himself 'Rose Selavy'. When he came to America, Vogue magazine did an article about him, and exposed him to celebrity status – American Style – where he lay his famous signature on his fans and other items in order to generate more fame – and money! This inspired Duchamp to render a check to pay for his dental work. His dentist took this check as payment understanding it would be famous one day and worth more the the cost of his work.
When Christine Roosamoon died, she left behind thousands of unsigned lithographs. Stacey Pierrot petitioned the probate court for an Estate Seal in order to apply the ROSAMOND signature from the Land of the Dead. This Seal of the Dead was a metal object that was applied to a the lower right hand corner of these prints, and the paper was raised up in a intaglio manner to make an embossed signature that can be read by the blind. This made Pierrot an Art Check Writer, who loves her bank! How can she blame Mr. Sara Moon for his attachements, his, blood-sucking?
Duchamp was a friend of Denis De Rougemont 'The Prince of European Culture' and co-founder of the European Union, that is rewriting its Constitution in order to keep the European Economy from collapsing. Rougemont may be our kinsfolk.
Sane folk understand the Banks of the World committed massive fraud on the people, while stupid Republican want to believe the Poor Parasitical People are to blame. This is because they are into Stupid Voo-Doo Economics, where we find Mr. Lucky Jesus handing out autographs like crazy to his – Chosen Ones!
Vogue refused to put Duchamp's painting they commissioned on the cover of their magazine. Did in of Rena's siters appear in Vogue? How about Steven Silverstein's images? Did Duchamp understand fashion models were all the vogue, and thus he became one?
Jon Presco
Copyright 2011
la
Rrose Sélavy, or Rose Sélavy, was one of the pseudonyms of artist Marcel Duchamp. The name, a pun, sounds like the French phrase "Eros, c'est la vie", which translates to English as "eros, that's life". It has also been read as "arroser la vie" ("to make a toast to life").
Sélavy emerged in 1921 in a series of photographs by Man Ray of Duchamp dressed as a woman. Through the 1920s, Man Ray and Duchamp collaborated on more photos of Sélavy. Duchamp later used the name as the byline on written material and signed several creations with it.
Duchamp used the name in the title of at least one sculpture, Why Not Sneeze, Rose Sélavy? (1921). The sculpture, a type of readymade called an assemblage, consists of an oral thermometer, a couple dozen small cubes of marble resembling sugar cubes inside a birdcage. Sélavy also appears on the label of Belle Haleine, Eau de Voilette (1921), a readymade that is a perfume bottle in the original box. Duchamp also signed his film Anemic Cinema (1926) with the Sélavy name.
From 1922 the name Rrose Sélavy also started appearing in a series of aphorisms, puns and spoonerisms by the French surrealist poet Robert Desnos. Desnos tried to portray Rrose Sélavy as a long lost aristocrat and rightful queen of France. Aphorism 13 paid homage to Marcel Duchamp: "Rrose Sélavy connaît bien le marchand du sel" [in English: "Rrose Sélavy knows the merchant of salt well"; in French the final words sound like Mar-champ Du-cel — Duchamp's compiled notes are titled 'Salt Seller']. (Note that the 'salt seller' aphorism – "mar-chand-du-sel" – is a phonetic rearrangement of the syllables in the artist's actual name: "mar-cel-du-champ.") In 1939 a collection of these aphorisms was published under the name of Rrose Sélavy, entitled Poils et coups de pieds en tous genres.
The inspiration of the name Rrose Sélavy has been viewed to be Belle da Costa Greene, J.P. Morgan's librarian of The Morgan Library & Museum (formerly The Pierpont Morgan Library) who, following his death, became the Library's director, working there for a total of forty-three years. Empowered by J.P. Morgan, and then by his son Jack, Greene built the collection buying and selling rare manuscripts, books and art.[1]
The late Ilmar Laaban – an Estonian poet, lecturer, polyglot and intellectual who died in exile in Sweden, who is often called "the father of Estonian surrealism", wrote a collection of poetry called "Rroosi Selaviste" in Estonian that is based on wordplay and puns. Rroosi Selaviste (published 1957) is without a doubt one of his major accomplishments – a playful homage to his native tongue that not only shows the suppleness of the Estonian language, but also showcases Laaban's virtuosity as a wordsmith.
Niandra LaDes, an alter ego by John Frusciante, was based on Rrose Sélavy. This character is also featured on the cover of Frusciante's 1994 album Niandra LaDes and Usually Just a T-Shirt, which is a screenshot from a film by Frusciante's then-girlfriend, Toni Oswald. This film remains unreleased, though a tradition among the avant-garde is to show the film in the proximity of items bearing a similar resemblance to a Duchampian "fountain". [2
You know, I like signing all those things – it devalues them," Duchamp confided to Richard Hamilton at the Pasadena Art Museum. (Tomkins 1965, p. 68.) A retrospective of his work had just opened (1963) and without reluctance Duchamp spent the morning signing papers, posters and other objects. His fame in America was greater than ever, and as Duchamp recalled himself he would sign anything in those days. (cf. Judovitz 1995, p. 162.) Many more shows were put together in the years to follow. Vogue interviewed Duchamp, museums organized round table discussions where Duchamp himself would frequently show up, and slowly a body of literature emerged that vainly tried to pin down the meaning of his work.
A little over a year after Pasadena, the same ritual took place: a show opened at the Cordier & Ekstrom Gallery in New York and an unknown man entered.(1) Philippe Bruno, more of a groupie than an art collector, had cut out all newspaper reviews of the show and pasted them in his copy of the show's catalogue. If Duchamp could sign this please, maybe on the blank check that was attached with a paperclip to the page where the Tzanck Check was reproduced (facing L.H.O.O.Q.)…
Posted on December 6, 2011 by Royal Rosamond Press
Many folks who admired the beautiful images Christine Rosamond captured, believed she was a man. When they discovered she was a woman, some folks wondered if she was a Lesbian. Christine and her female handlers worked the gay thing before and after her death.
Then there is the Rosemary Rosamond archetype thing, where I had a thing for my mother, and she a thing for me, and together we oppressed CHRIST-ROSA and her art because we didn't want anyone to LOOK at her. This is why she hated doing art shows, because there was alway some dude who wanted to get in her head and find out THE TRUTH. Were these males threatened because their natural role in the scheme of things was under attack? Men get the MONEY, the BEAUTIFUL WOMEN – and the ART!
Now, for fifty bucks one can purchase a ROSAMOND and be a PLAYER. Magazines offered the same thing. Purchasing FAN magazines, was like buying stock in your favorite Thespian, and thus they owe it all to – YOU! Then, here come FACEBOOK!
LOOK AT ME!
Christine Rosamond had someone take photos of her, and thus she became a model for her work. She took photos of me in 1974 so she could show the world she loves MEN – too! Now, why would she want to expose me, make me part of of her world fame, IF I forced her to render works of art in a closet with a flashlight – according to Julie Lynch – who is trying to sell this GIANT LIE to a movie producer and broadcast it on a GIANT SCREEN? What is Lynch's motive? Surely she wants to see her image on the cover of a magazine with these words below;
I LOVE MY BANK. I LOVE MONEY. I LOVE MYSELF.
Marcel Duchamp's 'Nude Descending Staircase' has to be included in any respectable Art Look Book. When I dropped out of high school at seventeen, I checked out many oversized art books, and read accompanying bios and words applied to works of art. Christine gave me credit for her success, because when she got home from school, I would share these books with her, and my observations.
"You showed me what constituted good and bad art."
One artist I shared with Rosamond, was Andrew Wyeth who had a powerful influence on my work, and Christine's. He understood the empty space, the whiteness of the canvas or paper that could illuminate the surface colors like film through a projector. N.C. Wyeth's work gave luminous images to famous novels that gave Hollywood – THE LOOK! Andrew Wyeth could have made movies. His 'Christine's World' takes a UNKNOWN out of oblivion, and makes HER FAMOUS. Wyeth's work had an ATMOSPHERE OF INTEGRITY.
That Stanly Kubreck was a photographer for LOOK magazine, is to reveal that the PUBLIC HAS A TRAINED EYE. Ira Cohen of Ira Robert's Gallery, understood this. We are MAGAZINE PEOPLE who want just another – PEEK! How these peeks are turned into mountains of money, is what Steve Jobs was all about. Does the Cyber Space own an atmosphere of integrity?
A fiend understands this is what I am providing – for free! However, one is not considered integral unless one MAKES MONEY AT THEIR ART. Duchamp came to this same conclusion, stopped making art, and litary made money, or checks, because he concluded this is what all artists are about. They abhor making real money, so, they make FACSIMILE MONEY. What an honest deduction!
Look at me in the photos above taken in Rosamond's studio. Here is proof Rosamond's biographers are – DISHONEST! That I can not convince my daughter this is the truth, has forced me to disown her. For, to me, she has no worth.
Rena said her sister appeared on the cover of a magazine in a bikini in 1970. I thought I found her one the cover of LOOK. ALL is ILLUSION! And then I TOOK mind altering drugs.
Jon Presco
Copyright 2011
https://rosamondpress.wordpress.com/2011/08/12/in-christine-rosamonds-studio/
Look was a bi-weekly, general-interest magazine published in Des Moines, Iowa from 1937 to 1971, with more of an emphasis on photographs than articles. A large-size magazine of 11 by 14 inches, it was generally considered the also-ran to Life magazine, which began publication months earlier and ended in 1972.
It is known for helping launch the career of film director Stanley Kubrick, who was a staff photographer.