Never in the history of literature has a writer gone into a self-induced psychotic state in order to summon a Psychic Psychotic Character in order to wage a propaganda war against a world leader amassing troupes on the border of a sovereign nation. How I have been able to PREDICT the future with Miriam Starfish Christling, and Victoria Rosamond Bond, is worth a study by a reputable organization, because Art and Literature are always on the front line of WAR. There was a suggestion that the Ukraine may not be the target of Putin. I wonder if his troupes will invade the Czech Republic. Bohemia has been a traditional target in the history of warfare because of its strategic location. The Bohemian People are asking for unity from fellow member of the European Union. I will be setting up The Bohemian Union Headquarters in Crockett California, the home of my grandfather, who may be the Real Last Bohemian.
My post of July 3, 2018, will go down in history as a shining example of True Prophecy. I came under attack by my End Time neighbors who saw me as a competitor for the Lunacy of David J. King who backed the QAnon Insurectionists. Putin and Trump – are psychos! I believe Ian Fleming is speaking through me, and I am a TZADIKIN.
The Rose Atom | Rosamond Press
Psycho-Warfare Over Rosatom | Rosamond Press
The Royal Janitor
by
John Presco
Copyright May, 3, 2022
Chapter…. Atomic Tsunami
Victoria and Miriam were having lunch in a fine restaurant in Moscow Square when they saw the infamous broadcast – that would rock the world! Dmitry Kiselyov was suggesting atomic bombs be dropped in the ocean surrounding Britian, creating giant tsunamis that would destroy coastal towns and cities. This Mad Bomber was saying Britan and NATO could not retaliate with nuclear weapons – because this was not a real Atomic Attack on British soil. Why this made a difference was given the strange Russian Treatment that Putin tried to describe as a typical alternative Russian History that would never be like any other nation, thus, they get to employ this history -on their own unique terms. Victoria Bond had called Miriam out on her use of this alternative history, many times. Then, the Wizard told her to let her fly with it.
"Hit the record button every time she goes into her routine so we can study it later."
"Who is "we" Vicky asked, with a tart tone that said she did not like spying on her – wife – a fact the Boys at BAD had trouble digesting. Mousy Vicky (as they called her) was the dominant partner in their marriage. You would think it was the other way around. Oh how they were tempted to plant a camera in their bedroom. Boys will be Boys!
"We is….The Holy of Holies. They are our code team who broke the signing code the Jewish priests used when they were in the Holy of Holies. They had to maintain silence, but convey instructions to one another. They signed when they came to circumcises and name John the Baptist."
When the news came on about the Supreme Court getting ready to repeal Woe vs. Wade there was no need to read each other's minds, because all their alarms were going off. They employed some Nose Ogham to express their terror, and signal they should use their Book Marks to talk. The book marks were transparent with images of Micky Mouse and Pluto on them. When laid atop select pages in their books. A very thin wire connected the marker, They put on shoes that allowed them to touch toes so they can harness the natural electrical current in the body. When a word was touched a very faint signal was sen along the wire and the word in the other book would be illuminated. There was an alphabet. Uusing their cellphones would send signals that are easily detected. If they sat at a table writing out their communication, then passing it back and forth, would be detected by the hidden cameras.
"I want British Citizenship. I'm going to denounce my American citizenship. Neo-Confederate Christians are using Jesus to exact revenge on the North who beat them in the Civil War!
"You got it! The State of Florida has already launched a crusade against the LBGTQ community, suggested the Tea Party was founded by Putin and KGB who wants Conversion Programs set up in Ukraine after victory is achieved. Graham is saying there are seven million queers in Ukriane."
"Putin must be stopped. He is destroying the land of my Ukraine People. He wants me in the May 6th. parade. He canceled our dinner to go under – the knife! You would nake a great Surgeon Nurse who could have an accident – passing the scalpel! Go for the main artery – and slash away at the surgical team! You can do it! I love you!"
"Stop it! You are dilating my eyes. The cameras will pick that up. Do you truly believe Putin is dying, and they are going to graft his face onto a body-double?"
"I believe he died awhile back, and is why IT meets with people at the end of a long table. The stiches need time to heal! He is……A FRANKENSTEIN MONSTER!"
"Was he – killed?"
"I believe so!"
"Who killed him?"
"I suspect…The Twelve. They are a relgious sect, a cult if you will."
"What about M-16? Did they have a hand in – IT?"
"To tell you the truth….I think they are setting me up – with your help! You want to get me in a Bible Contes of some kind. Admit it!"
"I admit it!" said Mousy Vicky.
CIA instructs Russians on how to share secrets with the spy agency (msn.com)
Franklin Graham Calls Leaked SCOTUS Draft 'Answer to Many Years of Prayers' (msn.com)
Biden brutalized over 'incoherent' and 'vile' claim that Roe is in line with 'all basic mainstream religions' (msn.com)
CIA instructs Russians on how to share secrets with the spy agency
Shane Harris – 4h agoFollow
React|61With the war in Ukraine in its third month, the CIA is taking a new approach to its core job of recruiting spies and soliciting secrets.
© Carolyn Kaster/APCIA instructs Russians on how to share secrets with the spy agency
On Monday, the CIA published instructions for how Russians can covertly volunteer information using an encrypted conduit to the agency's website. The hope is to attract intelligence — and potentially gain more access to official Russian secrets — from disaffected people who have been trying to contact the CIA since the war began, officials said.
To ensure the would-be informants are not caught by Russian state security, the CIA spelled out detailed Russian-language instructions in three social media posts on how to use the Tor Internet browser, which lets users move online anonymously, as well as virtual private networks, or VPNs. The steps will open a dedicated channel to the CIA that is more secure than navigating to the agency using an ordinary Web browser or Internet connection.
"Do not use your home or office computer to get in touch with us," the agency cautions in its step-by-step guide. To circumvent online monitors, Russians should use a VPN that is not based in Russia, China or other countries considered "unfriendly" to the United States. Free VPNs are generally inferior to paid services, the CIA advises, encouraging its contacts to spring for a premium version.
Tucker Carlson Says Democrats Want Russia Regime Change as 'Revenge' for 2016 Election (msn.com)
Ukraine war: Russian state media threatens UK with underwater nuke | Daily Mail Online
Russian state media has urged Putin to wipe the UK off the map using his most-powerful nuclear weapons as the despot's propaganda machine continues to threaten mass death over support for the war in Ukraine.
Dmitry Kiselyov, a man often known as 'Putin's mouthpiece', used his Sunday night show to call for attacks on Britain with a Poseidon underwater drone that he said would trigger a 1,600ft radioactive tidal wave and 'plunge Britain to the depths of the ocean.'
The drone 'has capacity for a warhead of up to 100 megatons', Kiselyov claimed – several thousand times the strength of the bomb dropped on Hiroshima – which would 'raise a giant wave, a tsunami, up to 1,640ft high' – enough to reach halfway up Scafell Pike, the tallest point in England.
Inside the Met Gala! Billionaires collide as Kim Kardashian and Elon Musk enjoy chat alongside her beau Pete Davidson… as stars mingle on fashion's biggest night , and other top stories from May 03, 2022.
Pause
Full-screen
Speaking against a background graphic showing the UK being erased from the world map, Kiselyov added: 'This tidal wave is also a carrier of extremely high doses of radiation. Surging over Britain, it will turn whatever is left of them into radioactive desert, unusable for anything. How do you like this prospect?'
Kiselyov also threatened the UK with an attack by Sarmat 2, Russia's latest nuclear missile which was tested by Putin a fortnight ago, which he claimed could also completely destroy the country with just a single impact.
'[Their] island is so small that one Sarmat missile is enough to drown it once and for all,' he said. '[It] is capable of destroying an area the size of Texas or England. A single launch, Boris, and there is no England anymore.'
Kiselyov's remarks follow a pattern that has developed on Russian state media in recent days of threatening Britain with nuclear holocaust, based on the false premise that Boris Johnson has threatened to carry out a nuclear strike on Russia without consulting NATO.
The threats are instead believed to be the result of the UK's staunch support for Ukraine, which has seen it move further and faster than other European nations in delivering arms to Kyiv to help in the fight against Russia and has seen Mr Johnson twice visit the Ukrainian capital to show his support.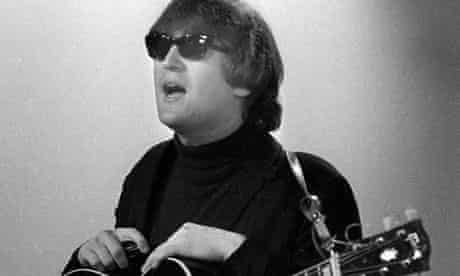 John Lennon in an image from Leslie Woodhead's book How the Beatles Rock
https://www.thirteen.org/beatles/video/video-watch-how-the-beatles-rocked-the-kremlin/embed/#?secret=9jmuUuL3nY#?secret=JVAgcVvZwn
Here is another book, or series. Putin and his Evil Warlocks KNOW it was BEATLEMANIA that brought down their beloved Soviet Union – THAT HATED FREEDOM OF THE PRESS – like SLEEPS Anarchists. You don't believe me – GOOGLE IT! Putin just BANNED Boris Johnson from Russia. Look at the date of this post. August 1, 2018. Almost four years ago I cried "WOLF!". I was made out to be the Wolf – AND INSANE!
Wake up!….and follow Zelensky's lead. You got to FIRE these leaders! You can not catch a cab out of hell. You got to fight your way out!
These FOUR FUCKS rendered five million people HOMELESS. Homelessness is a World Problem. Let's SUE THE FUCK out of the Flockulating Four!
I called for the resignation of Emily Semple. I ratted out her partner, Alley Valkyrie – TO INTERPOL! I wrote the French Embassy and gave them evidence why this Woman Creep should not be granted citizenship. Wait till your read my Revised Wiccan Report!
John Presco

How the Beatles Rocked the Kremlin tells the extraordinary and untold story of how the Beatles punctured the Iron Curtain. In a personal journey through Russia by award-winning director Leslie Woodhead, he tells in first-person accounts the story of a secret revolution which contributed to the fall of communism.
Beatles for sale: The vinyl underground in the USSR – BBC News
The Beatles were never invited to play in Soviet Russia, and their albums were considered a threat – banned long after the likes of The Rolling Stones had records released behind The Iron Curtain.
Contrary to popular belief, it wasn't absolutely impossible to listen to the Beatles in the USSR.
By the 1980s, even the state music company, Melodia, was producing recordings by the group.
But in the heyday of Beatlemania, real vinyl discs were only available on the black market and, even then, they changed hands for very large sums of money.
The cost of one such record could be as high as two weeks' salary for an average Soviet worker.
However, there was also a thriving trade in bootleg discs, produced in the USSR and Eastern Europe.
For young Soviets, the Beatles were a first, mutinous rip in the iron curtain | The Beatles | The Guardian
Franklin Graham Calls Leaked SCOTUS Draft 'Answer to Many Years of Prayers'
Thomas Kika – 7h agoFollow
React130 Comments|428
Evangelical businessman and anti-abortion figurehead Franklin Graham called the Supreme Court's leaked decision to overturn Roe v. Wade "an answer to many years of prayers."
© Drew Angerer/Getty ImagesEvangelical leader Franklin Graham took to Facebook on Monday night to celebrate the news that the SCOTUS had potentially overruled Roe v. Wade. Above, Graham appears attends the RNC in 2020.
In a leaked draft opinion by Justice Samuel Alito acquired by Politico on Monday, the court appeared to vote against long-established federal abortion rights established by Roe v. Wade in 1973 and upheld by Planned Parenthood v. Casey in 1992. If the opinion holds true when the Court rules on the case the draft pertains to, in which the state of Mississippi is attempting to ban almost all abortions after 15 weeks, abortion would instantly become illegal in at least
Posting to Facebook on Monday night, Graham, son of televangelist Billy Graham, took a celebratory tone while sharing a link to the Politico story.
"Praise God!" his post began. "The Supreme Court has voted to overturn Roe v. Wade according Politico [sic], which received a supposedly leaked copy of the opinion draft. I don't know if this report is true, but if it is, it's an answer to many years of prayers."
Over the years, Graham has heavily aligned himself with conservative political and social causes. He called former President Donald Trump a "vociferous evangelical ally" and later compared Republicans who voted to impeach him following January 6 to the biblical figure, Judas. He also previously shared the right-wing conspiracy that former President Barack Obama was born a Muslim and accused his administration of having ties to the Muslim Brotherhood, according to Mother Jones.
He has also spoken in favor of gay conversion therapy and praised Russian President Vladimir Putin's stances against LGBTQ rights. He currently heads his father's company, the Billy Graham Evangelistic Association, as CEO, and acts as president for the Samaritan's Purse humanitarian aid group, which has also courted controversy on several occasions.
Writing in the draft opinion, Alito asserted that the issue of abortion rights should be left to elected officials.
Related video: What this SCOTUS school prayer case could mean for the future of religious freedom (USA TODAY)
What this SCOTUS school prayer case could mean for the future of religious freedomUnmute
"We hold that Roe and Casey must be overruled," the draft obtained by Politico reads. "It is time to heed the Constitution and return the issue of abortion to the people's elected representatives."
Newsweek reached out to the Billy Graham Evangelistic Association and the Religious Coalition for Reproductive Choice for comment.
Alito's draft also raised concern among LGBTQ communities, as it compared Roe v. Wade to other past decisions, including one, Obergefell v. Hodges, that legalized gay marriage. Such decisions, Alito wrote, were not "deeply rooted" in American history.
"Until the latter part of the 20th century, there was no support in American law for a constitutional right to obtain an abortion," the draft reads. "Zero. None. No state constitutional provision had recognized such a right."
Related Articles