The heroines of my Bond book – are hippies – especially Miriam Starfish. The World Peace Movement – is back! This is the beginning of the end of the wealthy rulers of the world who subjected us all to the sight of a pregnant woman dying on a stretcher – with her baby! Alina is back – and safe! The flight of pregnant Mary, and her husband, Joseph – did not happen! This is true! God is the Truth! God is a woman – this time! This was my message – come true!
John 'The Nazarite'
Who Is Marina Ovsyannikova, Protester on Russian TV News? (nymag.com)
'They're lying to you': Russian TV employee interrupts news broadcast | Russia | The Guardian
'They're lying to you': Russian TV employee interrupts news broadcast
Marina Ovsyannikova ran on to the set of the Channel One transmission shouting: 'Stop the war. No to war'
An employee on Russia's state Channel One television has interrupted the channel's main news programme with an extraordinary protest against Vladimir Putin's invasion of Ukraine.
Marina Ovsyannikova, an editor at Channel One, burst on to the set of the live broadcast of the nightly news on Monday evening, shouting: "Stop the war. No to war."
She also held a sign saying: "Don't believe the propaganda. They're lying to you here." It was signed in English: "Russians against the war."
The news anchor continued to read from her teleprompter speaking louder in an attempt to drown out Ovsyannikova, but her protest could be seen and heard for several seconds before the channel switched to a recorded segment.
Advertisement
https://imasdk.googleapis.com/js/core/bridge3.504.0_en.html#goog_131524598
https://imasdk.googleapis.com/js/core/bridge3.504.0_en.html#goog_2114004851
https://imasdk.googleapis.com/js/core/bridge3.504.0_en.html#goog_82548596
Ovsyannikova also released a pre-recorded video via the OVD-Info human rights group in which she expressed her shame at working for Channel One and spreading "Kremlin propaganda."
"Regrettably, for a number of years, I worked on Channel One and worked on Kremlin propaganda, I am very ashamed of this right now. Ashamed that I was allowed to tell lies from the television screen. Ashamed that I allowed the zombification of the Russian people. We were silent in 2014 when this was just beginning. We did not go out to protest when the Kremlin poisoned [opposition leader Alexei] Navalny," she said.
"We are just silently watching this anti-human regime. And now the whole world has turned away from us and the next 10 generations won't be able to clean themselves from the shame of this fratricidal war."
Wearing a necklace in the blue and yellow of the Ukrainian flag, Ovsyannikova said in her video statement that her father is Ukrainian and her mother is Russian.
"What is happening in Ukraine is a crime and Russia is the aggressor," she said. "The responsibility of this aggression lies on the shoulders of only one person: Vladimir Putin."
She urged fellow Russians to join anti-war protests in order to bring an end to the conflict. "Only we have the power to stop all this madness. Go to the protests. Don't be afraid of anything. They can't imprison us all."
The protest was welcomed by Ukrainian president Volodymyr Zelenskiy. In a video address on Monday night he said: "I'm thankful to those Russians who don't stop trying to deliver the truth, who are fighting against disinformation and tell real facts to their friends and families, and personally to that woman who went in the studio of Channel One with an anti-war poster."
Advertisement
https://8eda86574cde32caff63f3d71e4661e4.safeframe.googlesyndication.com/safeframe/1-0-38/html/container.html
OVD-Info said that Ovsyannikova was arrested shortly after her protest and was being held at the Ostankino television centre. Pavel Chikov, head of of the Agora human rights group, later said Ovsyannikova had been arrested and taken to a Moscow police station.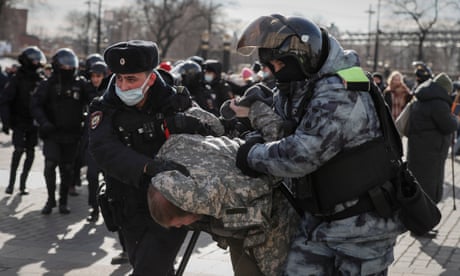 She could face prison time under a newly introduced Russian legislation that criminalised spreading so-called "fake news" about the Russian military. Those found guilty under the law could face up to 15 years in jail.
Ovsyannikova could also face legal consequences for encouraging "civil unrest" by telling Russians to protest.
In a statement published by the state news agency TASS, Channel One said that "an incident took place with an extraneous woman in shot. An internal check is being carried out."
A law enforcement source told TASS that Ovsyannikova could be charged under legislation banning public acts that aim to "discredit the use of Russia's armed forces."
Her statement marks the first time that an employee from Russian state media has publicly denounced the war as the country continues its crackdown on anti-war dissent. So strict is the current wave 0f censorship that other news programmes blurred out the message on Ovsyannikova's sign in their own reports on the incident.
Since the start of the war, Russia has launched an unprecedented crackdown on protestors, independent news outlets and foreign social media networks. Nearly 15,000 people, including children and elderly people have been detained for protesting against the war.
More than two dozen Russian media outlets have been blocked by the country's media regulator or have chosen to cease operations. The widely used social media platforms Facebook and Instagram have also been banned.
State TV meanwhile, remains the main source of news for many millions of Russians, and closely follows the Kremlin line.
Within hours of her protest, more than 40,000 people had so far left comments on Ovsyannikova's Facebook page, with many praising her for her taking a stand.
"You are a hero. Thank you so much," one comment read.
Videos of the incident quickly racked up thousands of views.
"Wow, that girl is cool," tweeted Kira Yarmysh, the spokesperson for the jailed opposition leader, Alexei Navalny.
Edgars Rinkēvičs, Latvia's foreign minister, said on Twitter: "While there are brave people like Maria #Ovsyanikova, a producer at Russia's Channel 1, protesting against the Russia's war and propaganda tonight or protesters on the streets #Russia still has a chance for better future."
… we have a small favour to ask. You've read 50 articles in the last year, making you one of our top readers globally. We'd like to thank you for putting your trust in our journalism last year – and invite you to join the million-plus people in 180 countries who have recently taken the step to support us financially, keeping us open to all, and fiercely independent.
Russia's invasion of Ukraine has abruptly transformed the world. Two million people have already fled. A new Iron Curtain is grinding into place. An economic war deepens, as the military conflict escalates and civilian casualties rise.
It's our job at the Guardian to decipher a rapidly changing landscape, particularly when it involves a mounting refugee crisis and the risk of unthinkable escalation. Our correspondents are on the ground on both sides of the Ukraine-Russia border and throughout the globe, delivering round-the-clock reporting and analysis during this perilous moment.
We know there is no substitute for being there – and we'll stay on the ground, as we did during the 1917 revolution, the Ukrainian famine of the 1930s, the collapse of 1991 and the first Russo-Ukrainian conflict in 2014. We have an illustrious, 200-year history reporting throughout Europe in times of upheaval, peace and everything in between. We won't let up now.
Tens of millions have placed their trust in the Guardian's fearless journalism since we started publishing 200 years ago, turning to us in moments of crisis, uncertainty, solidarity and hope. We'd like to invite you to join more than 1.5 million supporters, from 180 countries, who now power us financially – keeping us open to all, and fiercely independent.
Unlike many others, the Guardian has no shareholders and no billionaire owner. Just the determination and passion to deliver high-impact global reporting, always free from commercial or political influence. Reporting like this is vital to establish the facts, who is lying and who is telling the truth.
And we provide all this for free, for everyone to read. We do this because we believe in information equality. Greater numbers of people can keep track of the global events shaping our world, understand their impact on people and communities, and become inspired to take meaningful action. Millions can benefit from open access to quality, truthful news, regardless of their ability to pay for it.