Here is a Republican Congressman saying God and Jesus are at war with the Democrats, and, all Christians should join the battle. Madison says only Republicans should read the Old Testament to learn what WINNERS the Jews were. Remember, Trump hates – LOSERS!
JP
https://www.businessinsider.com/russia-private-jets-oligarchs-sanctions-israel-2022-3
"Look back into the Old Testament. Look at David, look at Daniel, look at Esther. Look at all these people who influenced the governments of their day to uphold Christian principles," he added. As Mic's Rafi Schwartz noted, these figures are "expressly Jewish," making them an odd choice for their purported promotion of Christian valor."
https://www.msn.com/en-us/news/world/this-footage-is-not-from-ukraine-cnn-exposes-fake-video/vi-AAV0jBS?ocid=msedgntp
"The prophet Daniel had a vision that subtly hints to the four exiles of the Jewish nation:
I saw in my vision by night…four great beasts…The first was like a lion…and behold, another beast, a second one, similar to a bear…Afterwards I beheld, and there was another, similar to a leopard…After that, as I looked on in the night vision, there was a fourth beast—fearsome, dreadful and very powerful.8
In Daniel's prophecy, each creature symbolizes an exile that the Jewish people were to undergo. The first was Babylon, the second Media/Persia, the third Greece, and finally Edom, commonly identified as Rome.9
Discover the Four Exiles of the Jewish People – The history of galut – Jewish History (chabad.org)
After condemning Ukraine, Madison Cawthorn faces GOP pushback
Lindsey Graham said folks like Madison Cawthorn "are outliers in the largest sense possible on our side."

March 11, 2022, 6:28 AM PST
By Steve Benen
It was Karl Rove, oddly enough, who helped break the story. In his latest Wall Street Journal column, the GOP operative noted Rep. Madison Cawthorn's comments last weekend at a town hall event, where the North Carolina Republican called Ukrainian President Volodymyr Zelenskyy a "thug" leading an "incredibly evil" government.
Rove's catch went largely overlooked, until yesterday, when WRAL, the NBC affiliate in Raleigh, ran a report with a video recording of the congressman's rhetoric.
"Remember that Zelenskyy is a thug," Cawthorn was seen saying. "Remember that the Ukrainian government is incredibly corrupt and is incredibly evil and has been pushing woke ideologies."
It wasn't long before other Republicans took note of the North Carolinian's rhetoric and eagerly expressed their disagreement with it. As Insider reported late yesterday:
Republican senators on Thursday rejected Republican Rep. Madison Cawthorn of North Carolina's characterization of Ukrainian President Volodymyr Zelenskyy as a "thug" who's presiding over an "incredibly evil" and "incredibly corrupt" government…. Asked by Insider at a Senate press conference about Cawthorn's remarks, Republican Sen. Joni Ernst of Iowa rejected his characterization of Ukraine.
"To my colleague in the House, I would push back," Ernst said, referring to Cawthorn.
Sen. Lindsey Graham said at the same press conference, "[W]hen you see a member of Congress say things like this, the one thing I want you to know, they are outliers in the largest sense possible on our side." The South Carolina Republican added, "Let's end with this thought: that America believes that Zelenskyy and the Ukrainians are the good guys, and Putin's the bad guys. And we'd like to be helping the good guys more."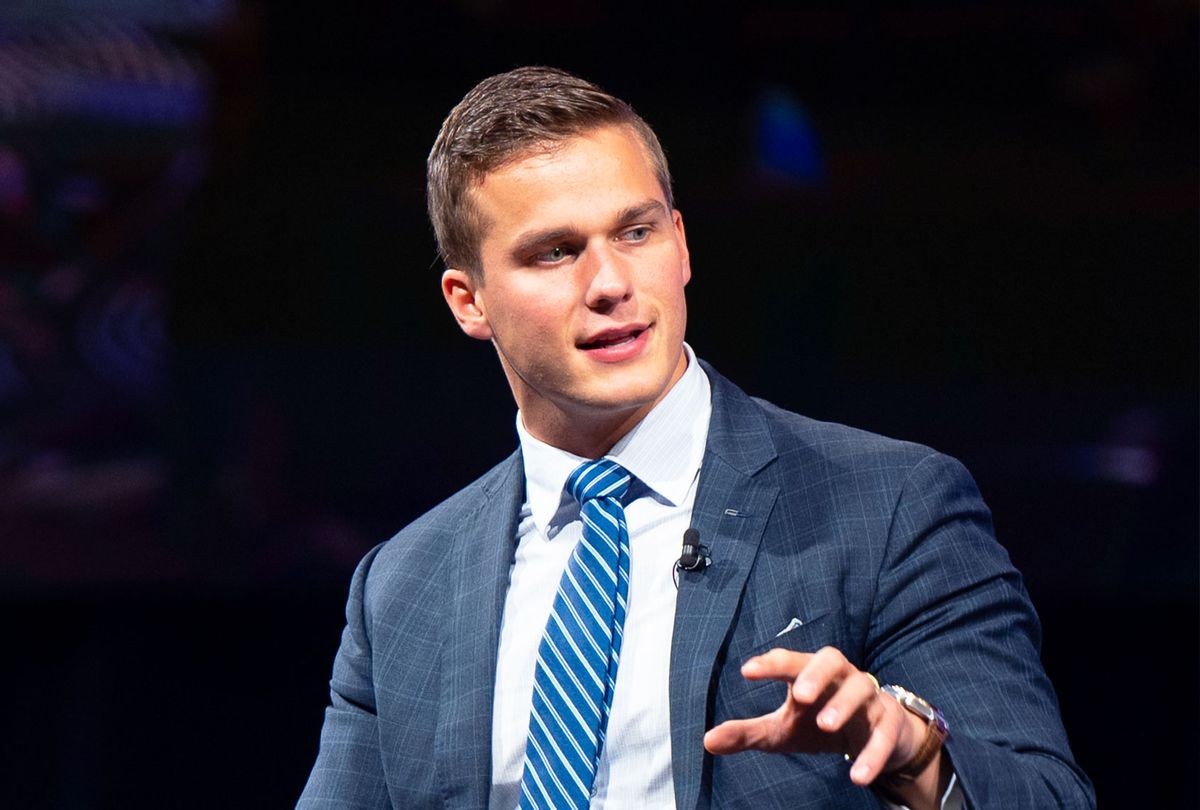 U.S. Rep Madison Cawthorn (R-NC) (Brandon Bell/Getty Images)
Rep. Madison Cawthorn, R-N.C., called on the "American Christian church" to "come out of the shadows" in a campaign ad posted Sunday, imploring "strong, God-fearing patriots" to stand up against the apparent "tyranny" of Democratic Party.
"If we bend the knee to the Democrats today, our country will be lost forever and our children will never know what freedom is," he said in a video released on Twitter. Cawthorn further called for likeminded believers to join his supporters in the "spiritual battle" unfolding on Capitol Hill.
The video, likely to be one of many in his 2022 re-election campaign, features footage from a recent September speech delivered at the North Carolina Faith & Freedom Coalition's "Salt & Light Conference," where he framed himself as a congressional guardian against "the Devil."
"I don't feel an overwhelming sense of darkness as if the Devil has complete dominion of that area," he said of D.C. politics, "because I feel a spiritual battle going on on Capitol Hill."
"Look back into the Old Testament. Look at David, look at Daniel, look at Esther. Look at all these people who influenced the governments of their day to uphold Christian principles," he added. As Mic's Rafi Schwartz noted, these figures are "expressly Jewish," making them an odd choice for their purported promotion of Christian valor.
---
This isn't the first time Cawthorn has invoked themes of war, with and without religious overtones, in his political remarks. In August he warned there could be "bloodshed" in future elections while echoing former President Donald Trump's false claims about "rigged" votes. And in July, Cawthorn objected to the House mask mandate instituted by House Speaker Nancy Pelosi, D-Calif., telling her "you are not
Joe Scarborough has a new name for Trump: "He's a fascist"Progress Bar
"Your will does not bow the knee of millions of my countrymen who refuse to heed your callous command," he said.
During a sermon in 2019, the Republican called the separation of church and state "silly," saying: "[Religion] is the basis of all of my experience and everything I've learned, everything that I believe in, how I've formed all of my worldview."
In the past, Cawthorn has also been criticized for instances of insensitivity to Jewish history, culture and faith.
In a November interview with Jewish Insider from last year, Cawthorn openly admitted that he was on a personal quest to convert Jews, saying that he's succeeded in proselytizing "a lot of … culturally Jewish people."
Last August, during his candidacy, Cawthorn sparked outrage when Instagram photos from 2017 were unearthed showing the North Carolina conservative on a visit to Adolf Hitler's vacation house in Germany, also known as the "Eagle's Nest."
Advertisement:
https://21622f9b1dc5884ca4b3781bef60ae74.safeframe.googlesyndication.com/safeframe/1-0-38/html/container.html
"Strange to hear so many laughs and share such a good time with my brother where only 79 years ago a supreme evil shared laughs and good times with his compatriots," he captioned the photos, saying that the retreat was on his "bucket list for awhile" and "did not disappoint."
Cawthorn faces a number of challengers in his 2022 bid, according to WFAE, which last month reported that four Republicans and seven Democrats have announced campaigns to strip him of his seat. Last year, Cawthorn won 50.4% of his district's vote against Democratic Air Force veteran Moe Davis.
Rep. Madison Cawthorn (Republican – North Carolina) arrives for a House Republican conference meeting in the US Capitol Visitors Center in Washington, D.C., May 12, 2021. (Chip Somodevilla/Getty Images via JTA)
Madison Cawthorn wants his constituents to push government leaders to "uphold Christian principles."
As an example, Cawthorn says, look no further than the Hebrew Bible.
"Look at David, look at Daniel, look at Esther — look at all the people who influenced the government of their day to uphold Christian principles," the House representative from North Carolina said in a new campaign ad released Sunday night that declared that a "spiritual battle" is happening on Capitol Hill.
Top articles on The Times of Israel
Read More
Jerusalem takes down Old City projection of Ukraine, Russia flags after pushback
It is "time for the American Christian church to come out of the shadows," Cawthorn says in the clip.
The ad is part of the 26-year-old's reelection campaign. Cawthorn, a North Carolina Republican, is already facing challenges by several Republicans and Democrats ahead of next year's midterms.
Get The Times of Israel's Daily Editionby email and never miss our top storiesNewsletter email addressGET IT
By signing up, you agree to the terms
According to biblical chronology, King David lived about 1,000 years before Jesus. Daniel is placed in the 6th Century BCE, and Esther in the 5th Century BCE.
https://platform.twitter.com/embed/Tweet.html?dnt=true&embedId=twitter-widget-
This is not the first time Cawthorn has appropriated a piece of Jewish history in service of his campaign. In January, he tweeted an adaption of a well-known poem about the Holocaust to promote his campaign merchandise. He later apologized for the tweet in a meeting with North Carolina Jewish leaders.
Cawthorn has also been criticized for posting pictures from a trip to the Eagles Nest, a Nazi retreat favored by Hitler. He later removed the photos from Instagram.
A video posted on Rep. Madison Cawthorn's Twitter and Facebook accounts in which he called for American Christians to fight a spiritual battle against Democrats and "people who hate the things that we believe in" appears by all rights to be a campaign video.
But federal laws that would normally make that clear and tell voters who paid for it do not apply, according to campaign finance experts and advocates for election spending reform.
Posted Oct. 3 on Cawthorn's non-congressional @CawthornforNC Twitter account and @Cawthorn2020 Facebook account, the video is professionally produced, using footage of Washington landmarks, swelling music and a speech by the right-wing Western North Carolina congressman about the need for "men and women of faith" to act like Old Testament Jewish heroes and uphold "Christian principles."
But while the segment — which drew thousands of likes from supporters and condemnation from civil libertarians — appeared on his campaign social media accounts, it lacked what has become a modern standard in campaign advertising: a disclaimer saying who paid for it.
https://platform.twitter.com/embed/Tweet.html?
Instead, the video finishes with a link to his campaign website where donations can be made.
A campaign finance report filed Oct. 15 does little to shed light on its origins. Cawthorn's latest quarterly report, which covers fundraising and spending for July 1-Sept. 30 has nothing listed under "video," according to a search of disbursements. (His most recent expenditures under "video production" were in October 2020 for $5,010.)
At least 35 people were killed and 134 more were injured when eight Russian cruise missiles struck the International Center for Peace and Security in Yavoriv, a town that sits 10 miles from the border with Poland and had hosted US troops until last month. In the nearby western city of Ivano-Frankivsk, Mayor Ruslan Martainkiv said Russia's missiles struck the airport for a second time.
"All legionnaires are safe. No killed, no injured!" Colonel Anton Mironovich, director of public affairs at the National Army Academy in Lviv and a point person for foreign fighters, told BuzzFeed News. (Details about the people who were killed have not been released.) He said the air strike had been carried out by warplanes that took off from the Saratov airport in western Russia but approached from the south, from the Black Sea and Sea of Azov.
James, who did not want his last name used for security reasons, confirmed that, saying he did not see anyone from the foreign group at Yavoriv wounded in the attack.
The attack on the Yavoriv base came a day after Russian Deputy Foreign Minister Sergei Ryabkov warned that it would consider weapons deliveries from the West to Ukraine as legitimate targets. A Ukrainian officer with whom BuzzFeed News spoke on the condition of anonymity because they were not authorized to speak to the press described the attack on Yavoriv as "a message to the international community" that their weapons assistance to Ukraine will be "targeted" and foreigners streaming in to fight will be viewed as troops from outside nations participating in the war."
"Russia has asked China for military assistance in Ukraine, including drones, as it continues its unprovoked invasion, a senior US official told CNN.
Potential assistance from the Chinese would be a significant development in Russia's invasion, and could upend the hold Ukrainian forces still have in the country.
When asked by CNN about the reporting of Russia's request for military aid, Liu Pengyu, spokesperson for the Chinese embassy in the US, said in a statement, "I've never heard of that."
Liu expressed concern for "the Ukraine situation" — calling it "indeed disconcerting" — and said China has and will continue to provide humanitarian assistance to Ukraine."
The Winston-Salem Journal published an op-ed titled "Our view: Cawthorn is deplorable," in which they blasted the North Carolina Republican for calling Zelenksy a "thug" and "evil." He also claimed that the Ukrainian government is "incredibly corrupt" and that Zelensky pushes "woke ideologies."
"Of all the many, many, many reasons we could find to legitimately criticize North Carolina's gift to Crazytown, Rep. Madison Cawthorn…it's perhaps his latest exploit that has us truly seeing red," the Journal wrote in its op-ed.
"This is Ukrainian President Volodymyr Zelensky that Cawthorn was bad-mouthing, who has been leading his nation against a foreign invasion conducted by an unhinged dictator," it added. "This is the Zelensky who has defied an invasion force probably a hundred times mightier than Ukraine—one that has committed atrocities and war crimes by destroying hospitals and schools and homes, sending at least 2.5 million refugees to other countries."