I got so many things – RIGHT! If all elected Republicans knew I existed. I represent the Traditional Family Values of the Republican Party, and order all Insane Traitors – GET OUT! Check yourself into your local Looney Bin!
Millions of evangelicals are in denial about Trump losing the White House because they used the power of God and Prayer – to put him there! Now, they root for Putin – who threatened to nuke all Americans – for the same reason. They CHOSE PUTIN over the Ukraine years ago. They never dreamed he would be defeated. This is a real crisis for the Republican Party of Jesus – as I predicted! This is why I made my Bond character Miriam Starfish Christling a Russian Christian – and a Lesbian! She is The Acid Test – the Republican Touchstone – my line drawn in the sand. Or…is it God's Line? I wanted Starfish to be the answer to these White&Blonde Airheads For Trump and Jesus like the woman above- who ignore the truth Trump like to grab women's pussies – against their will! Try grabbing Miriam's kitty cat and see what happens. Hmmm! I will author a new chapter.
"Starfish could not believe she was being asked to line up with the new devotees against the wall, and prepare to have her skirt lifted by the Un-Masked Phantom. She had agreed to infiltrate American Evangelicals For Putin and Trump, but, this was too much. A fellow devotee told Starfish this was a fake virginity test, and not to worry if she lost her virginity.
"Because you are so tall and beautiful, and can speak eight languages, a Super Stud will be chosen for you. You will be put under a RED TENT on a barge, then you will MAKE A BABY while floating down the river."
John Presco
Nashi (youth movement) – Wikipedia
Russia's youth affairs agency Rosmolodyozh said an NGO founded in 2018 at the behest of President Vladimir Putin has developed software that can "quickly track the spread of destructive subcultures among young people".
Russia develops tech for monitoring 'deviant' behavior – Daily Tribune
Rosmolodyozh added that the Centre for the Study and Network Monitoring of the Youth Environment had also developed a separate system called "Angel.Destruktiv" to monitor telecommunications networks and the internet.
The program alerts authorities to information that leads "children and young people to take actions that pose a threat to their life", it said, as well as "signs of fatally negative deviant states".
Rosmolodyozh said that the NGO already provides law enforcement agencies with information "about intent to commit illegal or antisocial actions".
"Yes, please talk to us," says 30-year-old theatre technician Nikolai Kovaschevich.
– 'Everyone's frightened' –
"Threatening the world with nuclear weapons won't get us anywhere," he says.
"It's a dead end. There'll be no future. There'll be no children born. There'll be no tomorrow, in fact," he concludes, visibly upset.
His partner, 29-year-old vlogger Margarita Khaishbasheva, waves her arm around the empty square.
"Everyone's frightened. Everyone's scared of being jailed (or) getting huge fines they can't pay."
"We live in a police state. People live in terrible fear," she says, her voice cracking with emotion.
'No future': Rostov's young overcome fear to protest Ukraine war (msn.com)
Did Nostradamus predict the war in 2022?
Nostradamus was a French astrologer born at the beginning of the 16th century. He worked as a physician, but he is famed for his supposed ability to predict the future. Indeed, he is credited with foreseeing many major world events, from Hitler's rise to 9/11.
Naturally, these claims are met with a great deal of scepticism, but many of his predictions contain very specific details that came true.
Now, many think the famed astrologer may have predicted the Russia-Ukraine war, as one of his many predictions was a vague idea that France would face an eastward danger. "Blue-head shall white-head harm in such degree, As France's good to both shall e'er amount," he predicted, reports History.co. Could this prediction—only speculated to be referring to 2022 since Nostradamus' predictions are based on astrological movements rather than the calendar—be alluding to the breakout of WWIII?
Did Nostradamus predict the war in 2022? (msn.com)
https://www.theguardian.com/us-news/2022/feb/25/republicans-biden-putin-trump-fox-news-poll
Are Russian evangelicals fully supporting Putin?, Evangelical Focus
The author continues: "Addressing Putin, they said, 'We express to you sincere appreciation for your labor in the post of president. (…) We reaffirm our principled loyalty with respect to state authority, based on the unchanged words of the Bible, 'Let every soul be in subjection to the higher powers: for there is no power but of God; and the powers that be are ordained of God' (Rom. 13:1, ASV).' The evangelical congress also directly challenged the legitimacy of Ukraine's Maidan Revolution and the February 2014 overthrow of pro-Russian President Viktor Yanukovich".
"A Protestant educator with long-standing, firsthand knowledge of American academia put it this way: 'We really thank God for Putin's leadership. We do not want to protest as Ukrainians think we should.'".
The article quotes a missionary serving in Russia saying: "The thing is Putin is wildly popular in Russia—beloved by Christians and non-Christians alike. There have been some prophecies about a great revival coming out of Russia, and many believe that Putin is paving the way for Russia to rise as a spiritual giant".
Another Ukrainian missionary to Russia believes Putin is "God's man for Russia in this hour".
According to the article, another Evangelical Christian-Baptist pastor from southern Russia adds: "From our side, we take strong exception to Ukrainian evangelical support for Ukrainian ultranationalist and radical groups. One should put aside one's loyalties and preconceptions in order to be objective. For most of us, this is difficult because of our inability to be fully independent of our national, cultural, and spiritual allegiances. The way towards healing will be difficult, but we can take steps toward that end."
You can read the full article at Christianity Today's website.
Marjorie Taylor Greene (born May 27, 1974), also known by her initials MTG,[2] is an American politician, businesswoman, and far-right[3] conspiracy theorist[4] who has served as the U.S. representative for Georgia's 14th congressional district since 2021.[5] A member of the Republican Party and a strong supporter of former president Donald Trump, she was elected to Congress in 2020 following the retirement of Republican incumbent Tom Graves.
Greene has promoted far-right, white supremacist, and antisemitic conspiracy theories including the white genocide conspiracy theory,[6][7] QAnon, and Pizzagate,[8][9] as well as other disproven conspiracy theories such as false flag mass shootings, the Clinton body count, and multiple relating to 9/11.[10][11] Before running for Congress, she advocated for executing prominent Democratic politicians.[12] As a Congresswoman, she equated the Democratic Party with Nazis[13][14] and compared COVID-19 safety measures to the persecution of Jews during the Holocaust.[15] She apologized for the latter comparison.[16] In January 2022, Greene's personal Twitter account was permanently suspended for posting COVID-19 vaccine misinformation.[17]
A supporter of Trump's efforts to overturn his loss to Joe Biden in the 2020 presidential election, Greene has repeatedly and falsely claimed that Trump won the election in a landslide victory that was stolen from him.[18] She called for Georgia's election results to be decertified[19] and was among a group of Republican legislators who unsuccessfully challenged votes for Biden during the Electoral College vote count, even though federal agencies and courts overseeing the election found no evidence of electoral fraud.[20] Greene filed articles of impeachment against Biden the day after his inauguration, alleging abuse of power.[21][22]
The House of Representatives voted to remove Greene from all committee roles on February 4, 2021, in response to her incendiary statements and endorsements of political violence. Eleven Republicans joined the unanimous Democrats in the vote.[23][24] Greene is running for reelection in 2022.[25]
Republican leaders are facing fresh demands to expel the Georgia congresswoman Marjorie Taylor Greene, after she spoke at a conference of white nationalists and sympathisers with Vladimir Putin.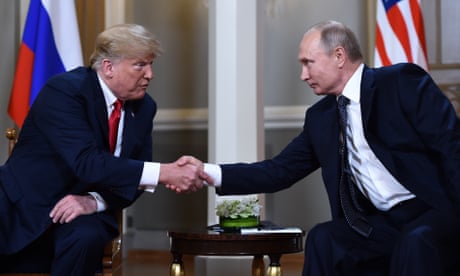 The event in Orlando, Florida, on Friday night was organised by the far-right extremist Nick Fuentes, who told attendees: "Now they're going on about Russia and Vladimir Putin is Hitler – they say that's not a good thing."
He burst into laughter as he added: "I shouldn't have said that!"
Fuentes, recently subpoenaed for his involvement in the January 6 insurrection, proudly introduced Taylor Greene at the third annual America First Political Action Conference, or AFPAC.
The Georgia congresswoman told the gathering they were "canceled Americans" who had a responsibility to "stop the Democrats who are the communist party of the United States of America", HuffPost reported.
Her patronage of AFPAC, where the Arizona congressman Paul Gosar also appeared via pre-recorded video, provoked sharp condemnation of party leaders for failing to discipline her.
Liz Cheney, a member of the House select committee investigating the January 6 riot, tweeted: "As Rep[resentative] Marjorie Taylor Greene and Rep[resentative] Paul Gosar speak at this white supremacist, antisemitic, pro-Putin event, silence by Republican party leaders is deafening and enabling.
"All Americans should renounce this garbage and reject the Putin wing of the GOP now."
The Democratic National Committee (DNC) pointed out that Kevin McCarthy, the Republican minority leader in the House, has consistently failed to take action against Greene.
Ammar Moussa, a spokesperson for the DNC, said: "In any other world, Greene speaking at a white supremacist conference where attendees have defended Vladimir Putin and praised Adolf Hitler would warrant expulsion from the caucus, to say nothing of her advocacy for violence and consistent antisemitism is disgusting.
"Quite simply, the longer Kevin McCarthy gives Marjorie Taylor Greene an unfettered platform and promises to elevate her, the more complicit he is."
On Saturday, Greene sought to defend her appearance at AFPAC. She told CBS News: "I went to talk to them about America First policies and I talked to them about what's important for our country going forward.
"Now, in regards to Russia, Putin is a murderer and he should never have invaded Ukraine. What he is doing is completely wrong. I stand with our Nato member allies and I'm completely against this war. Everything that he's doing is wrong. He's killing people over and over so I'm staunchly against it and I'm staunchly against Vladimir Putin and his invasion of Ukraine."
Asked if she endorses Fuentes's views, Taylor Greene claimed: "I don't know what his views are."
Told that he is a white nationalist, she said: "I do not endorse those views."
Greene gave the interview on the sidelines of the Conservative Political Action Conference (CPAC), a separate event in Orlando. She appeared on a panel hours before former president Donald Trump was due to speak.
The congresswoman attacked Twitter for banning her and promoted Trump's new social media site, Truth Social. She taunted Hillary Clinton, the former Democratic presidential nominee, and Anthony Fauci, infectious diseases expert and chief medical adviser to Joe Biden.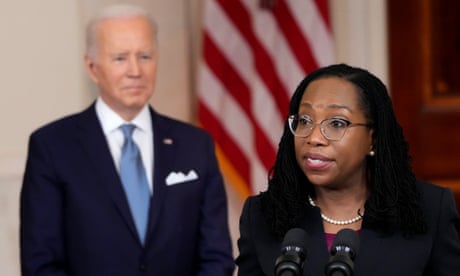 "We have to hold Democrats accountable, everybody. Right? Fire Fauci! We've got to investigate Hillary Clinton's campaign. Lock her up! Lock them all up!"
With that she laughed, as the audience burst into applause.
Greene has a history of antisemitic and incendiary comments that include blaming California wildfires on "Jewish space lasers", suggesting Muslims do not belong in government and warning that "gazpacho police" – presumably she meant Gestapo – patrol the US Capitol.
But the timing of her AFPAC speech could hardly have been more provocative.
Fred Wellman, a political consultant and Iraq war veteran, commented on Twitter: "This is where Marjorie Taylor Greene spent her evening. Laughing about comparisons to Hitler being bad. This is who she is. You know they burned crosses in Martin Luther King's yard just 62 years ago. It's time for Georgia to put this trash out forever."
The Republican Jewish Coalition joined the condemnation.
"It is appalling and outrageous that a member of Congress would share a platform with an individual who has actively spread antisemitic bile, mocked the Holocaust and promoted dangerous anti-Israel conspiracy theories," the group said in a statement.
"This has absolutely no place in the Republican Party."
Georgia Rep. Marjorie Taylor Greene on Saturday defended her decision to speak at an event organized by alt-right figure Nick Fuentes, claiming she didn't know anything about him or his views when she decided to speak there on Friday.
The GOP lawmaker on Friday night made a surprise appearance at a far-right conference organized by Nick Fuentes, who is known for statements questioning the existence of the Holocaust, criticizing interracial marriage, and praising Jim Crow-era segregation.
"Well, hello canceled Americans," Greene said at the event, called the American First Political Action Conference, according to a video of her remarks.
She told attendees she was "thrilled to be here tonight and I'll tell you why, I think I need to talk to you about who I am, what I see as the future of our country, and the future for all of you."
Oust 'Traitors' Katko, Kinzinger and Cheney
BY DANIEL VILLARREAL ON 11/26/21 AT 9:13 PM ESTPauseUnmute
U.S.MARJORIE TAYLOR GREENEJOHN KATKOADAM KINZINGERLIZ CHENEY
Republican Georgia Rep. Marjorie Taylor Greene has called on GOP congressional leaders to oust "traitors" among the congressional Republican caucus.
She specifically named Republican Reps. John Katko of New York, Adam Kinzinger of Illinois and Liz Cheney of Wyoming as several of the "traitors" who should be ousted.
In a series of tweets posted Friday afternoon, Greene said that she "waited a week to see if action would be taken, after 13 Republican traitors voted to pass Biden's agenda before speaking publicly."
"Without 19 (Republican senators) & 13 (Republican) House Members, there would be no Infrastructure or (Build Back Better) bill right now," she continued, in reference to the House Republicans who voted in support of the $1.2 trillion bipartisan infrastructure bill on November 5.
Greene previously called for all Republican lawmakers who supported the bill to be removed from their committee assignments as punishment for helping Democrats pass President Joe Biden's agenda.
https://imasdk.googleapis.com/js/core/bridge3.502.0_en.html#goog_342378079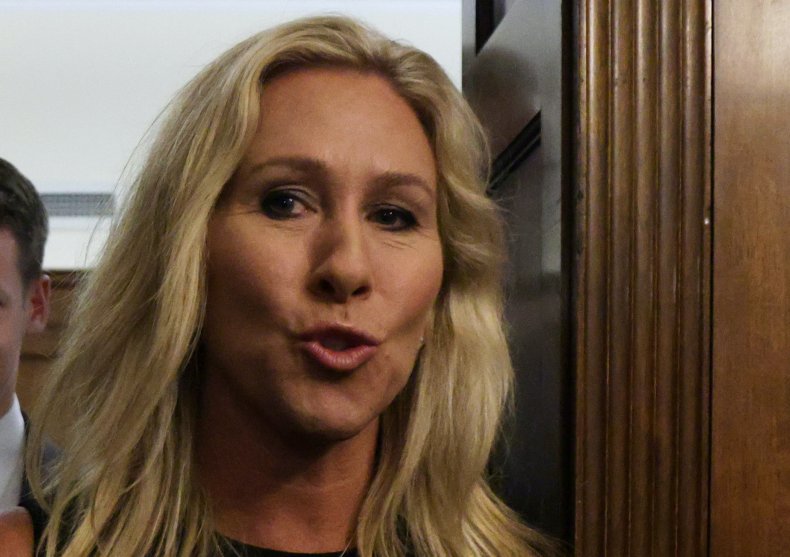 In her Friday tweet storm, Greene wrote that Republican House Minority Leader Kevin McCarthy, Minority Whip Steve Scalise and the GOP conference worked to get the entire caucus to vote against the infrastructure bill.
"[W]e all knew that bill was tied to the [Build Back Better] bill," Greene tweeted.
NEWSWEEK SUBSCRIPTION OFFERS >
Katko "lied" to McCarthy, Green wrote, and "voted right away for the Infrastructure bill just as soon as the vote started, opening the door for the other 12 turncoats to help Pelosi beat the Squad & pass Biden's agenda."
In a mid-November statement, Katko defended his infrastructure vote to his constituents as a way "to create economic opportunity and make our community a stronger place for generations to come."
Greene also called Cheney and Kinzinger the two "worst members" of the House GOP.
She accused them of taking "marching orders" from Democratic House Speaker Nancy Pelosi and participating in her "witch hunt" committee to investigate the January 6 Capitol riot. Cheney and Kinzinger are the only Republicans on the committee.
Cheney and Kinzinger "scheme with Democrats on how to destroy Trump & his allies, while still being members of our conference," Greene wrote.
READ MORE
Cheney, Kinzinger and Katko are "openly and diligently working with Pelosi and Democrats completely against Republican voters and hurting our country," Greene said, as she called for Cheney and Kinzinger to be kicked out of the House GOP caucus and for Katko to be stripped of his committee assignments.
"This type of sadistic behavior can NOT be tolerated," Greene added. "They must be held accountable for their reprehensible actions…. Republicans that openly help Biden & openly attack Republicans are real enemies.