The Black Panthers were never as radical at the Trump Gang. There are gaps in Trump's call log, and, flushed documents clogged his toilet. His beloved Insurrectionist shit and pissed inside our Capitol.
The most radical cause on the West Coast was my efforts to change the person Lane County is named after. I will write a letter to the Oakland City Council and CONDEMN the proposed apartment building that will replace the Panther HQ. It is an abomination. White folks put Zulu shields on the exterior employing the African palette. I demand to know the names of these colors! Is there a black Howard Roark? There is now! Why is there a flock of dirty birds flying overhead? Are they on the way to….?
"There are no Black architects in this firm," said Cathy Leonard, a resident who lives across the street from the bakery. "It's just gentrifying my neighborhood, erasing Black people from Bushrod and Santa Fe."
Howie Roark calls for a stack of Bar-B-Que Balconies.
"Why does the penthouse have the only BBB? I'd dynamite this monstrosity and begin all over!"
"You just can't blow up a building because it is representative of Bad Black Architcure. You'll give Black People – a Bad Name!"
"Watch this space!"
At this time I inform the People of Oregon the name of my church. After running afoul of the Messianic Secret Controversy, I declared myself a Nazarite and looked for other Nazarites. I found then in South Africa. Freedom of Religion is under severe attack.
I am dedicated to addressing, and eradicating the addition that rendered Jesus a lover and promoter of slavery. This is where western man got religious permission to take slaves, and hate the Jews.
Wake up ye Africans! Take charge of your Art and Architecture. I will help. China is prepared to spend billions in Africa. Take charge of your Destiny! Seize the Pacific! Raise – Pacifica!
John 'The Nazarite' Candidate for Governor of Oregon
https://en.wikipedia.org/wiki/The_Fountainhead
"I say to my servant, 'Do this,' and he does it." When Jesus heard this, he was amazed at him,"
What does "messianic sccret" mean?
"In this miracle we see an example of the messianic secret."
Christians claim Jews murdered God's Son because they did not accept (recognize) him as being THEIR messiah. Appears to be a Roman Savior – of slavery – to me! Tell it to The Mother Truckers! Opening up God's Kingdom of Jews to Gentiles – IS VERY POLITICAL!
"Part of Wrede's theory involved statements in the New Testament by Jesus to demons who recognize his divine nature as well as to his followers not to reveal to others that he is the Messiah.[1][2] Wrede suggested that this theme was not historical but was an addition by the author of Mark. Wrede's broad concept of the Messianic Secret also involved the use of parables by Jesus."
PLAY BOTH VIDEOS – ADJUST SOUND
The site of Oakland's first Black Panther HQ might be torn down for housing. Critics say its 'erasing Black people.'
Ariana Bindman, SFGATE
Feb. 9, 2022Updated: Feb. 9, 2022 10:40 a.m.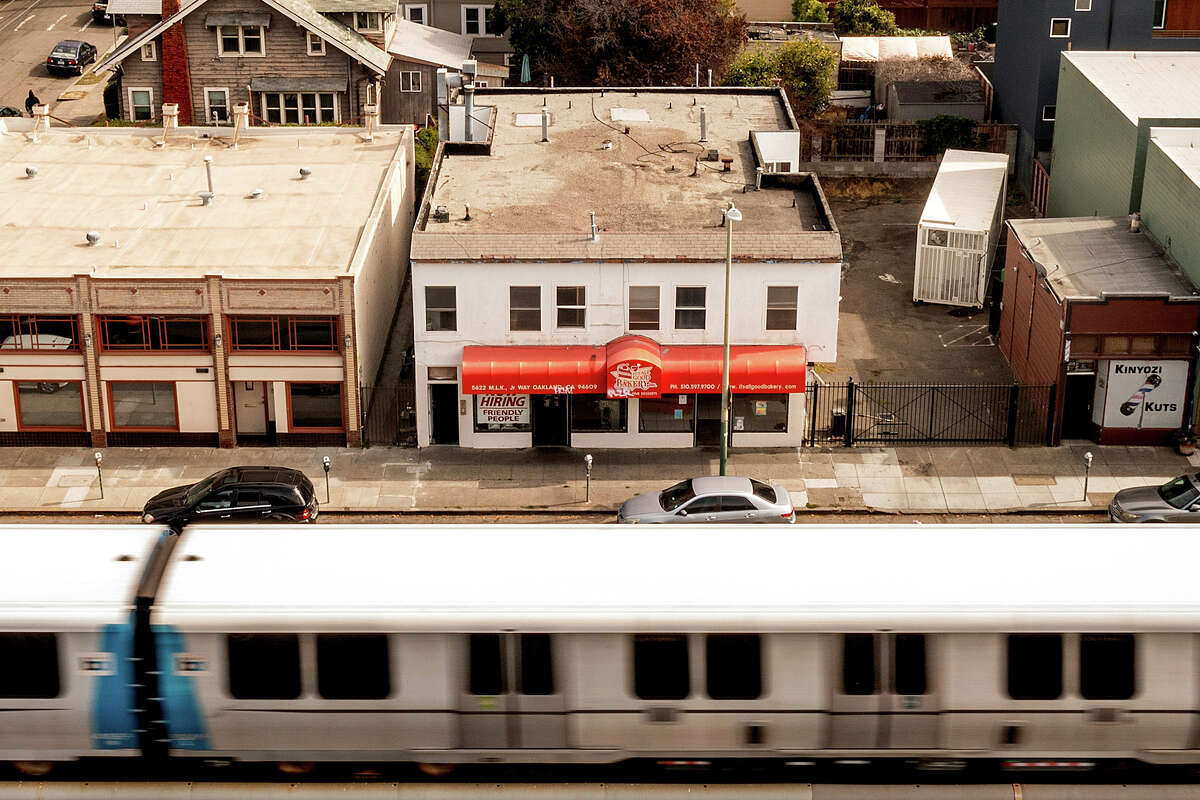 It's All Good Bakery on Oakland's Martin Luther King Jr. Way looks like many bakeries in the area, offering up sweet potato pie and coconut pineapple cake. But recently, the small neighborhood storefront has become the center of controversy — namely because the building, which was the first headquarters of the Black Panther Party (BPP), might get demolished and rebuilt as a five-story, 20-unit mixed-use housing complex.
While the remodel has been endorsed by the Dr. Huey P. Newton Foundation, an organization led by Fredrika Newton, widow of BPP co-founder Huey Newton, many Oakland residents are still concerned about how it'll impact the city's Black community.
Earlier this month, calls to attend a Monday, Feb. 7, meeting of the Landmarks Preservation Advisory Board and oppose the demolition flooded social media platforms. "Stop ERASING VALUABLE LOCATIONS OF THE PAST," one Instagram user wrote. "Insist on historical classification," commented another in the same thread. Comments are currently disabled on It's All Good's announcement of the remodel. Despite the online pushback, Kim McClure, the building owner, has vowed to work with the Huey P. Newton Foundation to change the BPP's historic headquarters.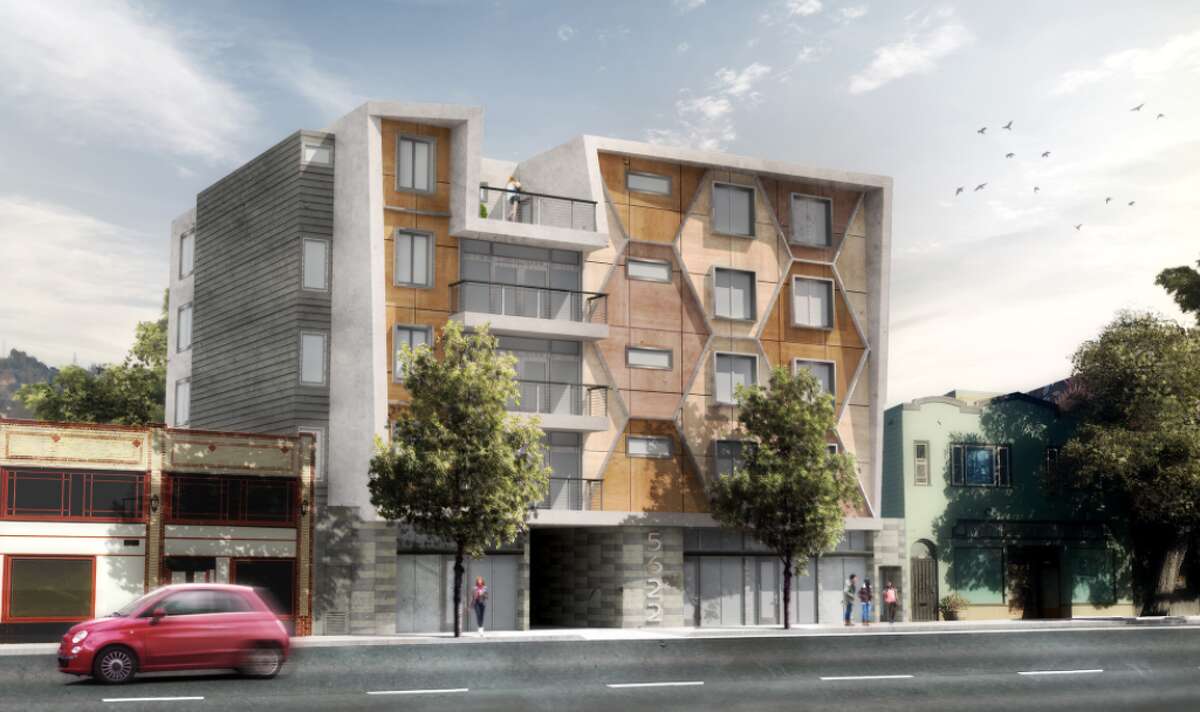 On Monday evening, dozens of members of the public joined the Landmarks Preservation Advisory Board meeting to discuss the historical significance of the building. After the Emeryville-based firm Gunkel Architects presented a mock-up of the proposed remodel, attendees and board members questioned whether they had adequate knowledge of the Black Panther Party's significance and history.
"We worked closely with Kim to really make sure this is a unique building that represents the character of the events that occurred on the site, and do so boldly," said principal architect Brad Gunkel. He added that Black Panther flyer graphics and African American quilt patterns influenced the orange-and-brown exterior of the buildinng.
However, Oakland residents had mixed reactions to the mock-up, questioning whether the new design accurately reflected African American culture.
"That history has not been studied by the two gentlemen who just spoke," said Oakland resident Omowale Fowles following the presentation.
"There are no Black architects in this firm," said Cathy Leonard, a resident who lives across the street from the bakery. "It's just gentrifying my neighborhood, erasing Black people from Bushrod and Santa Fe."