I will now use a capiTal T in spelling NFT ArTists to denote it is a NFT artist. T for TOKEN.
The movie The Empty Canvas replicated my creative life, when my first girlfriend, Marilyn, left me for a twenty-four year old German Jet-Setter. She was sixteen. He drove M and her mother around Hollywood in his Thunderbird convertable. My Empty Canvas NFTs take me back to the Acme of my arTistic melodrama. My first muse had fallen in with the Prima Madonnas of the L.A. Phony Culture Crowd. At seventeen I had reached the Zenith of My Authentic Crucifixion on the T.
John Presco
NFT ArTist
A non-fungible token (NFT) is a non-interchangeable unit of data stored on a blockchain, a form of digital ledger.[1] Types of NFT data units may be associated with digital files such as photos, videos, and audio. Because each token is uniquely identifiable, NFTs differ from blockchain cryptocurrencies, such as Bitcoin.
NFT ledgers claim to provide a public certificate of authenticity or proof of ownership, but the legal rights conveyed by an NFT can be uncertain. NFTs do not restrict the sharing or copying of the underlying digital files and do not prevent the creation of NFTs with identical associated files.
NFTs have been used as a speculative asset, and they have drawn criticism for the energy cost and carbon footprint associated with validating blockchain transactions as well as their frequent use in art scams.[2]
There's no denying that NFTs hold potential—particularly for artists. Whether they have traditional art-world backgrounds or they're deeply embedded in the crypto community, artists are turning to the digital medium for a plethora of reasons, from developing new applications for blockchain technology or pursuing a wildly creative new direction for their practice, to connecting with collectors and gaining greater agency over the work. In time with "22 for 2022," Artsy's NFT sale in partnership with Verisart, we caught up with eight of the featured artists to learn about their works and why they're compelled to create NFTs.
Why These 8 Artists Are Making NFTs – Artsy
Non-fungible token – Wikipedia
Manuel Rossner, Bouncy Sculpture V, 2021. Courtesy of the artist and Verisart.Berlin-based artist Manuel Rossner has been creating digital and virtual worlds for a decade, ruminating over the ways that technological advancements influence the physical world. In 2021, he created a site-specific VR work for Hamburger Kunsthalle that became part of the museum's permanent collection, joining the works of Francis Bacon, Cy Twombly, Gerhard Richter, and many more.Rossner's new NFT Bouncy Sculpture V is part of his "COLOR SERIES," through which he "examines the digital realm" and addresses questions like: "Why do we understand and feel virtual environments when they ultimately are a bunch of zeros and ones?"Rossner created this work by drawing the shape with virtual-reality glasses. "I'm drawing a line in space that the computer turns into a volume," he explained. Then, he creates the space around that volume and runs the whole piece through a physics simulation. "I use very lifelike ways of rendering, because it allows me to highlight that frontier between simulation and 'reality,'" Rossner said. "I guess I'm influenced by The Matrix a lot."Rossner minted his first NFT in March 2021 for the KÖNIG GALERIE auction and Decentraland exhibition "THE ARTIST IS ONLINE," curated by Anika Meier and Johann König. He was compelled to participate after mounting "SURPRISINGLY THIS RATHER WORKS," a digital solo exhibition with KÖNIG in 2020. "It was very successful but there wasn't a convincing way for offering the work to collectors," Rossner recalled of the solo show. "Therefore, the concept of decentralized ownership and exchangeable digital goods really made sense to me."Rossner is interested in the potential for exchanging art and creating a community via NFTs. He recently launched his own site REALWORLD—which is also an app, exhibition space, and art experience—which features a collection of works by around 50 artists who are, in Rossner's view, "defining digital art.""This new way of defining artworks adds another meaningful dimension to it," Rossner said of NFTs. "Since I'm also a collector now, it means something to me to own work by friends and pioneers in the space."See the NFT.
Lee Mullican, Comp Joy One, 1987. Courtesy of the Estate of Lee Mullican and Verisart.AdvertisementThe Estate of Lee Mullican minted this NFT from one of the artist's digital works that was created during his tenure at the UCLA Advanced Design Research Center's Program for Technology in the Arts. "NFTs created a platform and audience for the digital work Lee was making in the mid-1980s," said Cole Root, director of the Estate of Lee Mullican. "And as an early pioneer in digital art, these works bring a historical context to the NFT space."Esteemed for his abstract paintings produced through a technique he called "striation," the late artist started exploring digital art at the age of 67, while he was a professor at UCLA. Through his involvement in the Program for Technology in the Arts, Mullican began harnessing the potential of computer graphics, recognizing parallels with his own paintings. "I examined why I thought the computer was for me," Mullican once said. "Even in my paintings, I was always working with pattern and line and color. I've had a built-in computer ever since I've been doing art."As Marie Heilich writes in an essay accompanying the recent exhibition "Lee Mullican: Computer Joy" at Marc Selwyn Fine Art, "In 1986 Mullican started working with the IBM 5170, equipped with the Truevision Advanced Raster Graphics Adapter (TARGA), and a Summagraphics Summasketch stylus to experiment with painting and drawing on a computer. Replacing his brush and signature palette knife striations with a clickable mouse and pen-like stylus, Mullican merged the late Surrealist method of automatism with the computer's instant and precise replication of marks."The Mullican estate is approaching NFTs as an opportunity "to show Lee's digital work in its truest form and share a whole body of work that wasn't accessible or appreciated in its time," Root explained. The "Computer Joy" exhibition foregrounded the pioneering nature of Mullican's digital work, while contextualizing it within his broader oeuvre. "The traditional art world and NFT enthusiasts alike are engaging with and appreciating the work," Root said. "We think Lee would have really gotten a kick out of it."See the NFT.
Penny Slinger, Don't Look At Me In That Tone of Voice, 2021. Courtesy of the artist and Verisart.Penny Slinger's new work Don't Look At Me In That Tone Of Voice, her first NFT, is drawn from a foundational series of photo collages and poetry from her first book, 50% the Visible Woman (1971). The NFT was created in time with the 50th anniversary republication of the book by Blum and Poe, Slinger's gallery in Los Angeles."Although I cannot claim to fully comprehend NFTs' full implications, I felt it was a field of endeavor I needed to participate in," Slinger said. "I have been waiting for the right situation to launch my first NFT, and the republication of the book presented that perfect opportunity and alignment."Slinger created 50% the Visible Woman as a student at Chelsea College of Art as a part of her thesis presentation, which focused on Max Ernst's collage books. "My book represents the inspiration that his work gave me and it's a tribute to him in that sense," Slinger recalled. "Whereas Ernst's collages were made from old engravings, I decided to use photographic collage to distinguish it as my own work. Also, I decided that I wanted to use the wonderful toolkit that Surrealism offered to explore the feminine psyche, which I felt to be a very unexplored and uncharted territory in the field of fine art."Created at a time when photo collage was uncommon, these works include Slinger's own photographs, including self-portraits. "I elected to use myself as my own muse in this work, feeling that I could probe and display myself in the most ruthless ways," Slinger said. "The title 50% the Visible Woman suggests that when we see a woman, we are only seeing half of what is really going on, the rest being buried in the invisible inner realm."While the process of creating the original collage involved collecting imagery, making this NFT began with deconstructing the piece to its key elements. Slinger and her creative partner Dhiren Dasu animated these elements in Adobe After Effects, and replaced some of the original found imagery with Slinger's photographs of the ocean, as well as her own mouth and eyes."Much as analog collage was still an 'outsider' art form when I adopted it as a medium of choice in 1960s, so the world of the NFT is especially relevant to me as an artist who has elected to use the tools of the digital age in my work as it lends weight and credibility to these creations," Slinger said. "If the artistic crucible is a melting pot, NFTs can capture the melting moment."See the NFT.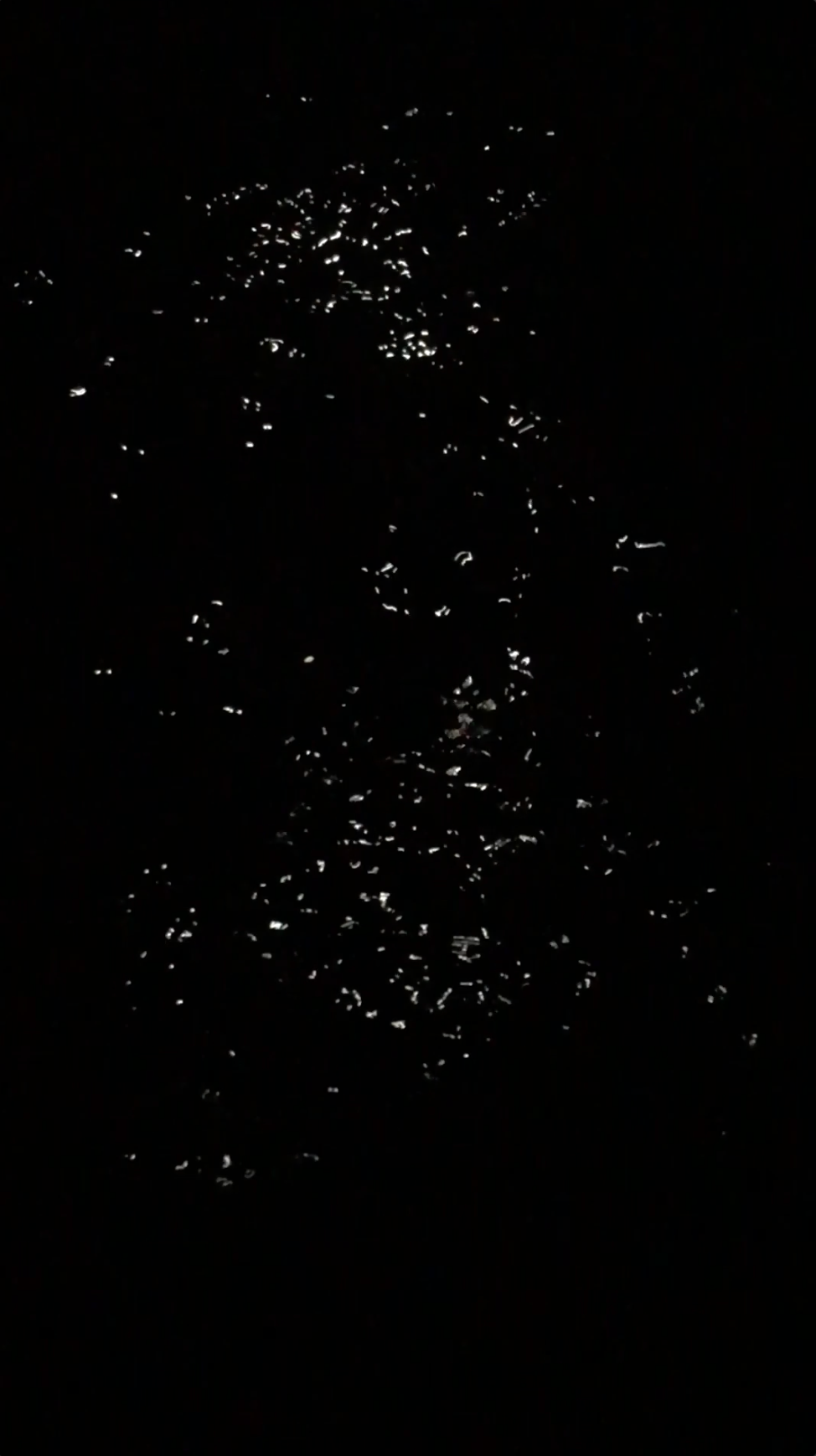 Mark Wallinger, Lake Garda Full Moon , 2021. Courtesy of the artist and Verisart.Mark Wallinger was drawn to create an NFT given the opportunity to explore a new outlet for his art. "There is something paradoxically alluring about creating something for dissemination on the web, and the structures and limits of a unique digital identifier that cannot be copied, substituted, or subdivided," he said."In my short film, I was intent on capturing this rhythm and the pure fractured glints of reflected moonlight that fall into elusive, abstracted patterns," Wallinger explained. "The sound gives body to the water, as its tiniest movements are generated by vast forces of attraction."He continued, "It is made for and through the ubiquitous, omnipresent yet strangely intangible digital world we enter every day. Intangible and without presence yet available to everyone. As an artist, one is acutely conscious of precedents in art history in wishing to create something original 'in real life'—whereas digital imagery must vie for attention amid the dizzying array of imagery intent on snagging our attention online. However, the reach and accessibility of such imagery is without precedent."He describes the inspiration for his NFT Lake Garda Full Moon through the following statement:"Lake Garda Full Moon25/09/2018 23:50:00Laura's birthday. There was a full moon, and we were staying at our favourite place.The light was so incredibly pure and white. Whatever tidal pull that exists, and the light wind produce a swell and we hear the lapping of waves. Even given all the variables of light and weather conditions there is a rhythm to be discerned as the glinting highlights dance over the black water. The lack of any artificial light to pollute the scene with anything as impure as colour, the moon revels in its monochrome gaze, forever fixed upon the earth.Percy Bysshe Shelley, 'To the Moon.'Art thou pale for wearinessOf climbing heaven and gazing on the earth,Wandering companionlessAmong the stars that have a different birth,And ever changing, like a joyless eyeThat finds no object worth its constancy?It is hard to see the moon in all innocence of what we know of its creation, its history, its significance and the poetry it has inspired for millennia, or to imagine it quite the same after Apollo. The moon is often apostrophised as a lost or spurned love, but the dissatisfaction and restlessness Shelley describes in the poem could be construed today as a loss of innocence, the result of our present culture of distraction."See the NFT.
Linda Dounia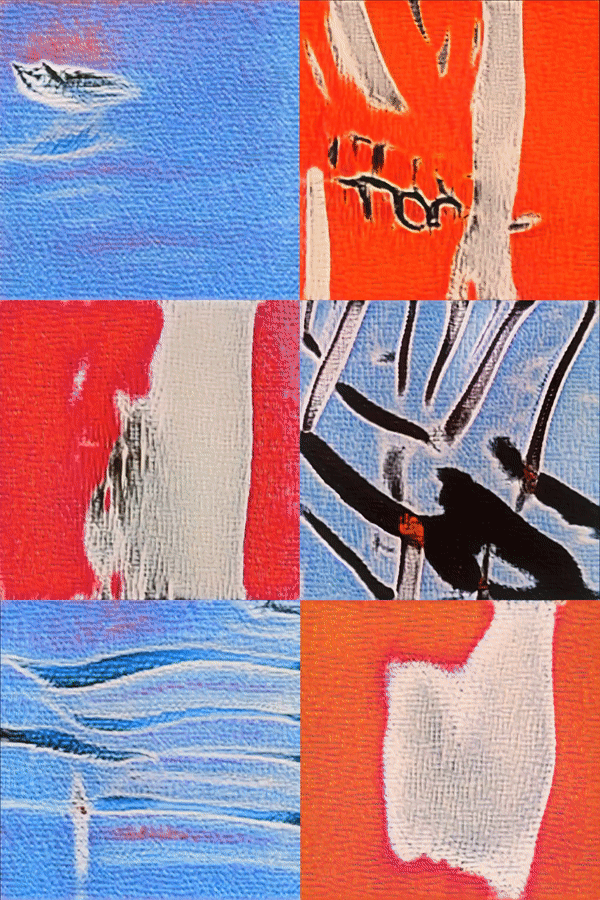 Linda Dounia, Dust is hard to breathe., 2022. Courtesy of the artist and Verisart.Linda Dounia's NFT Dust is hard to breathe. (2022) reflects on her experiences being away from her home, Dakar, at the onset of the pandemic, then returning to a changed city. "I was craving the sense of belonging I feel when I am here," Dounia said. "When the honeymoon phase of moving back settled in, I started to notice the changes to my city and realized that I had to relearn its rhythms.…The rhythm of the piece is based on these observations. Climate change can be an abstract conversation, but it is also an observable phenomenon, especially when it affects your home."To create this work, Dounia uses AI models that have analyzed her acrylic painting practice. "Many of my animated pieces come from this collaboration between man and machine," she explained. "I feed the models with my work and it learns how I paint, then it generates outputs of its learning process, which I then curate and stitch together into a story through animation techniques." She can then adapt the rhythm of the animation to any sound or music. "In this case, I used the weather and its changes over the course of a year," Dounia said.With a background in design, Dounia started making NFTs during a moment when she was applying to artist residency programs, looking to commit to her art practice full-time. "The more I learned about the technology and its accessibility for people with my background, I decided to invest myself fully into NFTs as a means to share my work with the world," she said. "One of the most attractive features of NFTs is the ability to retain ownership over my work and continue to profit from secondary sales through the smart contract. The second feature I have come to enjoy is the ability to shape how and how often I interact with the world—as an introvert with social anxiety, the idea of socializing being an integral part of an art career was frightening to me."For Dounia, the introduction of NFTs hasn't changed how, why, or what she creates as an artist. "The fundamental difference with NFTs is what becomes of what I've made," she said. "I can provide collectors with proof of provenance through the smart contract. I can also retain ownership and profit from my work in an automated way. I have agency over how my work is sold and who it is sold to. As an artist who happens to be Black, African, and a woman, this is revolutionary. The relative absence of middlemen in the NFT space means fewer gatekeepers, which means I am more visible in the NFT space than I would have been in the traditional art market (or at least it would have taken me much longer to get to where I am in my career). It also means I retain the bulk of my earnings in perpetuity, which is almost unheard of for someone like me."See the NFT.
Leo Isikdogan, Artificial Convergent Evolution, 2022. Courtesy of the artist and Verisart.California-based interdisciplinary artist, researcher, and engineer Leo Isikdogan created this NFT to mimic convergent evolution in nature. "Convergent evolution is an interesting phenomenon in which organisms that are not closely related independently evolve similar traits in response to similar environmental pressures," Isikdogan explained. An example of this, he offered, is the way that human eyes and octopus eyes have evolved to be similar in structure and function, despite hailing from distinct ancestors. "Just like different environmental conditions may cause species to branch off, similar environmental conditions sometimes lead to convergence into a similar appearance despite taking very different paths," he added.To create the work, Isikdogan designed a custom AI art model inspired by convergent evolution. "I focused on the process of building a biologically inspired model, without the goal of creating a functional application," he said. "Although this work was not created with the intention of having a practical use, I think it still has a good potential to inspire applied research. It would be interesting to see this artwork become the first NFT to be cited in research papers for the techniques used to create it."Isikdogan minted his first NFT on June 21, 2021, as a part of the Verisart x SuperRare 8×8 Genesis sale, which featured leading artists working with AI, code, and digital technologies. "I think NFTs are a perfect way to present, transfer, and keep track of art that is digital in its native form, and going fully digital opens up a lot of possibilities for the future of art," he said. "Minting my art as an NFT also saves me the time and resources of having to handle the logistics of storing, preserving, and transporting a work of art. This makes me and the audience more free to enjoy the art as it was intended."See the NFT.
Jennifer Rubell, Mona Lisa Sold, 2021. Courtesy of the artist and Verisart."As soon as I heard about NFTs, I wanted to make one," said Jennifer Rubell, whose conceptual practice ranges from performances involving food to interactive sculptures. "I love the idea of an entirely new medium. It's uncharted territory, which means everything we do now sets up the framework. I'd rather set up a framework than follow one."Rubell believes artists are responsible for taking their medium seriously, understanding it, and using it in a way that demonstrates its unique potential. "NFTs are a new medium, so they're wide open," she said. "I don't want to make an NFT that would be just as powerful as a painting or a sculpture, or even a video. I want to make an NFT that derives its power from the medium itself. What can an NFT do that nothing else can?"She continued, "So many art mediums are used for truth telling. NFTs are uniquely suited to telling lies, and disseminating those lies so broadly that they seem true. Lies are the subject of our times, and suddenly, this medium comes along that's perfect for both portraying and perpetrating those lies."Mona Lisa Sold is the first in Rubell's new series of NFTs, titled "Clickbait." With Mona Lisa Sold, Rubell taps into this ubiquity of lies, as well as the question of what exactly one owns when they buy an NFT."In the case of Mona Lisa Sold, you own the root, the place the lie can be traced back to," Rubell explained. "You own the original lie, not all the repeated versions of it. The image out in the world belongs to everyone else, but the original lie is yours. The more it gets repeated, the closer to the truth it gets. You own the most purely untrue version of the lie, which might be the very definition of originality in our age."She noted, "It's important to me that the piece was made in the stupidest way possible, using digital resources that anybody with a laptop could access. I did not want to follow the process of making fine art. I wanted to follow a mainstream, populist process, the same one you'd use for creating fake news. I found this website, breakyourownnews.com, and I just followed their template. I even left their watermark on the final piece. I feel like their watermark is the price I pay for using their service."See the NFT.
Troika, My life in presets, 2021. Courtesy of the artist and Verisart.The artist collective Troika, founded in 2003 by Eva Rucki, Conny Freyer, and Sebastien Noel, creates work that reflects on the ways that the digital world and technology permeate the physical world and reality. The collective employs digital simulation technologies, as well as an array of other processes and media, including 3D scans.The artists have followed the rise of 3D scanning, from museums scanning their collections to make artifacts accessible to online audiences, to digital libraries that are used to envision ideal or future realities, filled with architectural elements or plants and animals. "Through their repeated use on many levels of visual culture, these presets—default versions of everything—have a profound impact on the way we perceive, think about, and relate to our surroundings, slowly calcifying the world diversity into a set of optimized archetypes," Troika said. For their new NFT My life in presets, the artists explained, "we have taken this train of thought to an extreme, where default actions, sculpture, furnishings, and environs are conflated into a Sisyphean loop of digital 'productivity.'"Troika described the creation process as "very similar to making a traditional collage, albeit in a virtual, animated 3D environment." The artists work "exclusively with preexisting 3D objects, motions, and default scenes…collected from internet libraries and software package presets, with very little alterations except for the main character himself." The main character is a high-resolution 3D scan of the original ancient Greek sculpture known as the Artemision Bronze. They chose this protagonist "partly because of the subject matter and partly because of the original pose of the sculpture." The T shape of the original Artemision is well suited to auto-rigging softwares, they explained, "which automatically build a virtual 'skeleton' tailored to the outer character's surface, to successively animate the sculpture."My life as a preset "comments directly on advances in the digital realm," though the collective chose to use the NFT to "redirect funds from the purely virtual world towards a very real, very actual issue." Troika is donating half of the sale proceeds to the Swiss charity Toilets 4 All "to build much-needed sanitation for school children in the developing world," the collective explained. "It is staggering to think that close to four billion people worldwide do not have access to something as basic, and as simple, as a toilet."Their NFT carries a Verisart Fair Trade Art Certificate. Fair Trade Art is an initiative designed to bring together artists and social impact organizations to do good; the certificate provides a clear way of signaling artists' donations.See the NFT.
Browse "22 for 2022," Artsy and Verisart's curated NFT auction of 22 leading artists.Continue the discussion by joining Artsy's Discord, where our community explores all things NFT.Artsy