I awoke with an idea for another cable series, then went to my computer, and read this;
Picasso heirs launch digital art piece to ride 'crypto' wave – News 40 | WNKY Television
When I graduated from Serenity Lane in 1987, I read exerts from my short story called 'Chemillén Art. It is about a couple who go to Bi-Mart to buy their first digital canvas that that they hang on their wall and plug in. The computer chips behind the FLAT SCREEN-CANVAS reach out and feel your vibrations and access your decor, then, before your eyes – as you sip wine on the sofa – it renders you a personal masterpiece in the style of a great master. I have this on a Brother disc and will have my computer guy put it on a disc so I can publish it in a serial.
The rebirth of my daughter as Willow Maree Rosamond, is spot on. I will seek a computer expert who can crank-out knock-off Rosamonds destined for the Non-Fungible Token Market. You too can own a piece of Rena Easton – the most beautiful woman in the world. You can capture her total beauty and increase your crypto currency value in the world.
John Presco
Artwords = Swordart
President: Royal Rosamond Press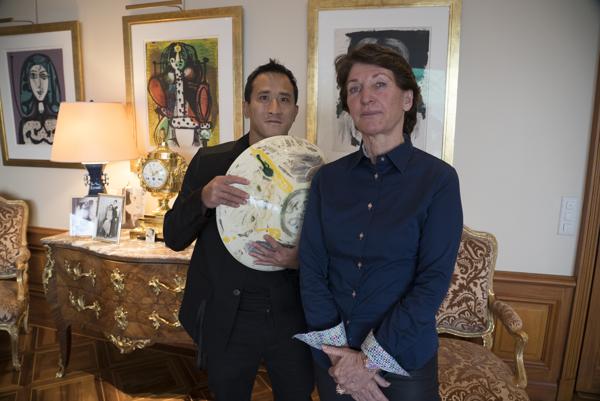 1 of 7Marina Picasso, right, granddaughter of artist Pablo Picasso, and her son Florian Picasso pose with a ceramic art-work of Pablo Picasso in Cologny near in Geneva, Switzerland, Tuesday, Jan. 25, 2022. Heirs of Pablo Picasso, the famed 20th-century Spanish artist, are vaulting into 21st-century commerce by selling 1,010 digital art pieces of one of his ceramic works that has never before seen publicly — riding a fad for "crypto" assets that have taken the art and financial worlds by storm. (AP Photo/Boris Heger)
GENEVA (AP) — Pablo, meet Crypto.
Heirs of Pablo Picasso, the famed 20th-century Spanish artist, are vaulting into 21st-century commerce by selling 1,010 digital art pieces of one of his ceramic works that has never before been seen publicly — riding a fad for "crypto" assets that have taken the art and financial worlds by storm.
For an exclusive interview before the formal launch this week, Picasso's granddaughter, Marina Picasso, and her son Florian Picasso opened up their apartment — which is swimming in works from their illustrious ancestor — in an upscale Geneva neighborhood. There they offered up a glimpse, however tantalizingly slim, of the piece behind what they're billing as an unprecedented fusion of old-school fine art and digital assets.
They're looking to cash in on and ride a wave of interest in non-fungible tokens, or NFTs, which have netted millions for far-less-known artists and been criticized by some as environmentally costly get rich schemes.ADVERTISEMENT
A Picasso, his family's promoters say, would mark the entry of a Grand Master into the game.
Picasso heirs launch digital art piece to ride 'crypto' waveChanté Adams makes Broadway debut in a full-circle momentAP PHOTOS: Beast-like 'Carantoñas' return to Spanish townNeil Young reportedly fights Spotify over Rogan and COVID
In economics jargon, a fungible token is an asset that can be exchanged on a one-for-one basis. Think of dollars or bitcoins — each one has the exact same value and can be traded freely. A non-fungible object, by contrast, has its own distinct value, like an old house or a classic car.
Cross this notion with cryptocurrency technology known as the blockchain and you get NFTs. They are effectively digital certificates of authenticity that can be attached to digital art or, well, pretty much anything else that comes in digital form — audio files, video clips, animated stickers, even a news article read online.
"We're trying to build a bridge between the NFT world and the fine art world," said Florian Picasso, the artist's great-grandson.
The artist's descendants are playing close to the vest, to drum up interest and protect — for now — a family heirloom. They're showing only a sliver of the underside of the work linked to the NFTs, a ceramic piece about the size of a large salad bowl. The exposed parts show forms like a thick yellow line, a dribbling green splotch, and a brushed-on number "58" at the base.
Marina Picasso says the cherished pottery piece dates to October 1958, when she was a child.
"It's a work that represents a face, and it's very expressive," she said. "It's joyful, happy. It represents life … It's one of those objects that have been part of our life, our intimate lives — my life with my children."
Sotheby's is hosting an auction in March that will include a unique NFT as well as the actual ceramic bowl. A first-phase, online sale of more than 1,000 other NFTs starts Friday through the Nifty Gateway and Origin Protocol platforms.
Florian Picasso said they agreed on the colorful ceramic piece because it was "a fun one" to start.
Posted on January 19, 2022 by Royal Rosamond Press
The Willow Maree Rosamond Series
by
John Presco
President: Royal Rosamond Press Co. 'A newspaper for the Arts'
Copyright 2022
Two weeks ago my therapist exclaimed with deep concern and wonder;
"How did you survive?!"
In two weeks I will show her the photograph on The Cheetah's my childhood social club consisting of myself and my three great friends. Together we created a very magic world full of imagination and play-acting. We built forts and roads. We had a bunker! I was 'The Fearless Leader' with an unlimited imagination. I created our world – The Cheetah World.
On January 13, 2022, I reborn my daughter and gave her a new name…..
WILLOW MAREE ROSAMOND
Alas, she will be the muse I wanted her to be – that she deserved to be! Around Willow I will create a historic-fictional world based on some rare facts! Gone will be the evil input and lies of outsiders who plotted to own the estate of Christine Rosamond Benton – before she drowned in March of 1994.
Willow Maree Rosamond will own a prestigious art gallery in Carmel, and a famous house that overlooks the Pacific Ocean. Her brother, John Vincent Rosamond, lives in the Hancock House on Beacon Hill that belonged to Connecticut Rose who was captured by Indians, along with her infant son. Rose had married Captain Isaac Hull of the U.S.S. Constitution. The Hancock House was tragically torn down and will be rebuilt in a fictional manner employing real history.
I will author a series of Willow books and send out a proposal for a series. Perhaps there will be a movie? I would love to be the Art Director! There will be illustrations for the Willow Series. Here is The Rose Wing Art Gallery I created four years ago.