Last night as I was admiring my post of the history of Crockett, I went to Belmont California to see if they had any interesting homes for sale. Eureka! Is this the future home of Royal Rosamond Press? What was here before? I moved in the daughters of Christine Rosamond Benton. Why not Tyler, too? Our children can experience the miracle the Presco Children created growing up on San Sebastian Avenue in Oakland. Belmont – needs our history – in their Downtown! There is nothing there – there! The same goes for Crockett. If they only knew where the remains of William Janke ended up, after being dug up and evicted from his grave. Did William interact with the children gathered in the giant oak tree? I am going to do a painting of these little people dressed as Bohemians, posing before the Time Machine.
"What does the future have in store for us? Can we all get along?"
"You can't put your family in one place – there will be trouble!"
"There will always be trouble!" says Victoria Rosamond Bond as she takes her contraption out of the closet, she determined to play it at the Orange Parade!
I just learned the Fenian Brotherhood had gathered in large numbers at the Janke German Theme Park, perhaps the first theme park in California. They did what the Irish are famous for, they drank some beers and got in some fights. This writer-historian calls our past "shady". How perfect for kin of Ian Fleming, Jaspar John, and all the Gettys. Let's not leave out Liz and Richard Burton. There will be talk as the citizens pass our home.
"They say Rosamond's Daughter are mad. One is for the Orange Lodge, and the other is for the Finians Brotherhood. Then there is Heather. She and her mother follow the Tree Goddess. There's some witchery going on here!"
"I always cross the street when I go by that house!"
"Hurry! We're going to miss the start of the Irish Unity Parade!"
May I suggest Belmont reach out to the United Ireland folks and begin a cultural exchange. I am going to do some large paintings of these images, and may have Shannon and Drew help. They both heled Garth Benton with the Getty Villa murals.
I see us working on our family history in the sunroom where the conference table is. The Public will be encouraged to come by and watch us – from the outside. I will be working on our newspaper in the other half of the fishbowl we have been living in since Christine became famous.
John Presco
President: Royal Rosamond Press
Copyright 2021
901 Waltermire St, BELMONT, CA 94002 | MLS# ML81825373 | Redfin
Twin Pines Park's shady past | Local News | smdailyjournal.com
Posted on April 1, 2012 by Royal Rosamond Press
Above is a photograph of Bennett Rosamond the Grand Master of the Orange Order in Canada. Bennett is with members of Lodge 389 in Lanark, or, Almonte. The image on the banner is that of William of Orange who is carried in Orange Parades. That is Bennett on the far right, looking like Gandalf, or, a Levite Prophet.
According to the History of the Rosemond Family by Leland Rosemond, the Rosamond family were members of the Orange Order in Leitrim Ireland, and fled to Canada after a Rosamond son killed a Catholic lad who was invading the Rosamond home with a gang bent on doing my kindred harm.
Bennett may have been a Freemason as well – and an Oddfellow. There is a long history of the Rosamonds belonging to Guilds. They were members of the Swan Brethren.
My grandparents, Royal and Mary Magdalene Rosamond, begat my mother, Rosemary Rosamond, and her sisters, Lilian, Bonnie, and June Rice.
Fenian Brotherhood – Wikipedia
Posted on September 5, 2018 by Royal Rosamond Press
James Bond Fans have gone over every Bong Thing with a fine-tooth comb, and, can not answer the riddle of the Red Hand of Ulster being in the Bond cote of arms.
John Presco 007
https://www.araltas.com/features/oneill/
https://en.m.wikipedia.org/wiki/File:Bond-coat-of-arms_(semi-fictional).svg
https://oneill.nd.edu/history/the-red-hand-of-oneill/
http://www.ronsattic.com/redhand.html
Red Hand of Ulster
From Wikipedia, the free encyclopedia
Jump to navigation Jump to search"Red Hand" redirects here. For other uses, see Red hand.
The Red Hand of Ulster, right and left hand versions
The Red Hand of Ulster (Irish: Lámh Dhearg Uladh) is an Irish symbol used in heraldry[1] to denote the Irish province of Ulster. It is an open hand coloured red, with the fingers pointing upwards, the thumb held parallel to the fingers, and the palm facing forward. It is usually shown as a right hand, but is sometimes a left hand, such as in the coats of arms of baronets.
From the Daily Journal archives
Twin Pines Park's shady past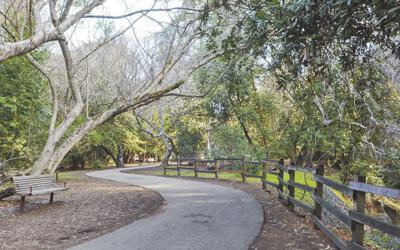 The Belmont City Council recently approved funding for a master plan to upgrade Twin Pines Park, a bucolic oasis where people can escape the push and pull of modern life by simply listening to the sound of a creek as it flows in the shade of towering trees. It is hard to believe this pastoral setting has a violent history that includes murder, rape and kidnapping.
The unsavory history took place a long time ago when the park was known as the Belmont Picnic Grounds as well as Belmont Park. The present park is a remnant of the original 12-acre, wildly popular venue that opened shortly after the train came to the Peninsula in the 1860s.
Belmont Park was the work of Carl Janke, who wanted to replicate a beer garden from his native Germany. The trains brought party goers from throughout the Bay Area to Belmont where they spent the day meandering through the woods or attending the many picnics hosted by immigrant groups and fraternal organizations, events that drew people by the thousands. Ships also brought park-bound passengers to the Belmont pier.
Today's 10-acre Twin Pines Park is located on Ralston Avenue a few blocks west of El Camino Real in the same spot once occupied by the Belmont Picnic Grounds, according to the Belmont Historical Society. The society maintains a museum in Twin Pines, which is also home to popular summer concerts as well as picnickers.
Janke's park featured a dance pavilion large enough to hold 300 dancers, a bandstand and, of course, a beer garden. Eventually, a jail cell was built under the bandstand to hold rowdy patrons, of which there were plenty.
Special trains carried passengers to the park for huge events, such as an 1868 picnic held by the Fenian Brotherhood, a group of Irish nationalists who wanted to free their native land from the English. The picnic drew 10,000 people, but such sizeable gatherings were not unusual for the times. Two years earlier, 15,000 turned out for a Fenian picnic in San Mateo. In 1870, 12,000 Fenians and their supporters converged on Redwood City, overwhelming a city of less than 2,000. The Irish group was not the only organization to hold massive picnics. In 1876, 8,000 people showed up at Belmont for an Odd Fellows picnic.
Posted on April 19, 2018 by Royal Rosamond Press
Being part Dutch, and able to trace her lineage to William The Silent, got Victoria Bond an invite to march in the Orange Parade. But, when she insisted she play her 'Contraption', some of the most diplomatic folks of the Isles slithered up to her, and, as calm as can be, tried to talk her out of it.
"There will be trouble!"
"What kind of trouble? There's always trouble. I'm not giving up my pipes – mon! That would be like me, asking you, to give up your nuts. Coo'mon! Drop em!"
Jon Presco
Copyright 2018
Posted on December 31, 2017 by Royal Rosamond Press
I have taken steps to be awarded several grants. A year from now, I hope to have my own room at the Getty Villa where I am allowed to roam freely admiring the art of my ex-brother-in-law, Garth Benton, and working on my paper and historic masterpiece………..
'The Doomsday Prophecies of Wealthy Men'
I will be wearing the best headset money can buy with a endless soundtrack from the DaVinci Code, the Phantom of the Opera, and the best of Leonard Cohen. Young scholars will turn their heads as I pass them in halls.
"May the force be with you Professor Obi-Wan Kenobi!"
"Have you saved our planet yet, Obi-Wan?"
"He can't hear you. He lives in his own world."
I have also taken steps to receive a grant from the Paul Mellon foundation. Paul is in my rosy family tree via Elizabeth Rosemond Taylor, and Warner. I introduced the Pre-Raphaelites to Christine Rosamond Benton. We are 'The Last Pre-Raphaelites'.
I just made an offer to be Drew Benton's Mentor. I can show her how to be a scholar in a year. Above is her mother at the Getty Mansion in New York.
Jon Presco
Copyright 2017
Obi-Wan Kenobi played by Sir Alec Guinness
"The murals on the J. Paul Getty Museum's garden walls have been seen by millions of visitors since the Malibu institution opened 20 years ago. But who knew that the artist who painted–and is now restoring–the realistic likenesses of columns, garlands and still-life arrangements is Garth Benton, a third cousin of Thomas Hart Benton? The 53-year-old artist never met his famous relative, an American regionalist painter who rejected modern abstraction and championed a muscular style of realism until his death in 1975. But the younger Benton was turned on to art at the age of 8 when he saw a book of his relative's paintings, and he occasionally corresponded with the late artist, who spent much of his life in his home state of Missouri."