At 8:10 A.M. I sent President Joe Biden an offer to be his 'Art Buddy'. You can say I am carrying on a Family Tradition. I offered to be Trump's 'Art Buddy' and got no response. I employed the bust of Winston Churchill to make my point. This work is now back in the news as of this morning. I put this controversy in my novel 'The Royal Janitor'.
John Presco
President: Royal Rosamond Press
Dear Mr. President: When Trump won, I sent him a message offering to be his 'Art Buddy'. On my blog, Royal Rosamond Press, I showed a pic of President Obama contemplating the bust of Winston Churchill who helped found the British Defence Staff Washington so that there would always be a bond between our two Nations. I just read this work of art has been removed from the Oval Office. In the last five years, I have tried to find out the fate of BDS, to no avail. Can you give me a report? Also, I became a Republican after Obama won a second term because I saw the terrible division coming. I am kin to John Fremont and his father-in-law Senator Thomas Hart Benton whose statue was going to be removed from the Hall of Statues, but the bill to do so confused his with his grand nephew, the muralist, Thomas Hart Benton, who is the third cousin of the muralist, Garth Benton, who was married to my famous sister, Christine Rosamond Benton, a world famous artist. I have voted for Democrats as a Republican, and am considering running in 2025. I am a historian and theologian who has been ordering extremists to get out of my families party and respect our family traditions. I would like to form, or be on the People's Art Committee in order to make your decorating schemes more Democratic – and orderly – not to mention more meaningful. History and art lessons can be given on a Presidential site, that inform all Americans – and the world – of the movement of our National Treasures. Indeed, let us form a Adopt a Work of Art program. We tend to protect works of art that we feel we own – if only in part.
Downing Street has said it is up to President Biden how he decorates the Oval Office, after it was reported that a bust of Winston Churchill, lent by the UK government, has been removed.
"The Oval Office is the president's private office, and it's up to the president to decorate it as he wishes," Boris Johnson's official spokesman said, adding: "We're in no doubt about the importance President Biden places on the UK-US relationship, and the prime minister looks forward to having that close relationship with him."
Johnson's relaxed attitude is in marked contrast to his criticism of Barack Obama, when the former president moved the Churchill bust aside.
Writing in the Sun in 2016, Johnson, then London mayor, and the author of a Churchill biography, called Obama's decision a "snub," suggesting it may have been because of "the part-Kenyan president's ancestral dislike of the British empire".
Winston Churchill bust 'not on display' in Joe Biden's Oval Office (telegraph.co.uk)
No 10 takes relaxed view as Biden removes Churchill bust from Oval Office | Boris Johnson | The Guardian
Posted on January 19, 2021 by Royal Rosamond Press
In the last ten years I tried to make several people my Art Buddy, but, they betrayed me, stabbed me in the back – and became my Judas.
Trump's staff have apparently looted the White House. If these objects of art are not returned by sundown tomorrow, I will send an e-mail to Interpol.
John Presco
President: Royal Rosamond Press
A Newspaper For The Arts
A pheasant took flight from the White House Thursday afternoon.Toted by Debbie Meadows, wife of White House chief of staff Mark Meadows, the taxidermy bird was moved out of Meadows' West Wing office, among other boxes and souvenirs from his time in the administration, and placed into the trunk of a waiting SUV.With just days left in the Trump administration, the White House complex is abuzz with signs of the end of one presidency and the beginning of another, staffers pushing carts with empty and full boxes, aides bidding farewell to their departing colleagues, and some walking out with large framed photograph mementos — a jolting air of normalcy in the wake of last week's deadly insurrection at the US Capitol and the anticipation of more violence around Wednesday's inauguration.Questions abounded Thursday after a trio of unidentified masked officials walked a bronze bust of President Abraham Lincoln outside the front door of the West Wing. To whom did it belong? And where, precisely, was it off to?Items such as the Lincoln sculpture were on loan from the official White House collection and part of a documented process wherein thousands of pieces of art, decorative art, sculpture, china, silver and other items are historicallypreserved.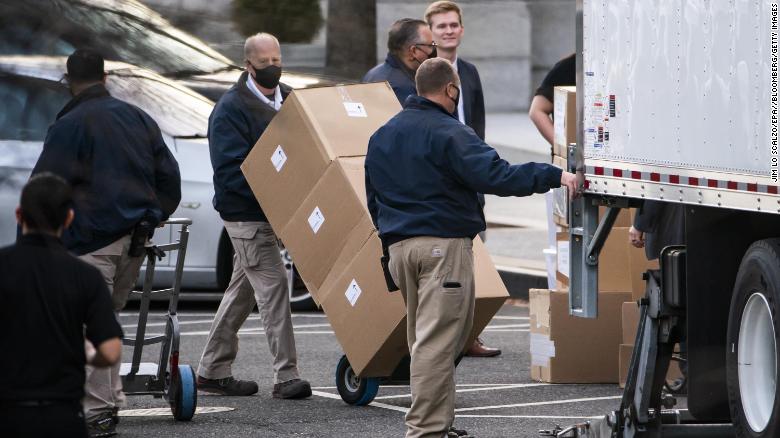 Workers move boxes onto a truck on West Executive Avenue between the White House and the Eisenhower Executive Office Building on Thursday, Jan. 14, 2021. These items are available for the incoming president and first lady to select at the start of a new term, as the Trumps did in 2017.
Rosamond Press
I wrote the President and suggested I become his art buddy. Did he listen to my advice? No! Today, POTUS is a living work of art.
John Presco
read://https_thehill.com/?url=https%3A%2F%2Fthehill.com%2Fhomenews%2Fnews%2F507877-artists-install-anti-trump-living-statues-around-dc%3Ffbclid%3DIwAR2PgFtMc_rGGzL1cGOMfFrQt8O5xFoNpKG3dTa8j_5P_DnZW-488kdODWs
Posted on November 29, 2018by Royal Rosamond Press
I rescind the offer to be President Trump's 'Art Buddy'. I transfer this offer to the First Lady. I suspect Donald uses the image of his foes in prison as his computer wallpaper.
Jon
https://www.msn.com/en-us/video/popculture/melania-trump-defends-white-house-red-christmas-trees/vi-BBQdLIu?ocid=spartandhp
Posted on January 22, 2017by Royal Rosamond Press
President Barack Obama shows Prime Minister David Cameron of the United Kingdom a bust of Sir Winston Churchill in the private residence of the White House, July 20, 2010. (Official White House Photo by Pete Souza)
To: The President of the United States of America
From: Jon Presco
President: Royal Rosamond Press
Dear Mr. President
Last…
View original post 1,210 more words