Today I discovered Andy Warhol had one of his first shows at an art gallery on La Cienega where Bryan McLean, myself, and my sister went for the Monday Night Art Walk. This led me to search for Andy's first relationship with Hollywood and the Stars. I found a article that says his relationship with Hollywood was a dark one, and, he may have felt intimidated with a openly hetero Bastian because he was a homosexual. This darkness must have faded when he became a good friend of my cousin, Elizabeth Rosemond Taylor, who was his muse. Did Liz hear, or see Warhol's dark Hollywood side? Liz encouraged Michael Jackson to take up art. Here is a Rock Star artist gone Hollywood which is what my friend was. Bryan was bi-sexual. He learned to swim in Liz Taylor's pool.
Six days ago a facebook group popped up on my newsfeed.  Last night I read the feedback of a woman who went to Uni High, knew Bryan, and went to the New Balladeer. She reminded me what a brilliant friendship I had with Bryan. On this group I read about the influence of Love had on Jim Morrison and Jimmy Hendrix. My good friend was a good friend of Jim and the beat poet Michael McClure, who had a powerful influence on him. Several years ago I posted on Antonin Artaud coming to Bozeman Montana for the End of the World Art Show. Artaud wrote an essay in 1933 'The Theatre As The Plague'.
Two hours ago I googled Morrison and Artaud, then, Artaud and McClure. Michael wrote a book of poetry titled 'For Artaud'. Jim modeled his act on Artaud's ideas as taught to him by McClure. This is profound because Jim emulated Love. Arthur caught him going through Bryan's drawer. Was he looking for love letters? How about songs?
After my friend saw the large painting I did of Rena, he suggested we try to find her. I suggested we borrow camera's from Mill's College and take his Bentley to Nebraska and do a film on our search. Years later I began my first unfinished book 'Golden Girls of the Corn Cob'. Rena is captured by a cult of Amazons who hide her in the sand dunes of Nebraska.
The title of my autobiography is 'Capturing Beauty'. Rena is my Mona Lisa. I declared she was the New Helen of Troy 'The Face that launched a thousand ships' that brought doom to the Trojans. The connection between her late husband and the Captain Crozier cagonavirus crisis, is prophetic. Rena is the inspiration for Victoria Bond, the granddaughter of James Bond. I am kin to Ian Fleming via Liz Taylor.
John Presco
https://rosamondpress.com/2020/04/03/the-doomed-ghost-fleet/
https://www.huffpost.com/entry/exclusive-beat-poet-mcclure_b_823425
https://rosamondpress.com/2020/04/04/in-her-majesties-secret-service-and-coronavirus/
"The founder of the Theater-of-Cruelty, Antonin Artaud, poet-actor, described one of his infrequent scenarios thus: 'eroticism, savagery, bloodlust, a thirst for violence, an obsession with horror, collapse of moral values, social hypocrisy, lies, sadism, perjury, depravity, etc.' To anyone who has ever listened to The Doors at any length, this will appear to be a catalog of their material, but that's just a part of the whole. This context of Artaud is more than their ornamental design, more than a convenient rubric into which they stuff their music. Among their contemporaries, The Doors are going somewhere different.
The second book from the famous beat poet Michael McClure who read at the historic Six Gallery Reading in 1955 alongside Allen Ginsberg, Gary Snyder, Philip Whalen and Philip Lamantia. This book is dedicated to the eccentric French playwright, writer and intellectual Antonin Artaud. This small volume of poetry features one long, beautiful photo printed on 4 folded unbound sheets. The cover features a an abstract Far East painting by McClure.
https://archives.waiting-forthe-sun.net/Pages/Articles/artaud_rock.html
https://www.goodreads.com/book/show/18395621-for-artaud
https://rosamondpress.com/2017/05/28/cultural-shootout-in-bozeman/
https://rosamondpress.com/2014/01/17/waiting-for-artaud/
https://rosamondpress.com/2014/01/13/lucia-and-artaud/
https://rosamondpress.com/2014/01/14/our-beautiful-star-spangled-muse/
https://rosamondpress.com/2019/11/24/an-avante-guard-psychedelic-news-artist/
http://content.time.com/time/magazine/article/0,9171,870277,00.html
https://www.moma.org/explore/inside_out/tag/ferus-gallery/
https://www.wehoville.com/2016/06/24/wehos-gallery-row-center-l-art/
https://www.moma.org/explore/inside_out/tag/ferus-gallery/
https://www.wehoville.com/2016/06/24/wehos-gallery-row-center-l-art/
WeHo's Gallery Row Was Once the Center of L.A. Art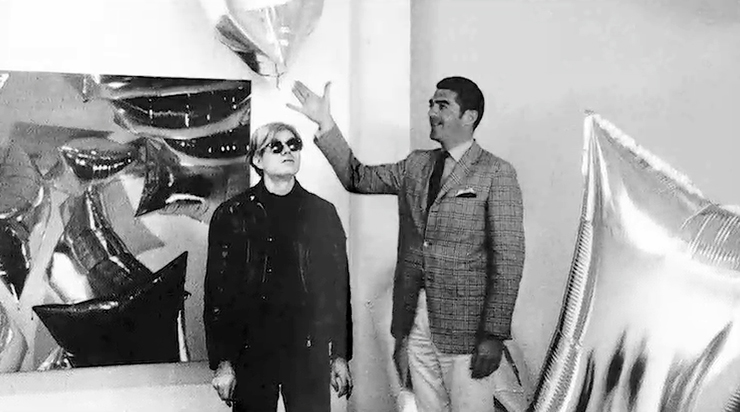 Art historians say that Los Angeles came of age as an art city by the early 1960s. As proof, they point to quintessential New York artist Andy Warhol – because the first one-man exhibition anywhere of his pop art paintings was July, 9, 1962 at a gallery on the edge of the unincorporated community of West Hollywood.
Warhol unveiled all 32 "Campbell Soup Cans" paintings that day at Ferus Gallery, located at 723 N. La Cienega Blvd. The exhibition confirmed that a considerable shift in the cultural landscape was well underway from East Coast angst to West Coast cool. Ferus was an upstart gallery, the first in the Los Angeles area to exclusively feature modern art.
"Ferus injected energy into the scene with Andy Warhol's first-ever solo show," the Los Angeles Times said. "Warhol's appearance helped galvanize a sense that Los Angeles – a new city, steeped in popular culture and shiny materials like plastic – could become a pop art capital."
The gallery's owners had spotted Warhol and his work on a scouting trip to New York the year before and talked him into a one-man show then.
Warhol's soup can paintings were shown side-by-side on shelves running the length of the gallery, as if they were cans in a grocery store. They were the first pop art exhibition on the West Coast and represented several turning points in the artist's career. The soup can paintings were: 1) a key transitional work from hand-painted to photo-transferred (silk screened) paintings; 2) a change that also happened at the Gemini Graphics Limited Editions lithograph on Melrose Avenue in West Hollywood; and 3) among Warhol's earliest paintings based on American consumer goods, and some of his first works that featured serial images.
Critics contend the exhibition was the breakthrough moment that launched Warhol's career. Even though it wasn't successful critically or commercially at the time, it made history, as Warhol eventually reached the stratosphere of New York's art world by way of L.A.
Warhol didn't attend the 1962 exhibition, but he was on hand for a second one at Ferus Gallery the following year when he showed "Gold Marilyn" for the first time, which he made in response to Marilyn Monroe's death. His "Triple Elvis" was other main piece of artwork first exhibited at Ferus Gallery at the 1963 showing.
When Ferus Gallery opened in 1957, there was nothing else like it in the country. It was the right place at the right time, an important early incubator of contemporary and avant-garde art in Los Angeles. Besides introducing local talent Billy Al Bengston, Robert Irwin. Ed Moses and Ed Ruscha, the gallery also brought to Los Angeles audiences the latest work by such New York artists as Joseph Cornell, Roy Lichenstein, Jasper Johns, Frank Stella and Warhol, of course.
"When Ferus opened, it was the one really contemporary gallery dealing with younger Los Angeles and San Francisco artists; and that generation was the first, because of that support, to train here, work here show here and make national reputations," said Henry Hopkins, former director of the San Francisco Museum of Modern Art and what now is the UCLA Hammer Museum. "The result is that Ferus stands as a symbol of the transition of Los Angeles from provincial center to what it is today – and internationally recognized center for the arts."
At the time of Warhol's exhibitions at Ferus, L.A. was emerging as a contemporary alternative to New York – a somewhat miraculous development because L.A. didn't have a real art museum, which is a crucial piece of infrastructure that exposes artists to audiences and is key to cultivating patrons or collectors.
Such a museum didn't exist until 1965 when the Los Angeles County Museum of Art opened on Wilshire Boulevard. Prior to that, what passed for an art museum was a department within the former Los Angeles Museum of History, Science and Art at Exposition Park, now the county's Natural History Museum.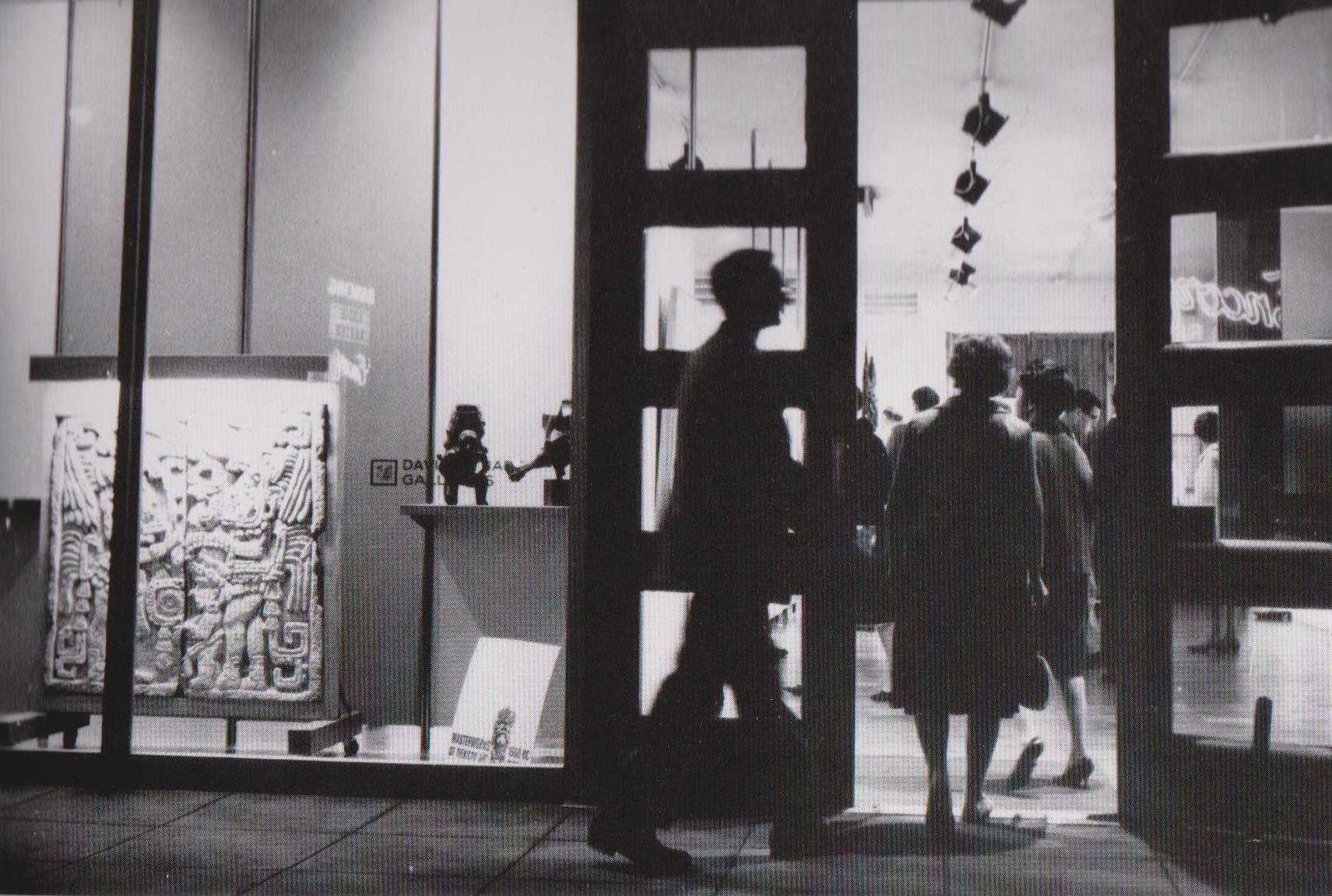 Gallery Row and Art Walks

What Los Angeles had, though, was the largest concentration of galleries west of Chicago, nearly all along a half-mile stretch of North La Cienega Boulevard that now is home to the La Cienega Design Quarter. The south boundary was Melrose Avenue, while the northern boundary was Santa Monica Boulevard.
These galleries more or less assumed the role of a civic art museum, the Los Angeles Times stated in a 2012 article. "They were crucial to building a contemporary art scene in a city with a younger, more fragile art infrastructure than traditional art capitals."
Accounts differ as to the actual number of commercial art galleries. The Times said "at least 36 did business" in those four blocks, while California State University Long Beach history professor Sarah Shrank has written that "the late 1950s and early 1960s witnessed the opening of more than 100 within a couple of square miles of gallery row. Other sources put the number at a solid core group of 24 galleries along gallery row.
They had enough critical mass, in any case, to bolster the city's reputation as one where cutting-edge, contemporary art was being made and exhibited.
What most people likely remember is the "Campbell's Soup Cans" exhibition at Ferus in 1962, but there were other distinctive galleries in the North La Cienega cluster. The Nicholas Wilder Gallery was the first in the United States to show David Hockney's work. The gallery's owner even showed up in a few of Hockney's paintings.
Although most showed modern artwork, the galleries were quite diverse overall. Heritage Gallery dedicated itself to exhibiting works of African-American artists, while the Joan Ankrum gallery was the first to have group shows featuring the work of black artists. The David Stuart Gallery had a specialized expertise in pre-Columbian art.
At least nine of the galleries along North La Cienega were owned by women. The Riko Mizuna Gallery was owned by the only Japanese woman on gallery row. The Eugenia Butler Gallery specialized in the work of conceptual artists, while the Molly Barnes Gallery launched the careers of artists Billy Al Bengston and John Baldessari.
"At the turn of the 1950s, only a handful of galleries existed in Los Angeles, most of them private and many located in the lobbies of big hotels. La Cienega Boulevard, then known as Restaurant Row, would become renowned in art circles by the end of the decade as Gallery Row.
A small number of arts professionals started galleries in that area in the early 1950s, many of them as a sideline to the slightly more lucrative business of picture framing. A group of gallery owners started art walks to publicize the works of this new generation of contemporary artists. They would stay open late and serve wine one Monday evening every month beginning in the late 1950s and continuing through most of the 1960s.
"On Monday evenings — especially on those Mondays when exhibits opened — it wasn't unusual to see 1,000 people walking up and down the boulevard," the Times reported. The Monday night "art walks," as they came to be called, made La Cienega's art gallery row internationally famous and helped call attention to L.A.'s importance as one of the nation's leading art centers.
The David Stuart Gallery at 807 North La Cienega Blvd. during a Monday Night Art Walk in 1963. (Photo by William Claxton, courtesy of Demont Photo Management LLC)
Other accounts estimated the number of people to be as many as 2,000; often it was necessary to wait in line to get into a gallery.
These were self-guided tours that turned West Hollywood into a hip destination for Angelenos interested in art collecting and in gallery culture. La Cienega's galleries stayed open late into the evening when these occasions were as much about socializing as business.
Time magazine reported that "from all over come matrons out for culture, art students, kids on an inexpensive date, a scattering of beatniks. There are even some artists, recognizable by their uniform: paint-splattered jeans, workmen's shirts, big brown belts for hooking thumbs into."
The magazine described the scene as "… a street of restaurants in unearthly shapes, of neon in colors not known elsewhere, of low white buildings – a street, in sum, of vast self-assurance." Monday night on La Cienega was "quite possibly not only the best free show in town but also one of the most popular institutions in Los Angeles County."
There was a sound business reason for the art walks, of course. "Advertised as the new urban bohemia, La Cienega Boulevard, like Venice Beach, became a tourist destination. In addition, like the coverage of the beat coffeehouses, newspapers listed weekly tours and special events taking place in the galleries. Most popular were the Monday night art walks, when the galleries stayed open late and people could browse from one gallery to the next. These self-guided tours helped collectors find new talent and price the current market," according to "Civic Imagination and Cultural Authority in Los Angeles," a book by Sarah Shrank.
The Getty Center sponsored numerous exhibitions in 2011 that commemorated the artists, places and time for L.A.'s becoming a major cultural hub. The City of West Hollywood participated extensively in the exhibition called Pacific Standard Time: Los Angeles Art 1945 – 1980.