I have called myself a prophet in many of my posts over the year. In this time I have been looking at the trial of Anne Hutchinson who claimed God was speaking to her. She foretold – with God's help – the destruction of London and Boston. I suspect she was an agent out to destroy my 9th. grandfather and the Massachusetts Bay Colony that he and his family founded. This is the book I should spend all my time on. It is extremely revelent due to the coup of the Court Pastors who may have created a diversion. A Congressional Hearing is called for in regards to the firing of the Secretary of the Navy.
William Pynchon and John Wilson came to America with Winthrop. I am going to flank the Christian-right, and attack their rear. I will take away their evil holy excuse that they destroy Secular Rule of Law  in the name of our Founding Father's – and God!
https://rosamondpress.com/2019/03/08/thomas-wilson-thomas-pynchon/
Thanksgiving is approaching. So is the truth! Those who have conspired against me, have replicated real history. I believe Rena knew Dan Wayland and called him to make a police report. She bid him to come in and show him evidence I am a very dangerous person. She brought a bag containing the tiny pieces of the letter I sent her, and a copy of this letter she MADE FROM MEMORY. This is the inspiration for my James Bond book. James would be interested in this Naval news. Tomorrow, I will take my reader to Windsor Castle where my Wilson kindred were born. God-Jesus is not just found in the United States of America.
John Presco
https://www.msn.com/en-us/news/world/democracies-on-the-verge-of-a-nervous-breakdown/ar-BBXi4Yz?ocid=spartandhp
https://www.cnn.com/2019/11/26/politics/donald-trump-constitution-supreme-court-executive-power/index.html
Donald Trump is not going to like his Constitution 101 lesson: "Presidents are not kings."
All of Trump's scandals are fusing together into a momentous fight over his staggeringly broad claims of expansive presidential power. How it turns out will shape his personal political legacy, the nature of the office he has held for nearly three years and potentially the American political system itself.
https://rosamondpress.com/2018/08/07/return-of-the-scarlet-letter/
https://rosamondpress.com/2019/03/08/the-pynchon-family/
Despite military and international backlash to Trump's Nov. 15 clemency – fallout from which cost Navy Secretary Richard Spencer his job on Sunday – Trump believes he has rectified major injustices. Two people tell The Daily Beast they've heard Trump talk about how he'd like to have the now-cleared Clint Lorance, Matthew Golsteyn, or Edward Gallagher show up at his 2020 rallies, or even have a moment on stage at his renomination convention in Charlotte next year. Right-wing media has portrayed all three as martyrs brought down by "political correctness" within the military.
"He briefly discussed making it a big deal at the convention," said one of these sources, who requested anonymity to talk about private conversations. "The president made a reference to the 2016 [convention] and where they brought on-stage heroes" like former Navy SEAL Marcus Luttrell, who refused to execute detained civilians ahead of a devastating Taliban attack.
https://www.thedailybeast.com/trump-tells-allies-he-wants-absolved-war-criminals-to-campaign-for-him
By winter, the theological schism had become great enough that the General Court called for a day of fasting to help ease the colony's difficulties. During the appointed fast-day on Thursday, 19 January 1637, Wheelwright preached at the Boston church in the afternoon. To the Puritan clergy, his sermon was "censurable and incited mischief",[55] but the free grace advocates were encouraged, and they became more vociferous in their opposition to the "legal" ministers. Governor Vane began challenging the doctrines of the colony's divines, and supporters of Hutchinson refused to serve during the Pequot War of 1637 because Wilson was the chaplain of the expedition.[43][56] Ministers worried that the bold stand of Hutchinson and her supporters began to threaten the "Puritan's holy experiment."[43] Had they succeeded, historian Dunn believes that they would have profoundly changed the thrust of Massachusetts history.[57]
Charged with weaving the Republicans' counter-narrative—and crafting a case for the exoneration of Trump—has been Rep. Devin Nunes. The California Republican, as stalwart an ally of the president's as there is, not only got more airtime than any other Republican lawmaker in the room, but had the first word and the last word for his side across seven hearings.
Slotted in between Chairman Adam Schiff's daily paeans to conscience and Constitution and the witness' earnest introductions—Nunes fundamentally sought to change the channel on impeachment. The millions of viewers getting a steady drip of Trump's questionable activities on Ukraine were abruptly brought in, for five to ten minutes each day, into an entirely different political universe.
In that universe, Trump is totally innocent of all of the Ukraine allegations, and what's more, those allegations are just one more step in a coordinated and years-long conspiracy by an evil coterie of actors—Democratic Party operatives, the "fake news" media, faceless and nefarious deep state bureaucrats, and even Ukrainians themselves—who will stop at nothing to destroy the president.
It was the same story, and the same handful of chapters, that Nunes told across every day of the public impeachment inquiry. Ultimately, they blended together, becoming something like a prolonged shout into the void.
Defense Secretary Mark T. Esper said on Monday he was "flabbergasted" that his Navy secretary tried to make a secret deal with the White House in which a Navy SEAL accused of war crimes could retire as a member of the elite force if President Trump stayed out of the case.
The offer by Richard V. Spencer, who was ousted by Esper on Sunday, contradicted what he had told Esper and other senior defense officials in recent days: that he was considering resigning if Trump forced the issue, Esper said.
Esper said that when he met with Army and Navy leaders a few weeks ago to discuss the cases of the SEAL, Chief Petty Officer Edward Gallagher, and two U.S. soldiers, they all agreed to rely on the military's legal system and administrative processes.
https://en.wikipedia.org/wiki/Eddie_Gallagher_(Navy_SEAL)
Within a week of Hutchinson's sentencing, some of her supporters were called into court and were disfranchised but not banished. The constables were then sent from door to door throughout the colony's towns to disarm those who signed the Wheelwright petition.[69] Within ten days, these individuals were ordered to deliver "all such guns, pistols, swords, powder, shot, & match as they shall be owners of, or have in their custody, upon paine of ten pound[s] for every default".[69] A great number recanted and "acknowledged their error" in signing the petition when they were faced with the confiscation of their firearms. Those who refused to recant suffered hardships and, in many cases, decided to leave the colony.[70] In Roxbury, Philip Sherman, Henry Bull, and Thomas Wilson were excommunicated from the church, and all three left the colony.[71]
https://en.wikipedia.org/wiki/Anne_Hutchinson
https://en.wikipedia.org/wiki/Antinomian_Controversy
The Trial of Anne Hutchinson: Order of Excommunication (March 22, 1638)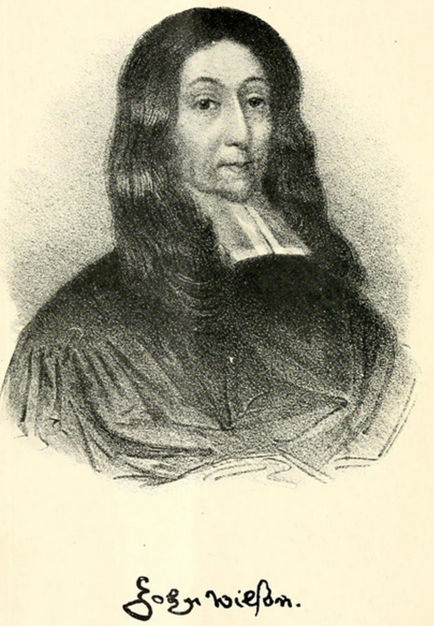 By the Reverend John Wilson of the Church of Boston
The Church consenting to it, we will now proceed to excommunication.
Forasmuch as you, Mistress Hutchinson, have highly transgressed and offended, and forasmuch as you have so many ways troubled the church with your errors, and have drawn away many a poor soul, and have upheld your revelations, and forasmuch as you have made a lie.  Therefore, in the name of our Lord Jesus Christ and in the name of the church, I do not only pronounce you worthy to be cast out, but I do cast you out1 And in the name of Christ,I do deliver you up to Satan that you may learn no more to blaspheme, to seduce, and to lie!  And I do account you from this time forth to be a heathen and a publican and so to be held of all the brethren and sisters of the congregation  and of others.  Therefore, I command you in the name of Christ Jesus and of this church as a leper to withdraw yourself out of the congregation! That as formerly you have despised and condemned the holy ordinances of God and turned your back on them, so you may now have no part in them nor benefit from them!
Response to Order of Excommunication by Anne Hutchinson
Better to be cast out of the church than to deny Jesus Christ.
Deputy Dan……….Mayland, is a hunk. I'm sure Rena noticed.
I'm going to work more on my movie script 'The Janitor'. It begins late one rainy and dark night. Deputy Sheriff Dan is working the swing shift when he jumps out of his skin. On a bench sits Rena Easton. Not able to speak, Rena breaks the ice,
"I wondered how long it would take you to notice me. I've been sitting here for exactly 22 minutes and sixteen seconds."
"Why didn't you approach the desk, say something to me!"
"I'm shy. I am the reclusive widow of Sir Ian Easton. Perhaps you have heard of me? I need your help. Someone I knew forty years ago got too close. I need you to back him off. No rough stuff. Just give him a scare. He owns a newspaper and is getting nosy. I hired some goon, who grabbed him by the neck and body-slammed him, but, that just roused his curiosity even more! He wants to see how I've aged. As you can see, I haven't. He must not know. He painted my portrait. I was his muse. You know the drill.
Jon Presco
http://www.msn.com/en-us/news/politics/republican-candidate-body-slams-guardian-reporter-in-montana/ar-BBBvfsN?li=BBmkt5R&ocid=spartandhp
On January 27, 2014 I got a call from Deputy Sheriff, Dan Mayland, that my Muse, and old girlfriend, Rena Easton – who I had not seen since 1970 – had filed charges in Galliten County Montana – saying I was Stalking her. Rena had written me a four page letter on Christmas Day. She made references to this blog. I do not know how she got my address. I did not know whether she was dead or alive.
After receiving my letter I mailed on January 10th. Rena became alarmed at all or some of the content, and showed it to a un-named person. This person confirmed Rena's paranoia was spot-on, and she angrily destroyed my letter. In order to own proof I was Stalking her, Rena wrote a copy of my letter, and a copy of the letter she wrote me, and showed it to Dan Mayland. Dan assured me that both letters were written by Rena, and were summoned up by an amazing photographic memory that Ms. Easton owns.
Detective Dan Mayland grew up in north central Wyoming on a ranch that hosted multiple family businesses including a bed and breakfast offering guided fishing trips, 4-wheeler trips, rock hunting, hiking expeditions, winter snowmobile rentals, and guided tours. Not surprisingly, Dan is a passionate outdoorsman and enjoy hunting, camping, boating, fishing and anything outdoors. His hobbies include …photography, cooking, archery, mountain biking, reloading ammunition, shooting, and gunsmithing.