It is official! The United States is run by a State Religion. If the Mueller Report does not show the alliance between the Evangelical Cult, and Putin's State Religious Cult – that has launched a crusade against Gays – then, he has not done his job. With the declaration by Pompeo that OUR President is on a Mission from God, in regards to making Netanyahu's right-wing ideals come true, then it is official. We have a Religious-State running the show – their way!
The Evangelicals need Israel in order to fulfill their whacked-out End Time Apocalypse – and Bebe knows it! So does Putin! That the Democrats are not coming to terms with this truth, is because of the swing votes. They do not want to appear Anti-Christian, like the Republicans want them to. This is why OUR President says the Democrats are Anti-Jewish.
WE are not playing in the same ballpark! The evangelicals play in their ball park, and do not INVITE ALL AMERICANS to play ball with them. They subscribe to the belief many will be LEFT BEHIND. Just as there must be the return of King David's Kingdom, there MUST be people who are LEFT OUT! We saw the Kimites reenact this weird-ass belief that had become OUR NATIONAL THEME PARK! Exclusive Apocalyptic Fanatics want to destroy the Secular Ball Park, and the Inclusiveness guaranteed in our Constitution.
I will try very hard to DESTROY the theological base and political permission the American Taliban has come to own. I can do this because they want to destroy all things secular. They are just like ISIS – who murdered people who opposed them! In a Democracy one is allowed to question all people and organizations who get involved in politics. If the End Time Tribulation don't like any opposition, then, they should get out of politics – and the Republican Party – founded folks in my family tree!
I have neighbors who believe million of people will hopefully be LEFT BEHIND when they are Taken-up in THEIR STATE SANCTIONED RAPTURE! Imagine how Coo-Coo these people felt believing in this weird-ass shit as they walk amongst the Left-behinders while they shop at Wal-Mart. Of course they want a President that believes as they do – in the White House! THEIR President gave signals to His Flock he believes in THE RAPTURE by moving OUR Embassy to Jerusalem. Trump knows The Holy Raptured would do almost anything to keep him in office, because, they might have to come down and face reality. Remember Jim Jones.
My clash with Kim Hafner began when she told me I was deranged to say I am a prophet like the men you see above. David has got a best seller that prophesizes about the End Time where millions die in tall buildings. Consider Bin Laden and his holy mission. We then got in a holy-tisk-tisk about taking LSD. I claimed that drug did not kill or injure thousands. We Hippies never held a Love Jesus Cool-Aid Death-Fest. We Bohemians are their scapegoat when it comes to who is Truly Whacked-out of their mind! No one ever died being a Hippie. A billion folks have been killed following a bevy of religions – that don't get along with one another! They never have!
John Presco
https://www.nbcnews.com/politics/2020-election/trump-lends-helping-hand-netanyahu-campaign-trail-n986046
PLAY BOTH VIDEOS AT SAME TIME!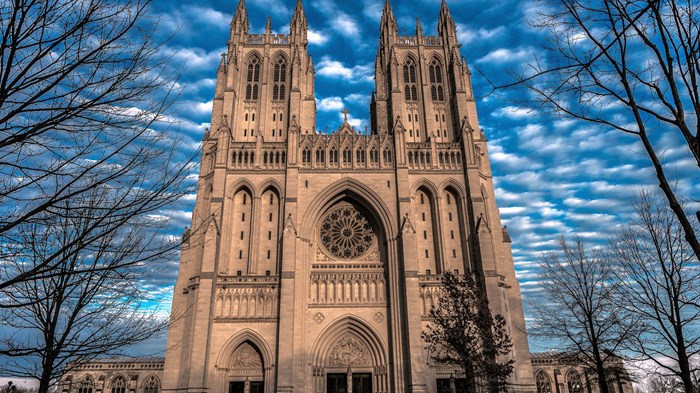 Donald Trump has tapped a record number of evangelical leaders to participate in the interfaith prayer service held at the Washington National Cathedral the day after his inauguration.
The National Prayer Service, hosted at the Episcopal cathedral Saturday morning, will feature two former presidents of the Southern Baptist Convention, the granddaughter of Billy Graham, and Greg Laurie, the evangelist behind the popular Harvest America crusades, among a total of 26 faith leaders.
Representatives from Catholic, Greek Orthodox, Mormon, Jewish, Muslim, Sikh, Buddhist, and Bahá'í traditions are also participating in the event [full list below].
Jack Graham, Ronnie Floyd, and David Jeremiah are all Southern Baptists and members of the president-elect's evangelical advisory board, and Cissie Graham Lynch stated during the election that she would be "unapologetically voting for Trump." Her father, Franklin Graham, is among the clergy praying at the inauguration ceremony held at the National Mall on Friday. Trump opted to include a half-dozen religious leaders in the official Capitol lawn ceremony, instead of the customary one or two.
The century-old National Cathedral has served as the go-to site for presidential funerals, prayer services at times of national tragedy, and public inauguration prayer services. Billy Graham gave a sermon at Ronald Reagan's inaugural service there in 1985.
In the years since, presidents George H. W. Bush, George W. Bush, and Barack Obama expanded the scope of the customary National Prayer Service to feature well over a dozen faith leaders representing various traditions. Such events included a few evangelical pastors and organization leaders, including the Grahams, former Foursquare Church president Jack Hayford, North Point Community Church pastor Andy Stanley, Sojourners president Jim Wallis, National Association of Evangelicals president Leith Anderson, and National Latino Evangelical Coalition president Gabriel Salguero.
Trump's National Prayer Service at least doubles the number of evangelicals involved compared to past years.
In earlier coverage of Trump's clergy lineup for the ceremony, Southwestern Baptist Theological Seminary professor John D. Wilsey noted Trump's willingness to outsource "God talk" to affiliated leaders from the faith community.
"Trump wants to communicate to religious people (Jews and Christians) that he speaks their language, and he does so by associating with leaders that have a large following or that represent significant segments of the religious population," Wilsey said.