Putin and Trump had no idea they would Defeat the United States, today. Two bills to reopen Our Government, went down in defeat. The A Team just wanted to exploit beautiful women together, make money, and get U.S. sanctions removed.  A beautiful Russian model had dirt on a Rich Russian and threatened to FINK him out. Alley and Belle threatened to FINK me out if I did not remove all mention of them in my newspaper. Rena Easton – did FINK me out – when she went to the Sheriff late at night. My autobiography is titled 'Capturing Beauty'. I not only saw the future, I wrote about it and published my insights. This got me in a lot of trouble. My ugly downstairs' neighbor – FINKED me out – in a Orwellian 1984 manner. They were – WATCHING ME! They SPIED ON ME!
Seer Jon
https://www.msnbc.com/rachel-maddow/watch/belarusian-model-caught-up-in-2016-intrigue-released-by-russia-1430361155942
read:https://www.huffingtonpost.com/entry/miss-universe-in-moscow-how-trumps-beauty-contest-spawned-a-business-deal-with-russians-and-a-bond-with-putin
The next night, toward the end of the Miss USA broadcast, Trump hit the stage to announce that the Miss Universe pageant would be held the coming November in Russia. In front of the audi­ence, the Agalarovs and Trump signed the contract for the event. Trump declared, "This will be one of the biggest and most beautiful Miss Universe events ever." On the red carpet earlier that evening, Trump had hailed Emin and Aras Agalarov: "These are the most powerful people in all of Russia, the richest men in Russia."
Two days later Trump expressed his desire on Twitter to become Putin's "new best friend." Emin quickly responded with his own tweet: "Mr. @realDonaldTrump anyone you meet becomes your best friend — so I'm sure Mr. Putin will not be an exception in Moscow."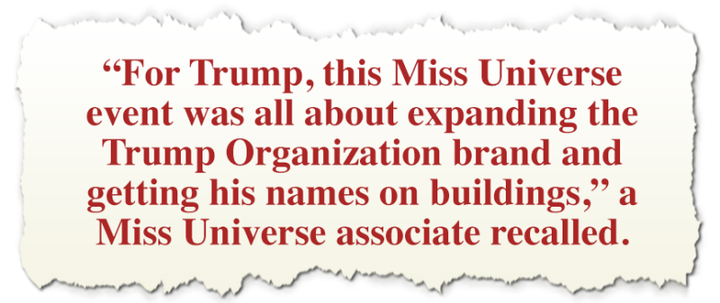 The Moscow event held great potential for Trump to score in Russia. Now he was partnering with a Russian billionaire connected to other oligarchs and favored by Putin. (Trump already had a controversial venture under way in Baku, where he was developing a hotel with the son of the transportation minister of the corrupt regime. This project would soon founder.) "For Trump, this Miss Universe event was all about expanding the Trump Organization brand and getting his names on buildings," a Miss Universe associate recalled.
read:https://www.huffingtonpost.com/entry/miss-universe-in-moscow-how-trumps-beauty-contest-spawned-a-business-deal-with-russians-and-a-bond-with-putin
And anyone who wanted to do big deals in Russia — especially an American — could only do so if Putin was keen on it. "We all knew that the event was approved by Putin," a Miss Universe official later said. "You can't pull off something like this in Russia unless Putin says it's OK." Trump would only be making money in Russia because Putin was permitting him to do so.
Immediately, the contest was beset by controversy. A few days before the announcement in Las Vegas, the Russian Duma had passed a law that made it illegal to expose children to information about homosexuality. The new antigay measure was the latest move by Putin to appeal to the conservative Orthodox Church and ultranationalist forces. It came amid a disturbing rise in antigay violence throughout Russia. In the southern city of Volgograd a few weeks earlier, a gay man's naked body was found in a courtyard, his skull smashed, his genitals scarred by beer bottles. The atmosphere was "ugly and brutal," a U.S. diplomat who then served in Moscow later said. "There would be these hooligans who would go after gay people in bars and beat them up. There was a pretty vicious cam­paign against the LGBT community."
Human rights and gay rights advocates in Russia and around the world denounced the new law. Vodka boycotts were launched. There was a push to relocate the Winter Olympics, scheduled to be held the following year in Sochi, Russia. In the United States, the Human Rights Campaign called on Trump and the Miss Uni­verse Organization to move the event out of Russia, noting that under the new law a contestant could be prosecuted if she were to voice support for gay rights.
https://www.msnbc.com/andrea-mitchell-reports/watch/rep-swalwell-president-trump-clearly-obstructing-and-intimidating-witnesses-1431317059797