https://rosamondpress.com/2018/01/20/kurds-under-attack/
Did women fighters blow up one of Erdogan's tanks?
A ceasefire between Turkey and the PKK ended last year and clashes have since claimed hundreds of lives on both sides.
While Turkey is fighting against the PKK on its soil, neighboring Syrian Kurds continue carving out a self-declared autonomous region known as Rojava, and the YPG has gained the trust of Turkey 's international allies in the fight against IS.
---
What does the international community say?
The PKK is officially considered a terrorist organisation by the EU and the US but Turkey has failed to convince its Western allies to regard the YPG likewise.
The US state department and Pentagon have in the past pressed Turkey to stop shelling the YPG and urged Syrian Kurds not to expand their areas of operation.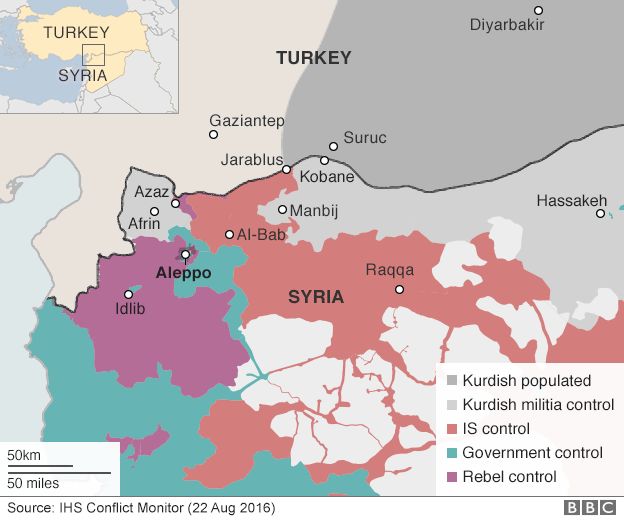 The EU has also called on Turkey to stop shelling Syrian territory and refrain from further complicating the efforts of world powers to halt the hostilities.
The UN has urged Turkey to comply with international law in Syria.
---
What do Syria's Kurds say?
A US-backed alliance between the YPG and some Syrian Arabs called the Syrian Democratic Forces (SDF) has been advancing and taking over strategic areas from various armed Islamist groups despite Turkey 's ongoing bombardments.
It scored a notable success by driving IS out of the crossroads town of Manbij this month.
The jihadists were forced to retreat to the town of Jarablus on the Turkish border, which is believed to be the next focus of the advance against IS.
Turkey is wary of the Kurds trying to take control of another border town to the west, Azaz, which it sees as part of a planned "buffer zone" in northern Syria.
http://www.bbc.com/news/world-europe-42943825
The unprecedented diplomatic crisis caused the Dutch foreign ministry to issue a travel warning last year, urging its citizens in Turkey to take care and noting the new "diplomatic tensions".
The formal withdrawal of the Dutch ambassador is a sign of how deep the rifts remain between Turkey and some European countries that have lambasted the Turkish government for arresting tens of thousands after the failed July 2016 coup, clamping down on free speech and lashing out at any western criticism, says the BBC's Mark Lowen in Istanbul.
He adds that 13 years ago, Turkey started negotiations to join the EU, but today it has no ambassadorial ties with one of the bloc's founding members.
The Netherlands is the biggest foreign investor in Turkey.