The Church of Art declares the Evangelical religion, as taught by John Darby, a Terrorist Church. Jesus was not, and will never be a Satanic Killer and Caster of Evil Spells. That these terrorists have entered politics, proves they do not subscribe to any prophecy, or religious solution. They are Fakes! They are in it for THE MONEY!
Hold their feet to the political fire and demand they answer questions about the appearance of the Antichrist – who has to come and rule over non-believers! How is this possible? They will never believe in him. The evangelicals believe in him, thus, they are followers of the Antichrist.
Jon 'The Nazarite'
https://www.voanews.com/a/will-upcoming-fight-syria-usher-armageddon/3520221.html
http://stateofthenation2012.com/?p=31003
https://www.haaretz.com/opinion/.premium-strengthen-the-kurds-in-syria-1.5455204
http://www.bbc.com/news/world-middle-east-42765697
Jordan's king appealed Sunday to Vice President Mike Pence to "rebuild trust and confidence" in the possibility of a two-state solution to the Israeli-Palestinian conflict, following fallout from the Trump administration's decision to recognize Jerusalem as Israel's capital.
Pence tried to reassure the monarch that the U.S. was committed to restarting peace efforts and to a two-state solution, if both sides agree. Such a caveat deviates from long-standing U.S. support for that approach as the only possible outcome of any peace deal.
Trump's announcement on Jerusalem last month infuriated the Palestinians, who seek the Israeli-annexed eastern sector of the city as a future capital. They accused the U.S. of siding with Israel and said Washington can no longer serve as a mediator.
Jerusalem is the emotional centerpiece of the long-running conflict, and Trump's policy shift set off protests and condemnation across Arab and Muslim countries.
It posed a dilemma for Abdullah, a staunch U.S. ally who derives his political legitimacy in large part from the Hashemite dynasty's role as guardian of a key Muslim site in Jerusalem. Any perceived threat to Muslim claims in the city is seen as a challenge to Jordan, where a large segment of the population is of Palestinian origin.
Pence told the king that the U.S. has committed "to continue to respect Jordan's role as the custodian of holy sites, that we take no position on boundaries and final status." It was a message Pence relayed Saturday during talks with Egypt's president.
Pence later told reporters after meeting U.S. troops near the Syrian border that he and Abdullah had "a very frank discussion."
"Look, friends occasionally have disagreements and we agreed to disagree on the decision by the United States to recognize Jerusalem as the capital of Israel. But what we agreed on was the need for all parties to come back to the table," Pence said.
"The Palestinian Authority has been absent from direct negotiations since 2014. And I hope I impressed upon King Abdullah our earnest desire to restart the peace process," Pence said.
Abdullah expressed concerns about the regional fallout from the Jerusalem decision.
"Today we have a major challenge to overcome, especially with some of the rising frustrations," he said. He described the Pence visit as a mission "to rebuild trust and confidence" in getting to a two-state solution, in which a state of Palestine would be established in the West Bank, Gaza Strip and east Jerusalem, lands Israel captured in 1967.
Another cause of concern for Jordan is the Trump administration's decision to move the U.S. Embassy in Israel from Tel Aviv to Jerusalem. Jordan vehemently opposes such a move if taken ahead of an Israeli-Palestinian partition deal.
Israel views Jerusalem as its unified capital.
An international consensus has long held that the city's final status should be decided through negotiations, which was also U.S. policy going back decades.
Palestinians view Trump's recognition of Jerusalem as Israel's capital as a blatantly one-sided move.
Palestinian President Mahmoud Abbas said he would not meet with Trump administration officials and called off a meeting with Pence that had been scheduled for mid-December.
In a new expression of that snub, Abbas overlapped with Pence in Jordan from Saturday evening to midday Sunday, when the Palestinian leader flew to Brussels for a meeting with European Union foreign ministers Monday. There, Abbas is expected to urge EU member states to recognize a state of Palestine in the pre-1967 lines, and to step up involvement in mediation.
Nabil Abu Rdeneh, an Abbas adviser, reiterated Sunday that "the U.S. is no longer acceptable as a mediator."
Pence was scheduled to hold meetings on Monday with Israeli Prime Minister Benjamin Netanyahu, deliver an address to the Knesset and visit the Yad Vashem Holocaust memorial.
But a spokesperson for the YPG, Nouri Mahmoudi, said the group had managed to repel Turkish troops and they were "forced to retreat".
Turkey's military said it had hit 45 targets on Sunday, as part of its air and ground campaign dubbed "Olive Branch".
It earlier said it had taken out 153 targets belonging to Kurdish militants, although it is unclear if this includes Sunday's figures.
Turkish President Recep Tayyip Erdogan vowed on Sunday to crush the Kurdish fighters in Syria, as well as the outlawed Kurdistan Workers Party (PKK).
"Our jets took off and started bombing. And now, the ground operation is under way. Now we see how the YPG… are fleeing in Afrin," he said. "We will chase them. God willing, we will complete this operation very quickly."
Syrian President Bashar al-Assad condemned the incursion on Sunday.
French Foreign Minister Jean-Yves Le Drian says he will call for an emergency meeting at the UN Security Council over the issue.
Have there been any casualties?
There are reports of fatalities on both sides.
The YPG said at least four Turkish soldiers and 10 Syrian rebel fighters supporting them were killed in clashes on Sunday morning, but there has been no confirmation from Turkey
The Kurdish group also said eight civilians had been killed in an air strike on a chicken farm in the village of Jalbara on Sunday. This follows at least nine deaths in strikes on Saturday – six civilians and three fighters – though Ankara said they were all Kurdish militants.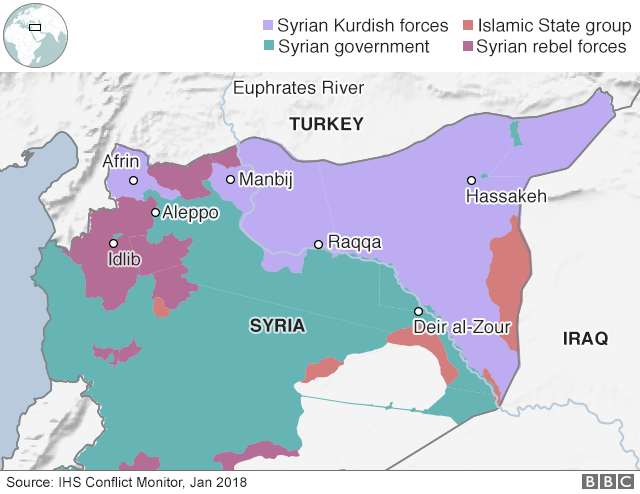 Kurdish rockets meanwhile hit the Turkish border town of Kilis overnight, and there were reports of at least one fatality after three rockets were fired at another border town, Reyhanli, on Sunday.
The town's mayor said a Syrian national had died, and another 32 were wounded, according to the NTV broadcaster.
Turkey's military has been shelling the Afrin region since Thursday, a move which it said was in response to fire coming from the area.
Why is Turkey targeting US-backed groups?
With America's backing of the YPG, Turkey's risky offensive puts Ankara in direct confrontation with its Nato ally, the BBC's Mark Lowen on the Turkish-Syrian border warns.
There is also a danger that the number of those killed in the Syrian war – estimated to be half a million – will rise again with the opening of this new front, he adds.
The YPG has been a key part of the battle against Islamic State in Syria, and has been given support by the US.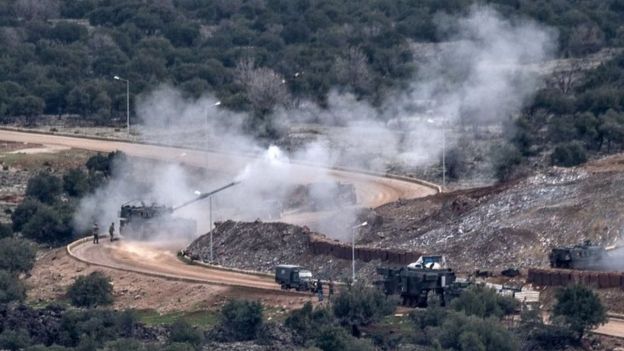 Turkey, however, believes the group has links to the banned PKK, and has for several months been threatening to clear Kurdish fighters from Afrin and another city, Manbij, which lies 100km away.
Turkey was angered when the US announced it would help the SDF alliance build a new "border security force" to prevent the return of IS. President Erdogan called the border force a "terror army".
The YPG and SDF deny any terrorist links – a claim backed by the US government.
How have key players reacted?
Many Western powers are urging restraint, with the US and France both saying the focus should be on the fight against IS.
Russia – a key ally of Syria's Bashar al-Assad – said it was concerned by the news, and withdrew some of its troops based in the area.
Moscow will take up the issue at the UN Security Council and demand Turkey halt its military operations, according to Russian senator Frants Klintsevich, who is the deputy chairman of the defence and security committee.
President Assad said "the brutal Turkish aggression" on Afrin was part of Ankara's policy of "support for terrorism" in Syria.
Turkey's foreign minister on Saturday said he had discussed the military offensive with his American counterpart, but no details of the conversations were provided.