Devout Catholics were bussed to the Right To Life March. Why are Catholics getting in the same bed with End Time Evangelicals – who want the world to come to an end! They want a million fetuses to be killed in their mother's womb during the Tribulation. This is not a pro-life movement, it is a pro return of Jesus cult the Pope dare not judge a heresy because there are millions of Catholics ready to leave the church over sex abuse by Priests. With the election of their man, Donald Trump, this exodus to the President's church, is tempting. This might be why Pope Francis is touring South America.
With the shutdown of our Government, many invisible religious games are set in play. Below are articles that suggest Trump is The Chosen One – who will bring about the desired chaos, that proclaims Jesus is coming – soon!  Is it possible Trump and his Evangelical Guides, want to see this Secular Democracy – FAIL? This is to say, when there are no longer any secular solutions, there will only remain a RELIGIOUS SOLUTION! Trump said a "good shutdown" will do some good.
Jon 'The Nazarite'
Evangelical Christians overwhelmingly support President Donald Trump because they believe he'll cause the world to end.
Many have questioned why devout evangelicals support Trump, a man who has bragged about sexual assault, lies perpetually and once admitted he never asks God for forgiveness. Trump's lack of knowledge of the Bible is also well-known.
Nevertheless, many evangelical Christians believe that Trump was chosen by God to usher in a new era, a part of history called the "end times." Beliefs about this time period differ, but it is broadly considered the end of the world, the time when Jesus returns to Earth and judges all people.
https://www.salon.com/2014/12/10/why_millions_of_christian_evangelicals_oppose_obamacare_and_civil_rights_partner/
https://www.huffingtonpost.com/entry/clergy-sex-abuse-victims-pope-francis-chile-bishop_us_5a6221e2e4b01d91b2553c18
https://en.wikipedia.org/wiki/Indulgence
By the late Middle Ages, the abuse of indulgences, mainly through commercialization, had become a serious problem which the Church recognized but was unable to restrain effectively. Indulgences were from the beginning of the Protestant Reformation a target of attacks by Martin Luther and all other Protestant theologians. Eventually the Catholic Counter-Reformation curbed the excesses, but indulgences continue to play a role in modern Catholic religious life. Reforms in the 20th century largely abolished the quantification of indulgences, which had been expressed in terms of days or years. These days or years were meant to represent the equivalent of time spent in penance, although it was widely taken to mean time spent in Purgatory. The reforms also greatly reduced the number of indulgences granted for visiting particular churches and other locations.
https://rosamondpress.com/2012/02/19/weyrich-says-jews-murdered-jesus/
Francis told reporters Thursday that he hasn't seen any convincing evidence against Chile's Bishop Juan Barros Madrid, whom victims claim protected a pedophile priest.
"The day someone brings me proof against Bishop Barros, then I will talk," Francis said during a papal trip to Chile, according to The New York Times. "But there is not one single piece of evidence. It is all slander. Is that clear?"
Casteix, a California native and advocate for abuse victims, knows what it's like to share a vulnerable story of sexual abuse and to have that story questioned. She is herself a survivor of abuse within the Roman Catholic Church. From 1986 to 1988, she was abused by a choir director at Santa Ana's Mater Dei High School, in the Roman Catholic Diocese of Orange. By the time the abuse ended, she said, the teacher had left her pregnant and with a sexually transmitted disease. She was only 17.
It was proof of what she'd been saying all along ― that church officials knew about abuse taking place in the diocese and didn't do enough to protect victims.
Given this history with the church, it's not hard to understand why Casteix's voice sharpened as she spoke to HuffPost about Francis' attack on abuse victims in Chile.
"Every abuser says to his victim: You have no proof. No one is going to believe you," said Castiex, now an activist with Survivors Network of Those Abused by Priests (SNAP). "What Pope Francis did was put himself in the abuser's seat, in the power position."
"What he's doing is revictimizing every single child victim and putting himself in the abuser's shoes."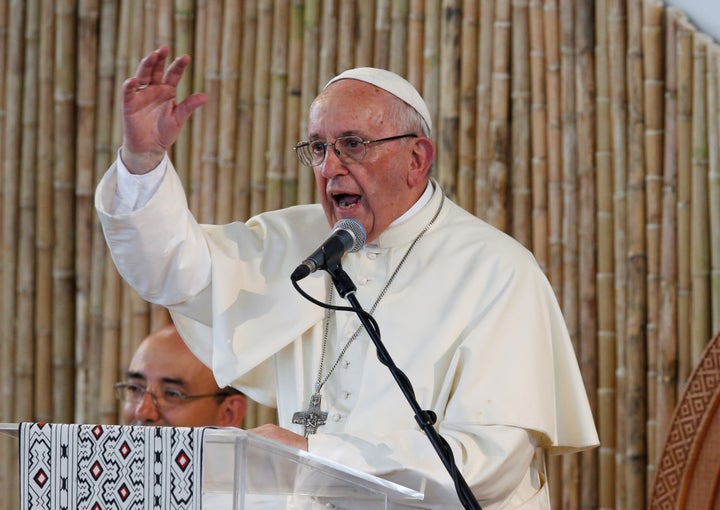 Unabashed Support For A Controversial Bishop
Francis' comments about Barros came at the end of a papal trip to Chile that was already fraught with tensions.
Chilean abuse victims and their allies have been upset about the pope's continued defense of Barros. Several victims claim that Barros covered up and, in some instances, observed abuse carried out by his mentor, Rev. Fernando Karadima.
The Vatican convicted Karadima of abusing teenage boys in 2011 and sent him to live a cloistered life of "penitence and prayer" in a Chilean convent. A judge found the allegations against Karadima to be "truthful and reliable" but dismissed a criminal case against the priest because the statute of limitations had expired.
Barros denied having any knowledge of Karadima's abusive actions ― and it appears that Francis still believes him.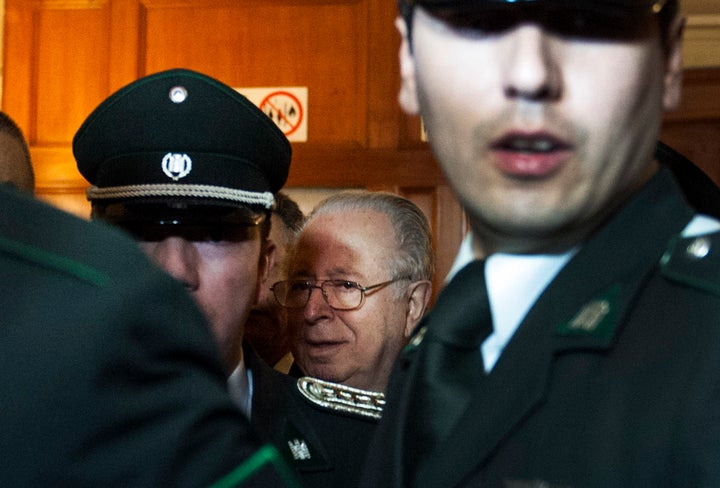 In 2015, the pope appointed Barros as bishop of Osorno, in southern Chile. Politicians and even some church leaders in the country vocally opposed the move and called for Barros to resign. 
That same year, Francis was captured on video telling a group of tourists at Vatican City that people in Osorno who protested Barros' appointment were "dumb" and "judging a bishop without any proof."
On Tuesday, Francis expressed "pain and shame" over the abuse scandal and begged for victims' forgiveness. He met and reportedly wept with Chilean survivors of abuse, The Associated Press reported.
But he has also continued to show support for Barros. The New York Times reported that the bishop participated in the pope's ceremonies in the cities of Santiago, Iquique and Temuco.
Barros told reporters that the Pope offered him  "words of support and affection" during the visit.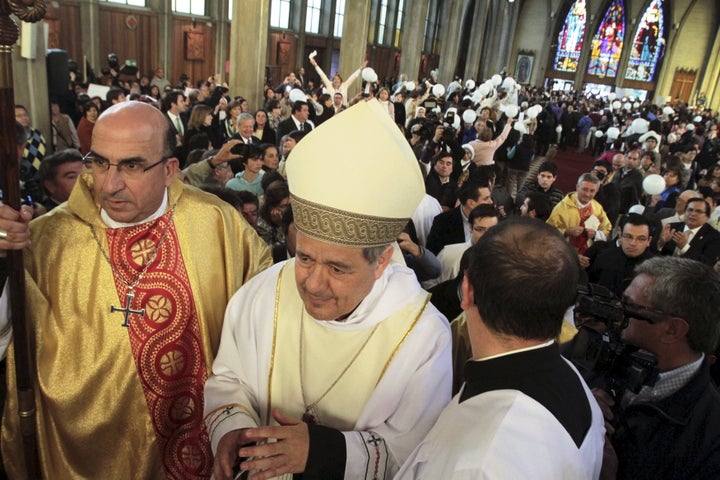 Words Versus Action On Preventing Sexual Abuse
In the past, Francis has shown signs that he's willing and ready to take serious steps to confront the problem of sexual abuse in the church. Still, some victims' advocates are worried that the Vatican is not moving quickly to keep kids safe.
In December 2013, victims' groups rejoiced when Francis decided to assemble a Vatican committee dedicated solely to fighting child sex abuse in the church. The group, the Pontifical Commission for the Protection of Minors, initially included two survivors of clergy sex abuse.
In 2017, one of those survivors, Irish activist Marie Collins, announced that she was stepping down out of frustration with Vatican bureaucracy. In an opinion piece for the National Catholic Reporter, Collins wrote about facing a number of stumbling blocks, including a lack of resources and the resistance of some in the Vatican Curia toward implementing the commission's recommendations.
The last straw for her was the refusal of a group at the Vatican to ensure that all letters from victims received a response.
"I find it impossible to listen to public statements about the deep concern in the church for the care of those whose lives have been blighted by abuse, yet to watch privately as a congregation in the Vatican refuses to even acknowledge their letters!" Collins wrote last March. "It is a reflection of how this whole abuse crisis in the Church has been handled: with fine words in public and contrary actions behind closed doors."