https://sonichits.com/video/The_Loading_Zone/Kali_Yuga-Loo
Paul Fauerso, and Steve Kupka, are white Jazzmen. Paul was my roommate when I lived with the Loading Zone, and I drank with Steve at The Hut. He founded the Tower of Power, which might be The Next Jazz Step in its evolution. Below is an account of the battle of the jazz bands that is taking over the nation. Paul produced an album for one of the Beach Boys, who were the LA sound that drowned out Black Jazz. Here is a post made 2 years ago.
https://rosamondpress.com/2015/02/10/big-box-of-get-down/
Here is my e-mail the Belle Burch. I am trying to repair our relationship so she can help me put on my musical that I had a vision of while on Amtrak. I went down to visit my daughter and three year old grandson. I brought my rare tape of Love, and put it on as the train crossed the mountains in the night. I closed my eyes and saw the whole show.
Jon Presco
On , John Ambrose <braskewitz@yahoo.com> wrote:
When I took the train to Santa Rosa I played a Best of Love tape and choregraphed a whole dance routine. I made a mental movie. I love Bollywood dancers! How about you?
Are you mad at me because I looked at your name? I am not mad at you. I admire you. Tell me someday why you didn't let me know.
Jon
On Saturday, April 19, 2014 9:41 PM, Belle Burch <umilikestarfis wrote:
Hell yes I want to see a dance show on Broadway. I've always wanted to see a Broadway show. I've been in NYC twice but failed both times to get overpriced tickets to any Broadway shows enough in advance to make one. Why do you ask?
On Fri, Apr 18, 2014 at 6:59 PM, John Ambrose <braskewitz@yahoo.com> wrote:
Belle, my big project in Love Dance, a Broadway musical based upon the music of LOVE. Bryan was my best friend in HS. He was a roadie for the Byrds when he was 17. We hung out in a coffee shop in LA in 1963.
I about choked when you told me your were a dancer! Belle! You ring all my belles and set off all my whistles. It is just the way it is. 
I want to see the hippie dance extravaganza on Broadway! How about you?
Jon
In the morning we arise and
Start the day the same old way
As yesterday the day before and
All in all it's just a day like
All the rest so do your best with
Chewing gum and it is oh so
Repetitious
Waiting on the sun
Down on Go-stop Boulevard it
Never fails to bring me down
The sirens and the accidents and
For a laugh there's Plastic Nancy
She's real fancy with her children
They'll go far, she
Buys them toys to
Keep in practice
Waiting on the war
I feel shivers in my spine
When the iceman, yes his ice is melting
Won't be there on time
Hope he finds a rhyme
For his little mind
I can see you
With no (hands) (face)
Eyes I need you
You're my (heart) (face)
Look we're going round and round
Read more: Love – The Daily Planet Lyrics | MetroLyrics
http://www.jakefeinbergshow.com/2013/01/the-paul-fauerso-interview/
http://jazzbarisax.com/baritone-saxophonists/modern-rock/doc-kupka/
https://en.wikipedia.org/wiki/Tower_of_Power
First Love is Mike Love's first unreleased solo album, recorded in Oct. – Nov. 1978 during the same time that Country Love was being recorded. The producer was Paul Fauerso, a jazz, R&B and new age singer and keyboardist and founder of The Loading Zone. First Love, with some vocal assistance from Carl Wilson, is much the better of the two. First Love is unreleased at least in part due to a legal dispute between Mike and the album backers. The First Love album comprises Tracks 1-10. Tracks 11-15 are outtakes and alternate versions. All songs on First Love are originals, written or co-written by Mike Love, except for the title track written by Paul Fauerso.
The shine is coming off of La La Land. The box-office smash and owner of a record-tying 14 Oscar nominations premiered to rapturous reviews at film festivals last fall, but in the weeks that followed, and as the film screened for more and more critics, a backlash began to grow. Representatives of various marginalized communities – women, African Americans, and jazz lovers – emerged to take the film down a peg. What ensued was an all-out war (albeit one waged mostly on Twitter) between the film's fans and its detractors. While it might seem odd that a movie as guileless and nostalgic as La La Land – which draws as its inspiration from the classic musicals Singin' in the Rain and The Umbrellas of Cherbourg – has provoked such ire, this is the pop cultural world we live in. Every piece of art is now politicized and parsed for its problematic elements. These complaints may take some of the joy out of a film intended only to entertain, but they also reveal vital perspectives that have been hidden for too long from our white-male dominated discourse.
Loading Zone, The
Cosmic R&B combo The Loading Zone formed in Oakland, California, in 1967. Following the dissolution of his jazz combo, The Tom Paul Trio, Paul Fauerso recruited Marbles guitarists Pete Shapiro and Steve Dowler, followed by bassist Bob Kridle and drummer George Newcom, quickly establishing The Loading Zone's original line-up.
Though rooted in R&B, the band also dabbled in psych, jazz and electric blues, fittingly opening for Cream and many others at the Fillmore West, as favourites of the late Bill Graham.
The original line-up was disbanded in late 1968, having made no recordings. In the same year, however, just prior to signing with RCA, vocalist Linda Tillery responded to an advert that Fauerso placed in the San Francisco Chronicle and was given the lead singer's spot.
When it finally came out, The Loading Zone's eponymous debut LP failed to capture the excitement of their live sets. Despite being partially saved by a take onGod Save The Child , it was savaged by critics for its excessive production and ham-fisted Motown covers.
The group soon split again and Linda was immediately signed by Columbia, where she recorded the underrated Al Kooper-produced Sweet Linda Divine LP in early 1970. That same year Fauerso reformed the group with guitarist Steve Busfield, bassist Mike Eggleston and drummer George Marsh, recording the One For All LP for the Umbrella label.
Known for its unusual time signatures and now regarded as one of the rarest records from San Francisco's 'golden era', One For All has become increasingly hard to find.
Following the album release, Tillery rejoined the band in late 1971, though it's unclear how long she stayed for, and entirely possible that she left again before The Loading Zone's demise in 1973.
Following the band's final dissolution, Fauerso went on to produce Beach Boy Mike Love's solo album and created a handful of New Age records, while Linda went solo, establishing her own label in the late 70's.
The latter-day Loading Zone largely functioned as a launching pad for various other musicians too; Wendy Hass (former bassist of The Freudian Slips) later joined Azteca as a singer, while Tom Coster later played with Santana.
Perhaps most famously of all, however, the Zone's 16-year-old roadie, Steve "Doc" Kupka, would go on to form The Tower Of Power after regularly joining The Loading Zone onstage to play baritone sax.
Paul Fauerso
Keyboards
Pete Shapiro 
Guitar
Steve Dowler 
Guitar
Bob Kridle 
Bass
George Newcom 
Drums
Linda Tillery 
Vocals
Steve Busfield 
Guitar
Mike Eggleston 
Bass
George Marsh 
Drums 
The Paul Fauerso Interview….
As previously stated on this program the San Francisco Bay Area sound was as distinctive as any regional sound in our countries history.
When you look back at the roots of this sound it's clear manifestation started with the Trips festivals that were spear headed by local pols, promoters and musicians. There was a fascination with fusing pure psychedelics with masses of humanity in dance halls saturated with wood brass and steel.
My guest today was the leader of the Loading Zone. One of these bay area incarnations whose sound crossed over several musical idioms.
My guest had jazz leanings but knew  as a pianist that he needed to expand sound with the blues and rock drenched make-up of the region. He also wanted to grab some of the east bay grease that combined soul and funk/punk lyrics and rhythms.
This desire led to a serendipitous connection with Linda Tillery whose gut bucket style and swagger helped catapult the Band to commercial relevance.
The Loading Zone was one of the original test cases of the Bay Area Psychedelic Movement. They were often times on the same bills as many of the more recognizable acts such as Big Brother, Country Joe, GD, Sly and the Family Stone and the Airplane. They played winterland and the Fillmore West the Family Dogg and the Louisiana House.
After the original group disbanded my guest put the Zone back together with legendary drummer George marsh for a second album entitled one for all. This new amalgamation at times fronted two drummers and increased their polyrhythmic qualities all the while staying true to the regional appetite for improvisational jamming.
Fauerso so good… Paul Fauerso welcome to the JFS…..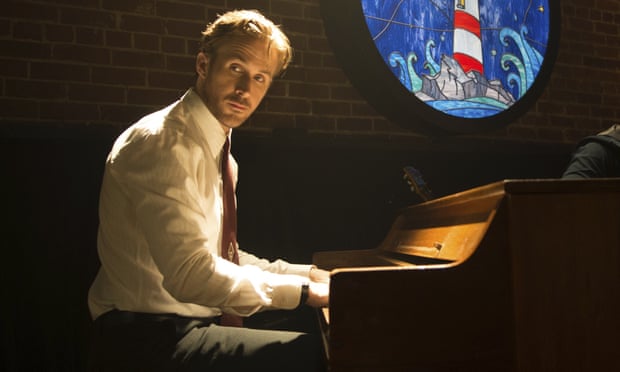 Ryan Gosling in La La Land. Photograph: Dale Robinette/AP
It might have a record-tying 14 Oscar nominations but the musical hit has been criticized for its treatment of race, gender a
Most of these criticisms come with an admission that La La Land is, on its surface, great entertainment. The snappy songs, brightly colored clothes and the virtuosic film-making are diverting enough that the film's persistence in entertaining you is emotionally moving. For the millions of Americans who are depressed and anxious about the state of the nation, La La Land is a trifle that seems more substantial because of our desperate need for distraction.
Not all of us, however, are in the mood for trifles. The first complaints came from the hepcats. The film's lead character, Sebastian (Ryan Gosling), is a young, white jazz lover who dreams of opening his own club. He's a traditionalist who harbors dreams of saving jazz by returning it to its roots. Later, in order to show girlfriend Mia (Emma Stone) that he can make a living at his craft, he sells out and agrees to perform in a jazz fusion band led by his friend Keith, played by John Legend.
Jazz fans see this as a false depiction of important debates within the jazz community. At Vulture, Seve Chambers accuses writer-director Damien Chazelle of "ideological snobbery", noting that most real jazz fans actually agree with Keith that traditionalism is not the best way to revive the genre. "Today's artists have realized that letting go of these conservative notions is the best way to 'save jazz'," he writes. "[But] Chazelle stacks the deck against him: Keith turns out to use a laughably '80s sound that's meant to seem completely disconnected from his jazz roots."
The traditionalist argument is even more problematic when you consider the character Chazelle has created to voice that perspective. "If you're gonna make a film about an artist staying true to the roots of jazz against the odds and against modern reinventions of the genre," writes Ira Madison III at MTV News, "you'd think that artist would be black." Jazz is a uniquely black American genre, and many of its most famous artists, such as John Coltrane and Charles Mingus, were heavily involved in the civil rights movement. It's noteworthy, then, that the jazz musician Sebastian most reveres is Charlie Parker, who died in 1955 before that movement really got started.
None of this is to suggest that the film is exactly racist. Sebastian romanticizes Parker simply because he lived and died before jazz started to change for the first time. But it's impossible to separate jazz from black history, and it's downright foolish to do so in a film by, for and largely about white people. It's especially dangerous right now. Geoff Nelson at Paste Magazine links the film's traditionalism and the satisfaction derived from its nostalgia to the Trump campaign's backwards-looking ethos: "There lies a profound irony in liberal white folks heading to La La Land to repair after a political season overflowing with the nostalgia of white supremacy."
Still, it's not quite right to say that the film endorses Sebastian's purity test. After all, Keith makes a pretty good argument at one point that Sebastian's adherence to the purity of jazz is counter-productive and anathema to the boundary-busting spirit of jazz itself. To its great credit, the film refuses to pick sides. Instead it lingers in the question, allowing Sebastian to ultimately achieve all of his professional dreams – he gets his club in the end – while questioning what he sacrificed to get it. Such an ambiguous ending should quash any attempts at certitude. Unfortunately, that's not how our culture works these days
Over the past few years, there has been a concerted effort among pop culture critics to elevate the voices of the marginalized, both in works of art themselves and among the critical community. As necessary as this effort is, it can make it more difficult for a film to transcend racial and gender boundaries because there is always a group that can claim that the film ignores them. Notably, La La Land was also criticized for its lack of gay characters on the basis that, well, there are a lot of gay people in Los Angeles but none in the film. Whether you think this is fair or not, it's going to continue to be an issue until Hollywood more generally solves its problem of inequality in gender, race and sexual identity.
To wit, critics have indeed found something troubling in La La Land's gender politics. Emma Stone's performance is getting all the awards buzz (she has already won a Golden Globe and a SAG award), but Morgan Leigh Davis notes in LA Review of Books that she is little more than a bystander in her own story. "Sebastian's drive and dedication are more textured than Mia's, and it is his melody that recurs through the film to denote particularly important moments in their relationship. He is the author of their relationship: he comes to ask her out at work; he introduces her to jazz; he takes her to see Rebel Without a Cause for research (despite the fact that she is the actor and supposed cinephile)." Davis also notes that Chazelle's filmography is full of scenes in which men teach jazz to women. As Sebastian watches a live jazz performance with Mia, he explains to her: "It's conflict, it's compromise, and it's very, very exciting." He might as well be teaching her about life, which is essentially what he does over the course of the film. In a vacuum, this doesn't hurt the film's effectiveness, but when you consider the fact that no best picture winner has had a female protagonist since 2003 (Chicago), it's easy to understand why the issue is getting this kind of attention.
Indeed, it's hard to imagine any of these complaints getting much traction if La La Land were not such an enormous hit. Had it been met with indifference by critics and audiences, my hunch is that nobody would care so much about its racial or gender politics. Jazz fans might even be championing it, if only to get more attention for their forgotten art. But being the front-runner puts a target on your back, especially this year. After racial tension rose to a fever pitch in 2016, Hollywood gave us three beautiful, critically acclaimed films about black characters, Moonlight, Fences and Hidden Figures. Some may ask, shouldn't Hollywood recognize one of them, instead of a movie about a white guy who wants to save jazz?
Indeed, that might just happen. Hidden Figures pulled off an upset at the SAG Awards two weeks ago, earning the prize for best ensemble, which is sometimes seen a precursor for best picture (La La Land, weirdly, was not nominated). When the story of the year in cinema is written, we may say that La La Land peaked too early, or that it was the right film at the wrong time, or that its other, less political criticisms – the story is a little thin, the characters don't particularly sing or dance very well, and it may be just too self-indulgent for its own good – were exposed after its shine finally wore off. For now, we will have to wait to see if Hollywood is more interested in looking forward or looking back.