What do you think? Is there much of a difference between Louis Marinelli and I. Louis launches a Secessionist Movement from Russia, and all his friends, and his wife, follow him with complete devotion and loyalty. I claim I am the rightful heir to the Bohemian Writers of Ken Kesey Square, and I get threats from Alley Valkyrie, Gwendolyn Maeve, Marilyn Reed, and Kathy Vaysek who forbid me to write about them as a Reporter for my newspaper, Royal Rosamond Press.
Russia and Putin have oppressed Freedom of the Press. I have been titled 'Mad' for declaring I am 'The King of California'. What do you think – NOW? So far, I am the main person who stands in Marinelli's way. Let us see how long my posts last, before I am CENSORED & THREATENED! So far, I am the Common Enemy of All Humankind, just like Jesus was, in the beginning. Even Saint Paul hate him and his teaching.
Jon 'King of Calfornia'
He has also opened a "people's embassy" in order to "build a bridge" between the two countries which he says is not paid for out of campaign funds. It's due to open an exhibition on civil rights in America shortly and he said its received plenty of press coverage.
While this campaign has no connections to or communication with the Russian government, we make no attempt to hide our desire to build a bridge between our two …peoples and to lay the groundwork for improved relations between an independent Republic of California and the Russian Federation. #Calexit opponents still have thier minds stuck in the Cold War. Not this campaign. http://www.huffingtonpost.com/…/listen-liberals-russia-is-n…
http://www.news.com.au/world/north-america/calexit-campaign-wants-independence-by-2019-as-peoples-embassy-opens-in-russia/news-story/65d2131943a8c1e66f6322c379f4189b
https://rosamondpress.com/2016/06/25/new-republic-of-fremont/
CALIFORNIA will be welcomed with "open arms" by the rest of the world when the wealthy western state divorces the rest of the US.
That's according to the man behind the #Calexit independence campaign that has pledged to hold a vote on the issue in March 2019, citing irreconcilable differences with the rest of the country.
'Yes California' founder Louis Marinelli told news.com.au the culture, mentality and outlook of Californians is much more instep with the global community than the rest of the US.
"In many respects. [Californian mentality] is more aligned with the world view. I think that when California becomes its own country the world is going to open it with open arms," he said.
The controversial group is the brainchild of Mr Marinelli and Fresno-based Marcus Evans, who have been working for around three years on getting a Calexit referendum on the ballot under the state's system of citizen initiatives which can see private ideas turned into law with enough support.
It claims to have more than 50 chapters across the state with 8000 volunteers working on gaining the 585,000 signatures needed before July. The next phase is for a plebiscite in March 2019.
Their secession plan is based on the notion that the state, which is worth an estimated $3.21 trillion (USD$2.46 trillion) in annual GDP is carrying the burden for other states with which it has differing environmental, military and economic views.
Mr Marinelli said the campaign is not a reaction to President Trump but his election has boosted support. They've also been inspired by the recent Brexit vote and campaigns in Scotland and Catalonia.
"It's not about Donald Trump specifically, (we) just want California to be its own country."
ULTERIOR MOTIVE?
However the campaign has run into controversy given Mr Marinelli's residence in Russia, where he is teaching English as a foreign language and has spoken at conferences about self-determination.
He has also opened a "people's embassy" in order to "build a bridge" between the two countries which he says is not paid for out of campaign funds. It's due to open an exhibition on civil rights in America shortly and he said its received plenty of press coverage.
"It's a very good tool for us. … I want to start the dialogue and we've been pretty successful with that so far. Russians are much more aware of the fact that California is at least thinking about independence."
His activities have led to accusations of being a "traitor" and "Russian spy" by those who say he is working on behalf of the Russian government.
Mr Marinelli said his group "don't really take issue" with critics who he sees as bitter Hillary Clinton supporters. He has also denied receiving funding from the Russian government for his activities in the country.
"We don't have any communication with or contact with or receive any support of any kind from the Russian government or any Russian government officials," he said.
The comments come amid widespread allegations by US intelligence of Russian interference in the US political system which is currently the subject of a classified FBI investigation.
Last week, unanswered questions over the relationship between US National Security Advisor Michael Flynn and the Russian ambassador led Mr Flynn to resign just three weeks into the job.
Russia has denied the hacking allegations, while President Trump has said he wants to pursue better relations with Russia.
Russia is well known for courting far-right, anti-establishment parties in Europe. Right-wing politicians from all over the continent are regular visitors to Moscow, to Crimea, which Russia seized in 2014, and to rebel-held parts of Ukraine, where they claim to be voting "observers" during dubious elections and referendums. Russian-controlled media blanket the airwaves with positive pieces on hard-right parties and causes all over Europe and in the U.S. Most recently, according to U.S. intelligence, the Kremlin tried to tip last month's balloting to President-elect Donald Trump.
But Moscow also maintains close contact with left-wing and secessionist movements that oppose what they see as global American domination. These efforts help the Kremlin sow discord between the United States and its European allies and disseminate its message on such issues as Ukraine and Syria, according to a recent study (PDF) by the Budapest-based think tank Political Capital that focused on Russia's influence on far-left parties in Europe.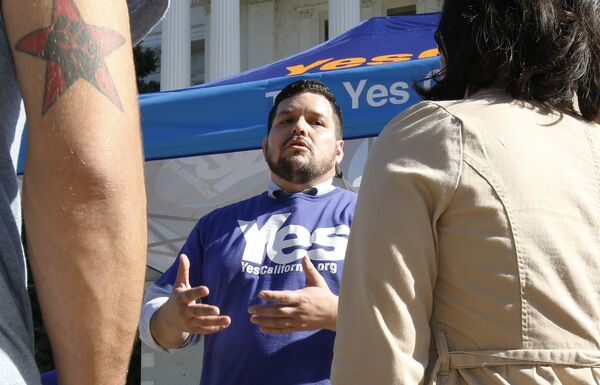 The Yes California platform, which also scorns trade deals and the "subsidizing" of poorer states and the federal defense budget, was inspired by the Scottish independence movement, which campaigned in a 2014 referendum under the motto Yes Scotland and fell 5.4 percent short of achieving its goal. "We have picked up the torch," Marinelli said.
The vice president of Yes California, Marcus Ruiz Evans, author of a book titled California's Next Century, directs the campaign on the ground in the state. Marinelli, who in September moved to Russia with his Russian wife, Anastasia, partly for visa reasons, said his campaign receives no foreign funding, with all donations coming from supporters in California through the movement's website.
A fringe group, the California separatists captured the limelight on social media after Trump's surprise victory. Many voters in the liberal and overwhelmingly pro-Hillary Clinton state were so incensed at their compatriots, they decided that California, which would constitute the world's sixth-largest national economy if it were independent, might be better off on its own. The number of people who liked Yes California's Facebook page went from 11,000 before the election to 29,000 after it. That's a sliver of the state's electorate, but it's not nothing. California's Republicans have 43,000 likes on their page, and Democrats 40,000.
"We are closing in on them," Marinelli said.
Boosted by outrage over the election's outcome, Yes California filed a request with the state attorney general's office to hold the 2019 referendum. Marinelli said 14,000 supporters, registered on a Yes California site, will help pull it off as volunteers for the campaign. He plans to return to the U.S. when the campaign kicks off in earnest.
"Take California out of America and Donald Trump won a landslide," Marinelli said. "We believe the country is like a Titanic, and the election of Donald Trump is the equivalent of the Titanic hitting the iceberg."
The relationship between Russia and California predates the state's inclusion in the United States, he noted, referring to the Russian Fort Ross colony in the state's north. Founded in 1812, when California was still Spanish, the fort and surrounding territory were sold to the Swiss-American entrepreneur Johann Sutter in 1841. The legacy of the settlement includes the name of the state's second-largest river, the Russian River, and some of the earliest vineyards in the north. Back in Russia, the love story between a czar's envoy and the daughter of the Spanish governor of California became the plot of a famous Soviet-era musical, Yunona & Avos.
Marinelli, 30, moved to California from New York in 2006, the year he first visited Russia, on a summer student exchange program with St. Petersburg State University, President Vladimir Putin's alma mater. Over the next five years he alternated between California and Russia, where he taught English in the cities of Samara and Kazan before settling down in San Diego in 2011 with Anastasia.
In the U.S., he campaigned against same-sex marriage, working as a social media strategist for the National Organization of Marriage, a conservative group. Mingling with counter-protesters, he said, he eventually took their side. There were also personal reasons for his fallout with the American right. He got sucked into a bureaucratic quagmire over his Russian wife's residence in the U.S. and grew exasperated with anti-immigrant rhetoric, which he thought bordered on outright racism. He grew fond of his adopted state's views.
Despite his newfound liberalism, Marinelli voted for Trump. With Bernie Sanders, the candidate he favored, out of the running and Clinton an exponent of "the oligarchy," he decided that Trump represented the real America—and that his election would "invigorate people to understand that they shouldn't be a part of that country."
Trump as useful frenemy is a view Marinelli shares with his Russian friends. Ten days after returning to Russia, Marinelli took part in the annual Dialogue of Nations conference, organized in Moscow by the Anti-Globalist Movement of Russia. Attended by representatives of mostly left-wing separatist movements from Western Europe, the U.S., and the former Soviet Union, the conference was held at the Ritz-Carlton and funded by a grant of 3.5 million rubles ($54,000) from the National Charity Foundation
The National Charity Foundation, which describes itself as operating "under the patronage" of the Putin administration, is one of several foundations that dispense government grants to nongovernmental organizations . A representative of the foundation declined to discuss the Anti-Globalist Movement of Russia by phone, requesting instead a list of written questions, which it is reviewing.
The Anti-Globalist Movement advocates extreme forms of Russian nationalism and imperialism, as well as supporting the Kremlin's strategic military intervention in Syria and Ukraine. Its leader, Aleksandr Ionov, sits on the boards of Antimaidan and Officers of Russia, pro-Kremlin groups out to purge Russia of the liberal opposition. In 2013, Ionov met with Syrian President Bashar al-Assad and made him an honorary member of the movement. Another honorary member is former Iranian President Mahmoud Ahmadinejad.
The movement's page on the Russian VKontakte social network is updated several times a day with materials bashing Barack Obama, Hillary Clinton, the Ukrainian leadership, and the Syrian opposition. A post published before the U.S. election shows Clinton taken to the gallows and said, "Help Trump and Putin defeat the witch."
Ionov sees President-elect Trump lifting sanctions imposed on Russia in the wake of its occupation of Crimea, according to an interview with pravda.ru. More fancifully, a post dated Nov. 14 calls for Russia to take Alaska, its former territory, back from the U.S. and to seize Hawaii, which the author suggests could become "Russia's second Crimea," citing an agreement between one of Hawaii's chiefs and a Russian explorer in the 19th century.
Ionov's movement courts a number of secessionist groups in the U.S., including some in Hawaii, Puerto Rico, Texas, and Florida, whose representatives have attended its conferences in Moscow. Yes California is "closely coordinating" with the Texas Nationalist Movement, Marinelli said.
"We don't have an ambition to destroy America, but we stand for the rule of law and human rights," Ionov said. Asked whether the movement was in reaction to interference by Washington in Russian affairs—a thesis favored by the Kremlin—he said, without offering specifics, that some U.S. senators had entertained the idea of supporting separatist movements in Russian regions, but that he wasn't playing tit-for-tat. "This is not revenge," he said. "This is an adequate response to the aggression that comes from the U.S."